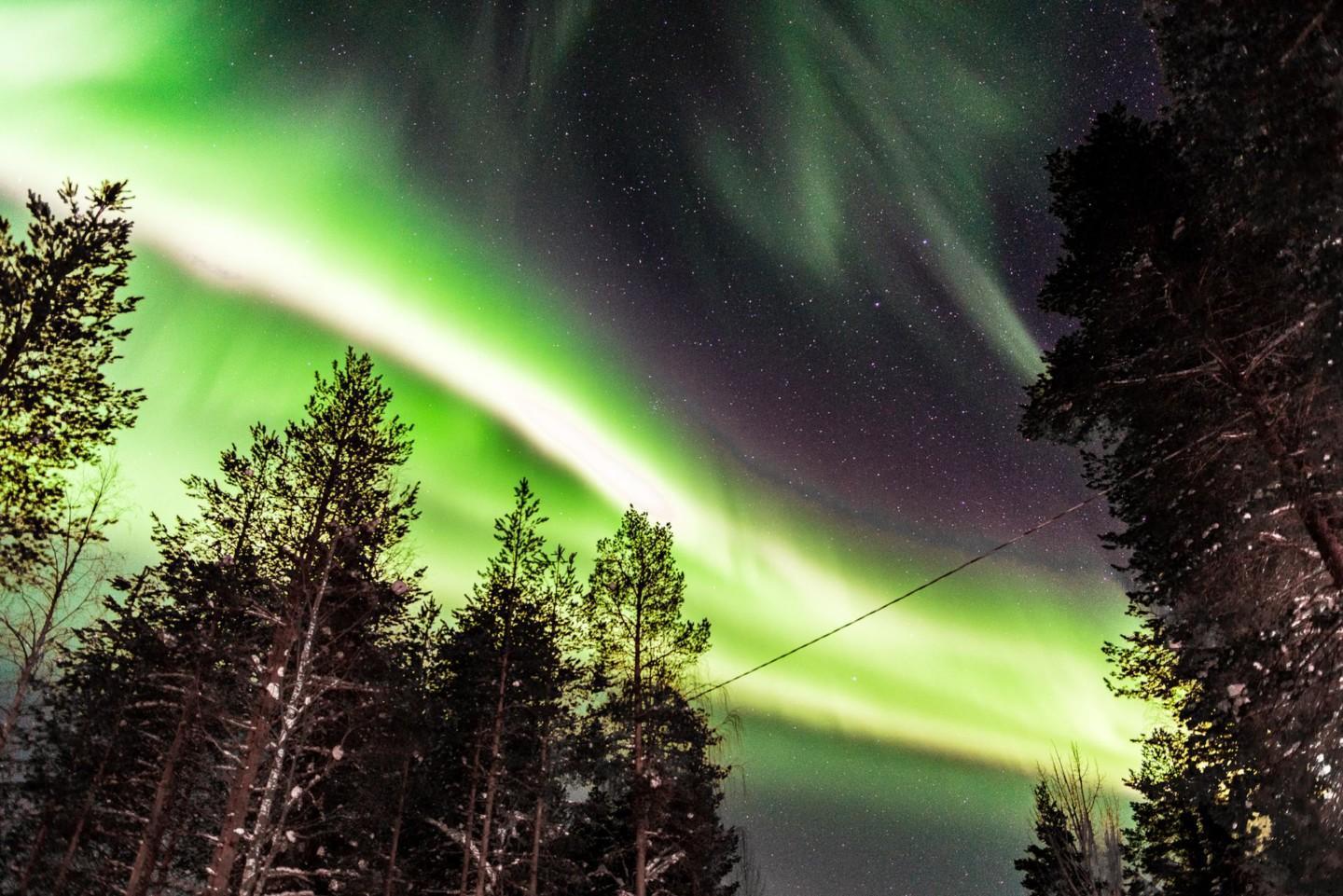 Experience a nice and memorable trip in the dark wilderness by driving a snowmobile. Now you can combine these experiences driving a snowmobile and hunting the Northern Lights. The safari is arranged on the best possible tracks in purpose of seeing Northern Lights.
On this tour we learn to drive snowmobiles and drive in the dark wilderness finally reaching a tepee / hut. We make a fire and enjoy warm beverages and barbeque snacks while watching the sky. The guide explains all about Northern Lights and the old mythology. The appearance of the lights is not guaranteed but they are visible in about 90 % of the clear sky evenings. Also the arctic starry sky is very beautiful. Spot the Big Bear and Polar Star, Northern Lights often appear just under the Polar Star. Listen to the stories about local life and nature by living fire.
Our Northern Lights trip has got excellent feedback already for years. This is because our Northern Lights spotting place is the best possible place where are no other lights at all, northern sky is fully open and thanks of the local micro climate the weather is often clear even if it is cloudy or foggy elsewhere. By our long experience the right hours to be out there is 11-12 PM. Anyway you need some luck to see the lights and it is unpredictable even during the trip! Great surprises happen!
Why to book our organized trip? During this tour the northern horizon is all visible and absolutely dark that is very important in Aurora hunting. This trip offers a great chance for taking pictures of Northern lights in the middle of beautiful arctic nature. Please also check the tour reviews on our TripAdvisor pages and join us – the Aurora experts!
BOOK ACTIVITIES ONLINE AND SAVE! WE OFFER 2% DISCOUNT FOR ONLINE BOOKINGS
Tiedä, ennen kuin tulet
Each snowmobile is shared by two guests taking turns in driving. If you want to drive a snowmobile by yourself, without another guest, please add the solo driving supplement and enjoy the safari to the fullest! 
The driver of the snowmobile is held liable for damages caused to the vehicle. The maximum personal liability is 900 € per person / snowmobile / accident.
The self-liability waiver reduces the amount of maximum self-liability from 900 € to 200 €. The self-liability waiver costs 20 € per driver per safari and can be bought on our webstore as an optional for all our snowmobile safaris or on the spot before the safari. The self-liability waiver is personal. 
You will find both the solo-driving supplement and the self-liability waiver under Extras. These extras are available only for drivers.

Please, check the pick up time from your hotel.
Varaa nyt
Tietoa
Kesto
5 tuntia
Varaus etukäteen
3 tuntia
Vaikeustaso
Helppo
Ota yhteyttä yritykseen
Etkö löytänyt, mitä etsit? Ota yhteyttä yritykseen ja tiedustele lisää!