For mountain biking, we have something even better than mountains – our open fells. Take a snowy trail to the top and admire the infinite chain of round fells that don't grow trees in the arctic climate. When the night falls, snuggle up by the fire or venture out to the pubs of an original Lapland village. Open Fell Biking in Saariselkä is a one of a kind experience. Within minutes from your cottage, you'll be on top admiring the infinite chains of fells in the horizon. These big hills used to be mountains before the ice age rounded them and made them perfect for mountain biking. They're "open" because the arctic climate doesn't allow them to grow trees.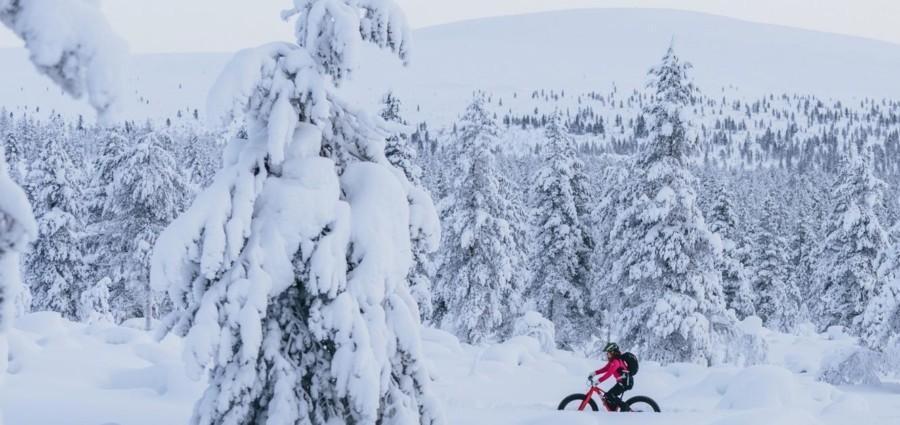 Year-round Open Fell Biking
OFB terrain caters both for those eager to try a fat bike for the first time and for those who want the ultimate adventure in the arctic wilderness.
In the summer, you can ride around the clock in the midnight sun. Sleep late and start in the afternoon – not because it's too hot but because you're having a holiday. The summer breeze in the open fells means less mosquitoes than you would think.
In the winter, you find OFB trails for winter biking and all the services of the most northern ski resort in Europe. You're likely to see aurora borealis – the northern lights.
Saariselkä is a far, yet safe destination. While it's a home for Sámi, Europe's only recognized indigenous people, it also serves as a fully-fitted, modern bike resort with hotels, restaurants, spa facilities, glass igloos, bike rentals, bike guides and rescue services. The access to the trails is quicker and easier than in most resorts.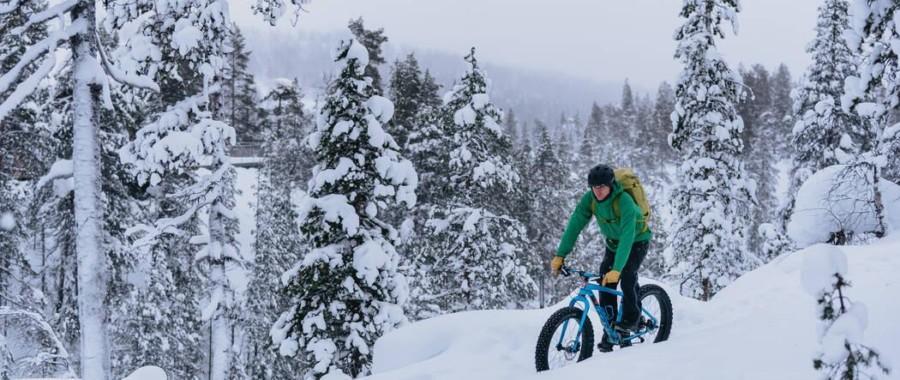 Biking routes
A whopping 230 kilometers of routes to bike during summer. Winter routes are redesigned every winter and around Saariselkä area there is 80 kilometers of routes to bike and part of these routes are for winter biking only. The regular maintenance makes everyday winter biking possible. The routes are clearly marked and rest stops are found along the way. You can bike through the thick arctic pine forests or summit the fells.
See the trail maps
Bike rental and guided tours
There is a vast selection of rental bikes and guided tours in the travel area of Lapland North. You can easily rent a bike online. Prices start from 35€ per e-fatbike. There are also bikes for children and juniors. The user of an e-fatbike should be at least 150cm tall but for smaller drivers there are fat bikes without electrical assistance.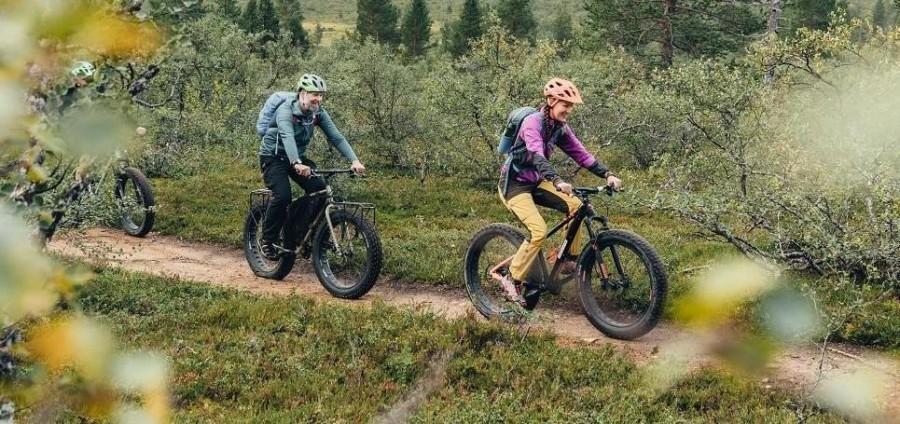 For beginners
For beginners, Saariselkä is the easiest place to try a fat bike, an electric bike or winter biking. Our smooth OFB tracks are not too steep, rocky or mushy. You can ride up and down and even over the round shaped fells on readily marked routes.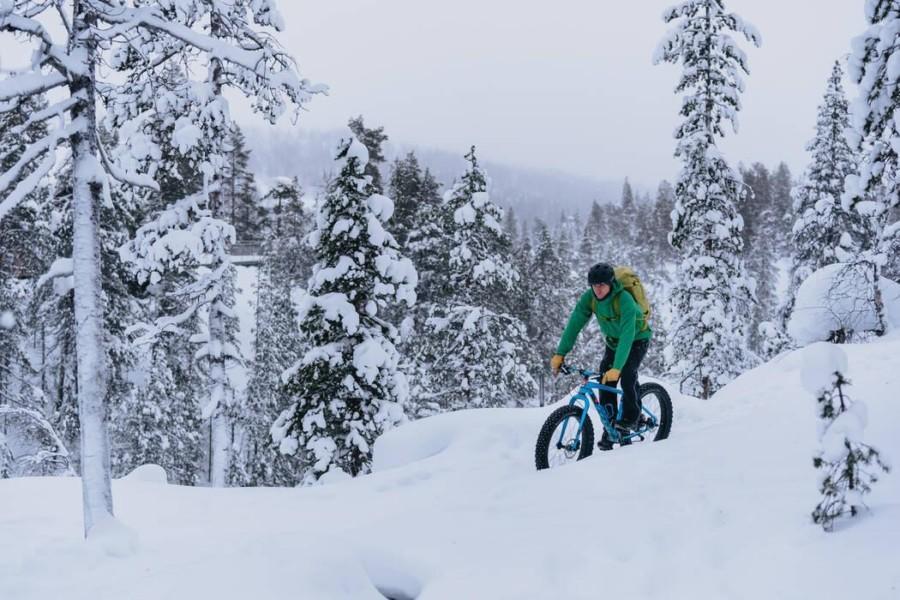 Experienced riders
Experienced riders can push their limits on a myriad of trails in Urho Kekkonen national park and surrounding areas. Keep in mind you have to stay on marked trails within the national park. OFB signature rides for the experienced are Kulmakuru and Rautulampi trails. Both offering true adventure by bike, gorgeous sceneries and technically challenging sections.
Mountain biking code of conduct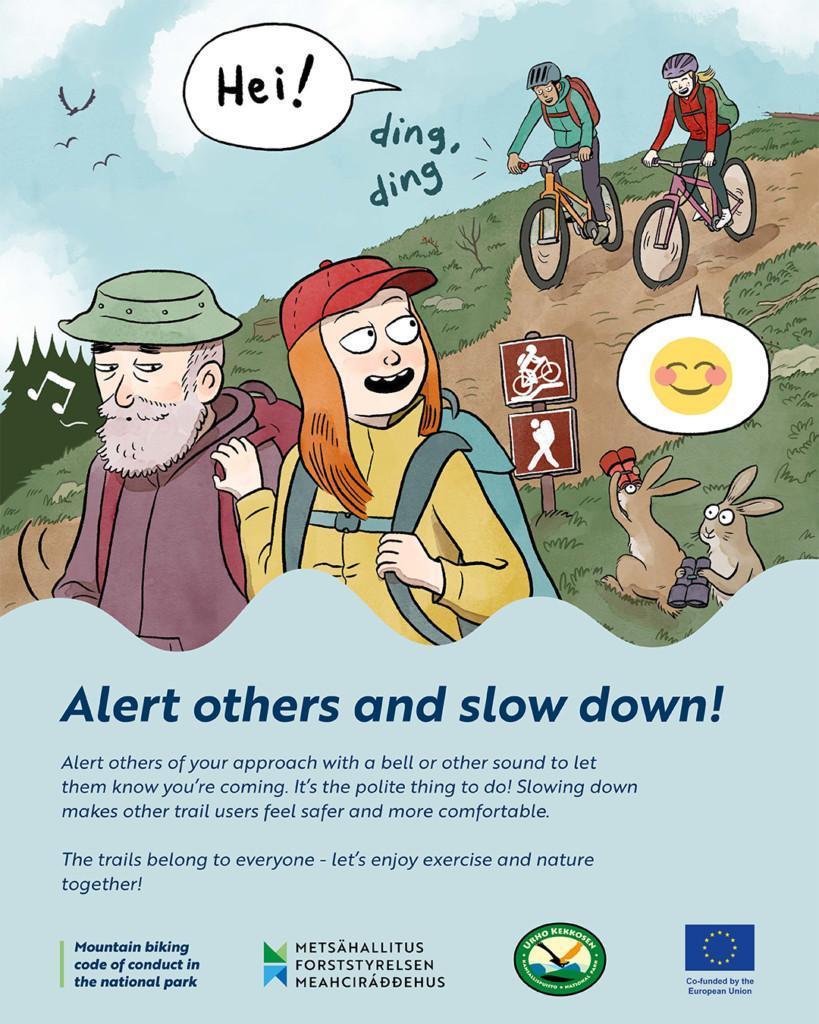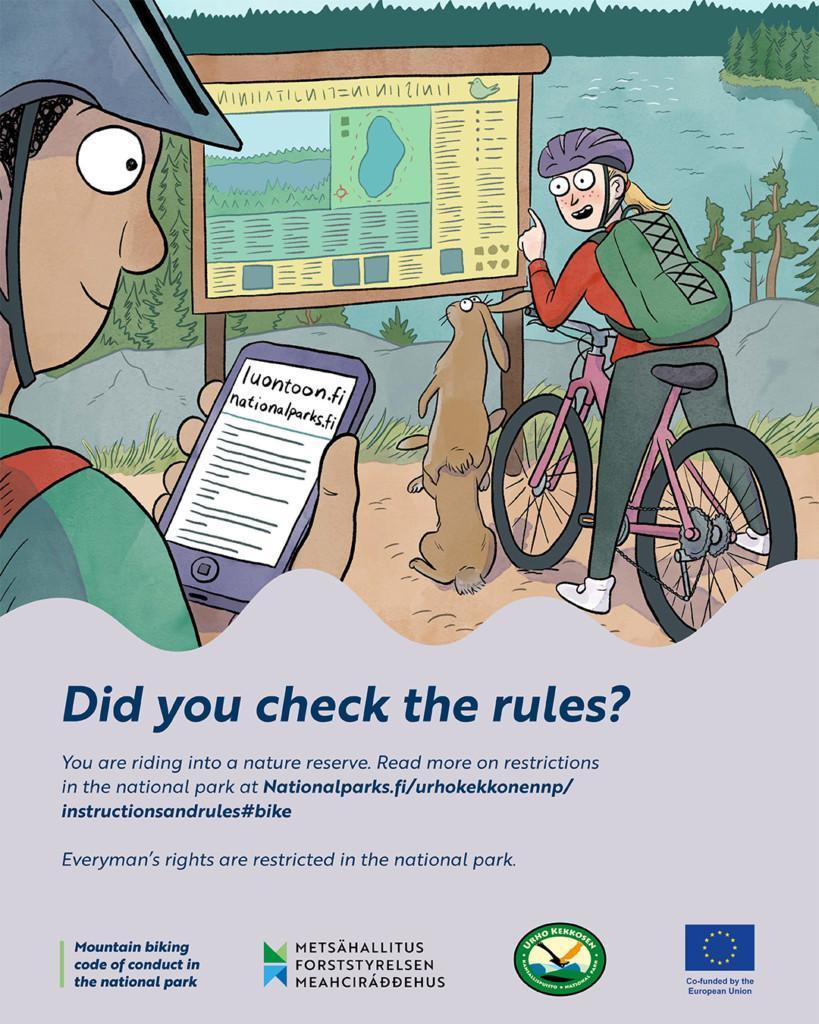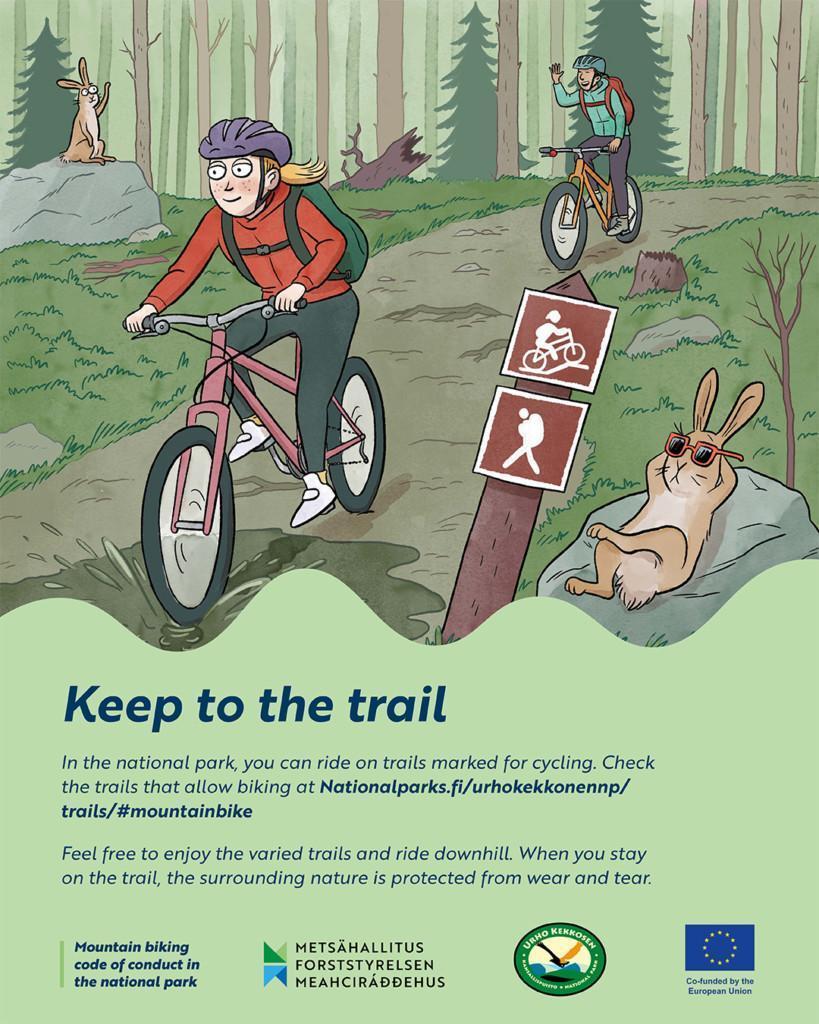 Complete your trip
Additional spice to your trip
Good to know about winter biking
Biking on snow, isn't that impossible? Or at least difficult and dangerous? On a fatbike, and on our winter biking trails, winter biking is a thrilling, yet surprisingly safe experience for anyone who can ride a bike. Here is your little intro.
Where can I ride? – We maintain our network of winter biking trails after snowfalls and, to keep things interesting, we change it every year! But keep out of cross country tracks. Your wheels would ruin them and there's a risk of colliding with skiers. The same applies to ski slopes. In the national park area, you have to stay on marked trails in the summer to protect the fragile vegetation of the arctic. While in the village and on the roads, just keep normal traffic rules in mind.
Windy days – High winds, especially when combined with snow fall, may hide the trails on the open fell sections. Choosing a route in the shelter of a taiga forest is a smart choice regardless of your experience, because wind has a chill factor on both beginners and pros. Soft snow also makes pedalling harder.
Bikes – The fat tires of a fatbike don't sink into the packed snow of bike trails. They just roll. But if the trails are still soft after maintenance and your tire starts to sink, let go some of the air from the tires and see if that helps the tire to float better. If it still sinks on the trail, please turn back and ride only on trails that are hard enough. If you add the magic letter "e", you have an electric fatbike that makes most of the effort when you go uphill, or upfell, in our case. Our area has several rental companies with a wide range of fatbikes, e-fatbikes, MTBs and e-MTBs.
Clothing – You can buy or rent everything you need for winter biking in Saariselkä. So, if you don't have something that's listed here, don't worry. Winter biking clothing is almost like any other wintery sports clothing. You need to be able to adjust insulation depending on the outside temperature and your amount of exercise:
Option A) Thermal underwear, fleece layer and shell jacket + pants. Option B) Thermal underwear, fleece layer and down jacket + ski pants. Whichever option you choose, you need good gloves, a hat that fits under your helmet and warm shoes. Beware: Chains may release oil to your pants and boots.
If you're alone without a guide, pack extra gloves, warm layer of clothing, head torch and a map with you.
Warm tea in a thermos is a good idea with snacks or packed lunch! And so is taking breaks in local cafés, because outdoor life consumes more energy in winter conditions than in the summer.

Guides – You don't need a guide, but local knowledge won't hurt you either. Winter biking trails are well marked, so risk of getting lost is minimal. With a guide, you won't need to take out your phone or map for navigating and freeze your fingers. Save them for snapping photos of your friends riding under the northern lights!
Will I see northern lights? – That's definitely an important part of the thrill of winter biking up here in the north. As soon as you feel relaxed on the bike, you probably start aurora gazing. If the sky is clear and if you have any luck, you're in the right spot. The nights here are long and magical.
Content © Saariselkä – International bike tourism destination

Accessibility
Lapland North Destinations are just a few hours away from southern Finland. Lapland is well connected to the world through flights, highways and railways combined with bus connections.
How to get here?
Inari-Saariselkä is far away in the North, yet just a few hours from Southern Finland. You can get to Lapland with multiple ways, and often the trip is an experience in itself.
How to get around?
When travelling through the arctic hills, you must remember that distances are quite often long. Be sure to enjoy the views while making your way from a destination to another.
Distance
By car {{carTime.h}}{{carTime.min}}
By bicycle {{cyclingTime.h}}{{cyclingTime.min}}
Inspiration for your holiday