Here you can easily browse the maps for the bike routes in the area whether you are summiting fells or adventuring through the forest.
Summer routes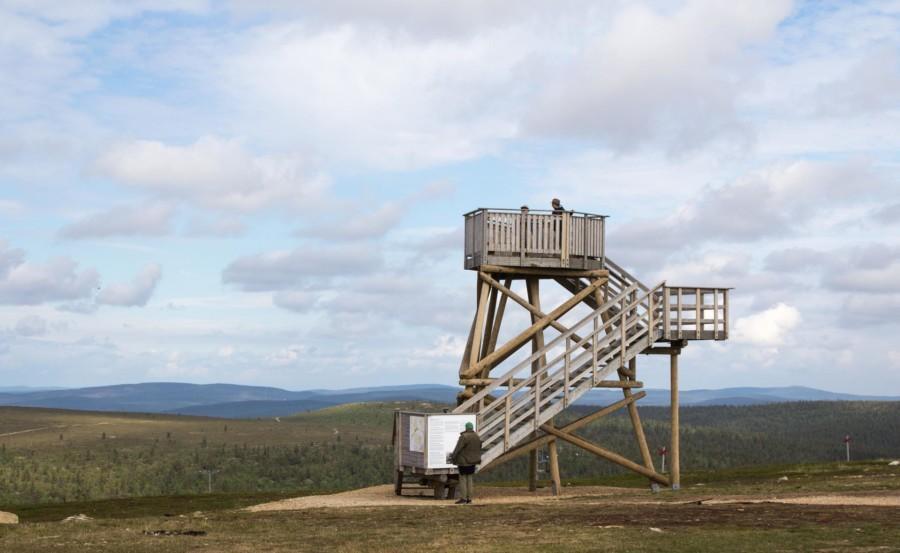 Kaunispää OFB 6 km
6 km | 0,5 – 1 h
Easy – Moderate
Recommended riding direction: Clockwise or anticlockwise
Kaunispää OFB is a good start for getting familiar with Open Fell sceneries and terrain in Saariselkä. Technically the route is quite easy, but the elevation (over 150 m) and steep sections on the cycle path make even the experienced bikers to sweat. With an electric bike you can adjust how much you wish to sweat. The price awaits at the top with stunning views to all directions.
Gravel bikes
Route is perfect for riding on a gravel bike.
GPX – trail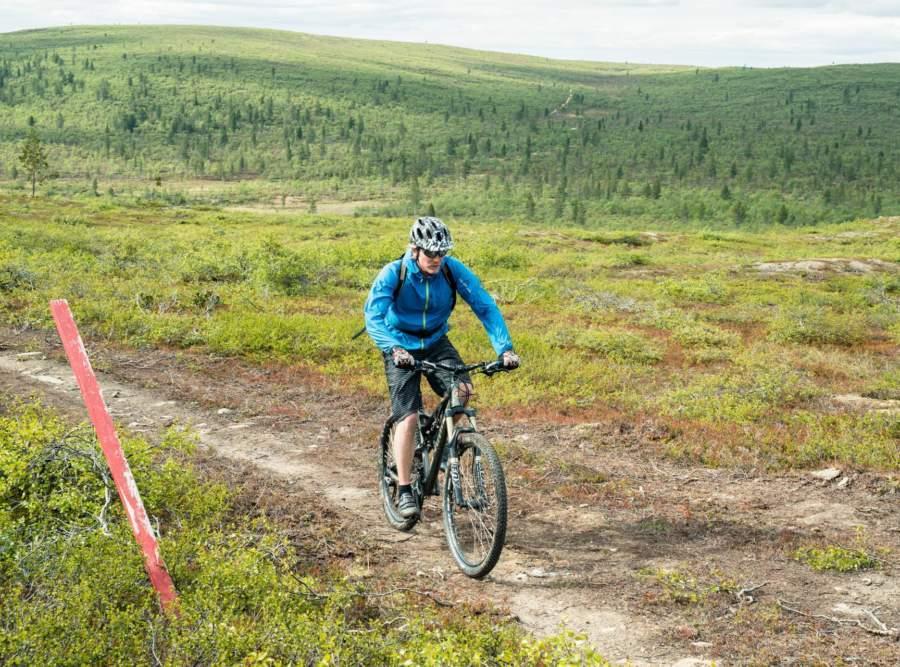 Moitakuru 27 km
27 km (13 km) | 2 – 4 h
Easy – Moderate
Recommended riding direction: Clockwise
Moitakuru trail is good choise for beginner mountain bikers, with or without an e-bike. There are three places for breaks with fire making possibilities along the way. First you climb to the top of Kaunispää, then a sweet long downhill to Palo-oja, climb again towards Palopää, winding by Moitakuru and Luttotupa day huts and then following Luttojoki river back to Saariselkä. Turning right at Palo-oja you can shorten the trail to half.
Gravel bikes
Trail section Moitakuru – Luttotupa – Saariselkä is very nice for gravel bikes.
GPX- trail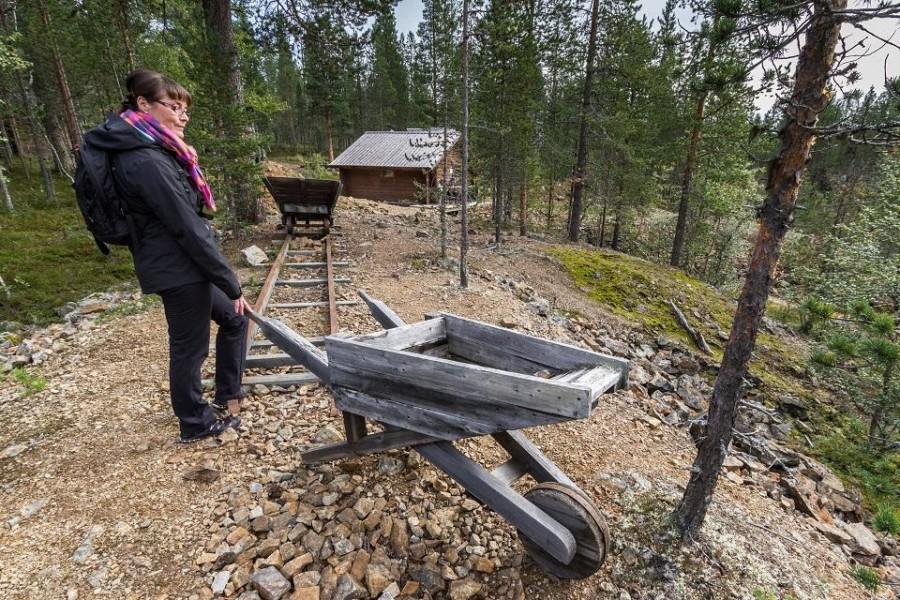 Iisakkipää panorama 13km
11 (13) km | 1,5 – 2 h
Easy – Moderate
Recommended riding direction: Clockwise
The route is rated easy to moderate. It starts with a bit steep and technical climb by Aurorakuru to the sides of Iisakkipää and Vahtamapää. But sceneries reached make it worth the trouble. And for the best sceneries you can ride all the way to the top of Iisakkipää (back and forth 2 km). After the rocky descent from Vahtamapää the rest of the trail all the way to Saariselkä is nice and easy gravel route to enjoy.
Gravel bike
Saariselkä – Laanila – Prospektori mine – Hirvaskuru intersection is easy with gravel bike.
GPX- trail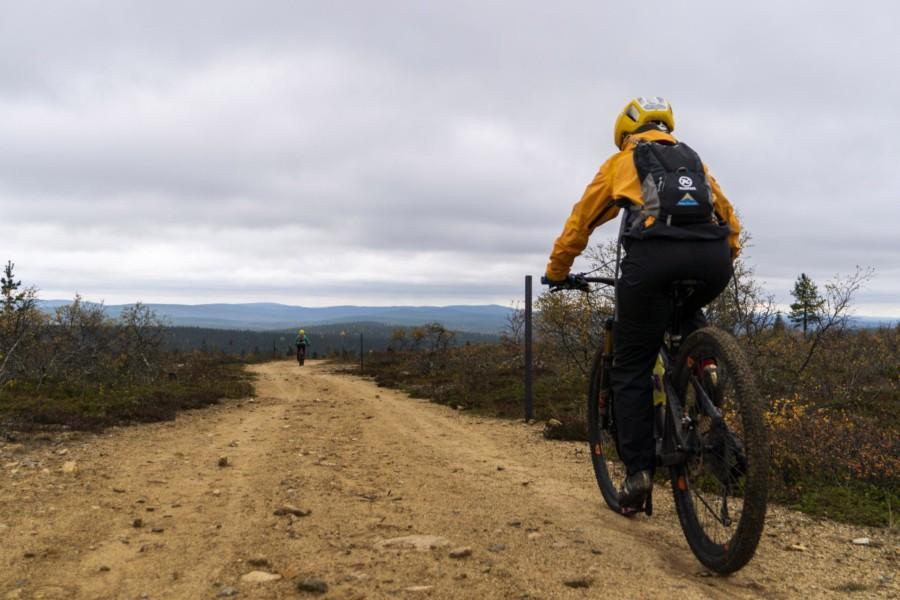 Vellinsärpimä 31km
31 km | 3 – 5 h
Difficult
Recommended riding direction: Anticlockwise
Vellinsärpimä trail is for the experienced mountain bikers. The long trail section from Taajoslaavu to Vellinsärpimä day hut offers a true challenge. There are many possibilities for breaks along the route. You can ride it either direction, but we recommend riding anticlockwise. Then the biggest climbs are at the beginning and for the rest of the route you can chill a bit more.
Gravel bikes
Taajoslaavu – Vellinsärpimä is not suitable for gravel bikes.
GPX- trail

Rumakuru Gravel 25km
25 km | 3 – 5 h
Easy – Difficult
Recommended riding direction: Anticlockwise
Luulampi route is a 100% gravel route 2-4 meters wide, mainly technically easy and enjoyable to ride. Section from Kiilopää to Luulampi with truly stunning sceneries is also a demanding climb. Some sections on the downhill close to Luulampi are really steep and with some loose rocks also tricky. From there on riding is easy. It's worth to stop and step off the bike at Rumakuru (Ugly gorge) and the historical Prospektori mine.
Gravel bikes
Very nice with gravel bikes except Kiilopää Luulampi section can be quite difficult at times.
GPX- trail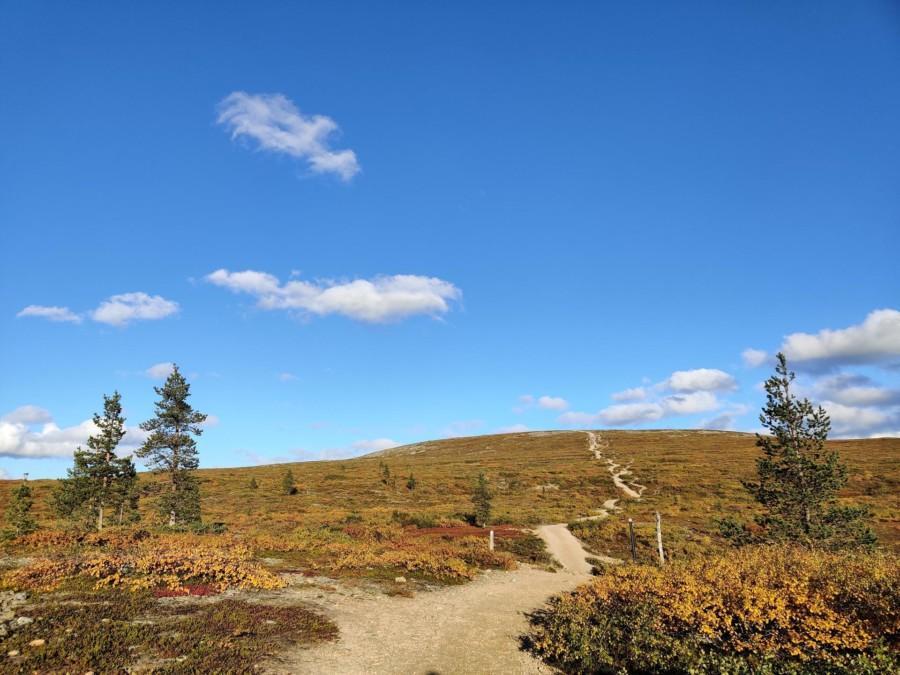 Rautulampi 24km
24 (22) km | 3 – 5 h
Difficult – Severe
Recommended riding direction: Anticlockwise
Rautulampi trail is a true classic route in Urho Kekkonen National Park for the experienced  mountain bikers. The trail takes you through the most beautiful sceneries in the area, offers a lot of uphills and downhills and as an extra bonus one of the best single track sections in Saariselkä. It's a wilderness route with challenging rocky fell areas and there are some sections without phone coverage.
Gravel bikes
Route is not suitable for gravel bikes.
GPX- trail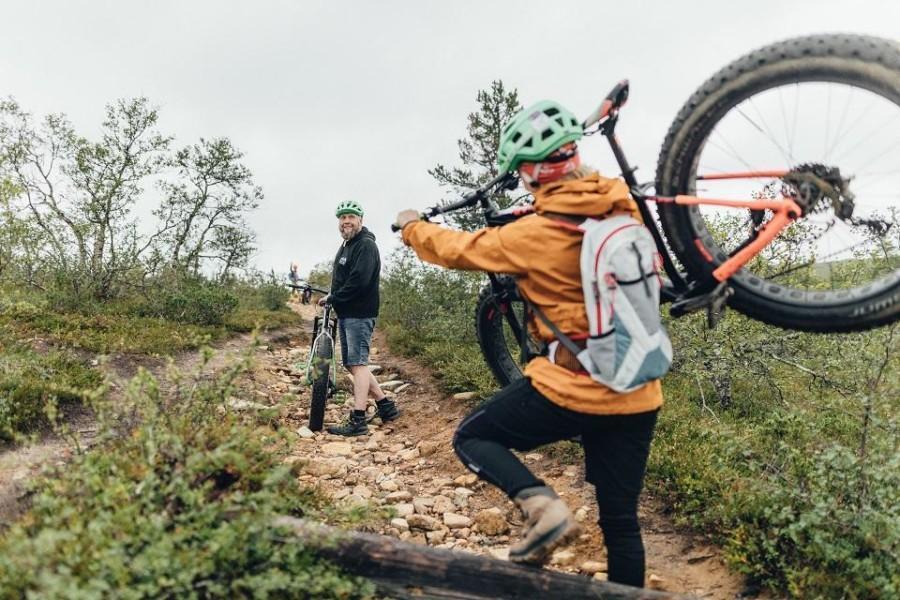 Sivakkaoja 22km
Recommended riding direction: Clockwise
22 (15) km | 2 – 3 h
Easy – Moderate
Tour de Sivakkaoja is an easy – moderate ride in the woods within Kiilopää, Muotka and Kakslauttanen area. Route suits well the beginner mountain bikers. Niilanpää day hut and Sivakkaoja lean to shelter are easy to reach from the round route. This route gives you the first taste of Open Fell sceneris without needing to climb all the way to the top.
Gravel bikes
From Kakslauttanen and Muotka to Kiilopää are easy with a gravel bike, other sections are more challenging.
shorter trail:  GPX-jälki
longer trail: GPX-jälki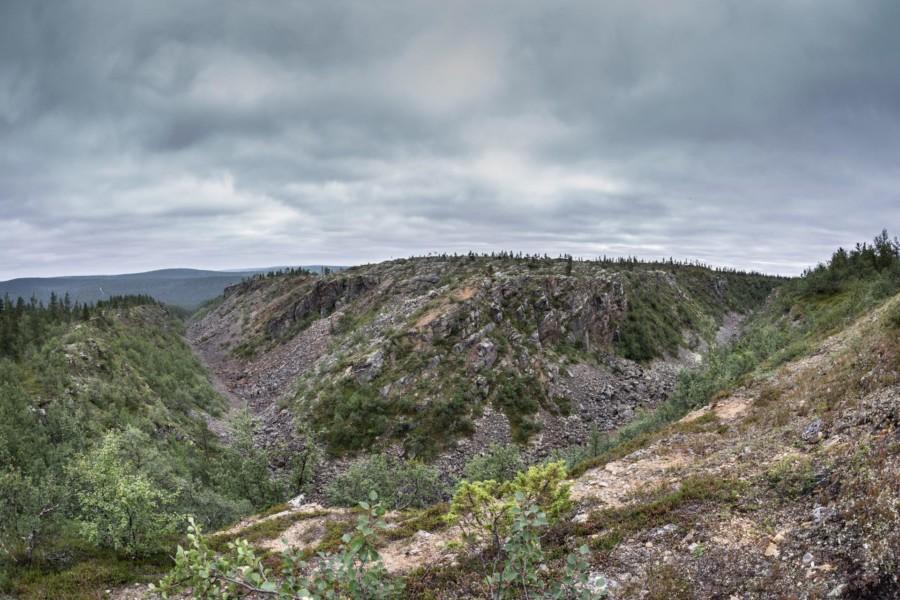 Kulmakuru 30km
30 km | 4 – 6 h
Difficult – Severe
Recommended riding direction: Anticlockwise
Please notice: The route is not marked and it's an unmaintained wilderness route.
Kulmakuru trail is in it's own way the most gorgeus trail in Saariselkä. The trail is highly demanding and strenuous and there's only one official place to have a break. There are quite a few places without phone reception and no route markings for the biking route. Tolosjoki river needs to be crossed twice. Because of these we recommend the route only for the experienced riders and minimum two people in a group.
Gravel bikes
Trail is not suitable for gravel bikes.
Kulmakurun reitti on omalla tavallaan upein reitti mitä Saariselän alueelta löytyy. Reitti on myös kokonaisuutena erittäin vaativa ja raskas, sekä pitää sisällään vain yhden virallisen taukopaikan. Reitin varrella on useita kuuluvuuspuutteita mobiiliverkossa, eikä reittiä pääosin ole merkitty maastoon. Matkalla ylitetään leveä Tolosjoki kahlaten kaksi kertaa. Näistä syistä suosittelemme reittiä vain erittäin kokeneille maastopyöräilijöille ja mieluiten aina vähintään kahden hengen ryhmissä.
GPX- trail
Summer routes take you to the amazing open fells
Winter biking trails
Did you know that in addition to excellent summer open fell biking routes Saariselkä is one of the best destinations to do winter biking? Routes reach from Saariselkä to Kiilopää and Kakslauttanen and offer endless experiences to bikers. These experiences create memories to hold dear in the future. Part of the routes are in the National Park of Urho Kekkonen where the open fells and arctic pine forests paint out the scenery and the variety of routes is beyond compare. If you still haven't tested out this fun sport or you want ideas to plan your trip you can find useful information about the routes and services from here.
Winter biking routes are marked clearly with blue sticks. In Saariselkä area all the routes are for multipurpose where you can travel with bikes, snowshoes, running or walking. From Kiilopää area you can find routes only for winter biking. Notice that cross country skiing tracks and snowmobiling trails are forbidden from bikers due to safety reasons.
The makers of the routes at Kiilopää and Saariselkä area wrote four recommendations about the best winter trails which you can use to choose the best option for you. With every recommendation there is a link to the GPS trail which you can save. You can use the GPS trail to follow the route by turning on your phones location service and allowing it to locate you on your browser.
You can download the GPS trail by clicking the save icon and by choosing "save as GPX".
Kiilopää trail recommendations
Trails begin from front of the Suomen Latu Kiilopää rental. Trails are marked by blue sticks along the trail. In crossings there are signs you can follow to head to your destination. The signs show also distances and crossing numbers which you can also see on the trailmap. At the starting point of the Kiilopää area trails a hotel, rental, restaurant and smoke sauna are at your service. At the rental there is also a charging point for the bike batteries which is open during the opening hours of the rental. You can also receive help to any technical issue at the rental.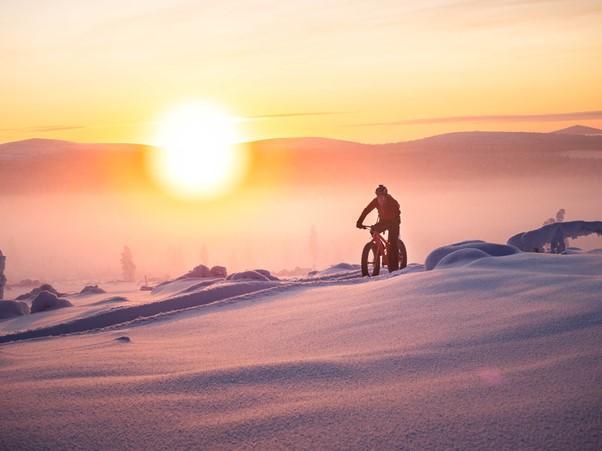 Easy round of glens
Starting point: Front of Suomen Latu Kiilopää rental
Distance: 6,2 km
Difficulty: Technical and physical difficulty is easy. By adding speed also an interesting trail for more experienced bikers.
Duration: Relaxed pace 1.5 hours and with speedy pace 30 minutes.
Rest points: Sivakkaoja hut. 68° 19.835' 27° 25.620'
Firewood and a dry toilet provided at the hut.
GPS – trail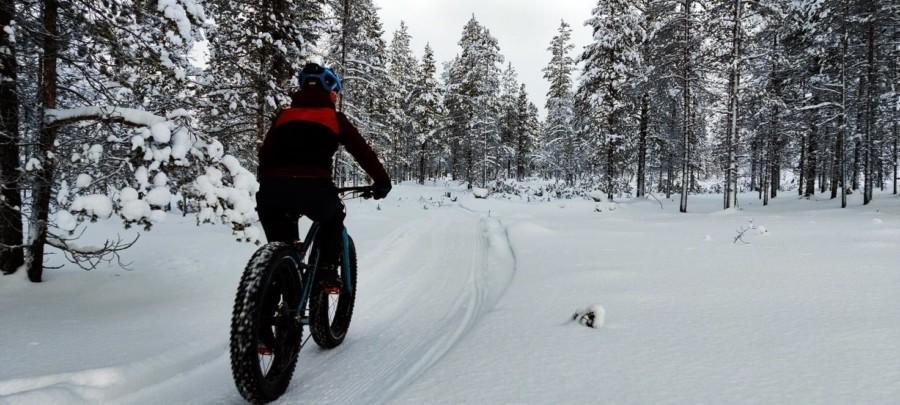 Intermediate fell route
Starting point: Front of Suomen Latu Kiilopää rental
Distance:16,9 km
Difficulty: Physical and technical difficulty intermediate to advanced depending on the weather conditions.
Duration: By a relaxed pace or during soft snow 3 to 4 hours and with speedy pace 1 to 1.5 hours.
Rest points: Savottakahvila Café 6.7 km, 68° 23.465', 27° 23.979' Rönkönlampi hut 11km 68°21.710, 27°23.133'
Firewood and a dry toilet provided at the hut.
GPS – trail
Saariselkä trail recommendations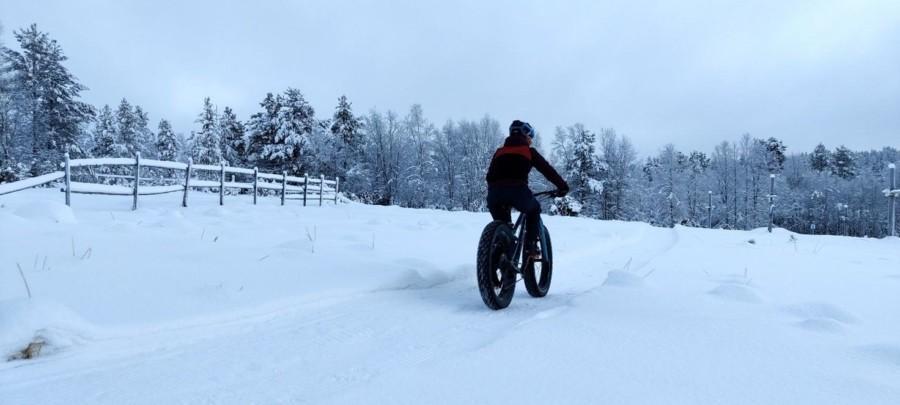 Easy Kievari winter trail
Starting point: Saariselkä tourist information Kiehinen (68° 25.2790′, 27° 25.6183′)
Distance: 8km
Duration: With a relaxed pace 2 hours and by speedy pace 1 hour.
Difficulty: Easy, suites well for beginners
GPS – trail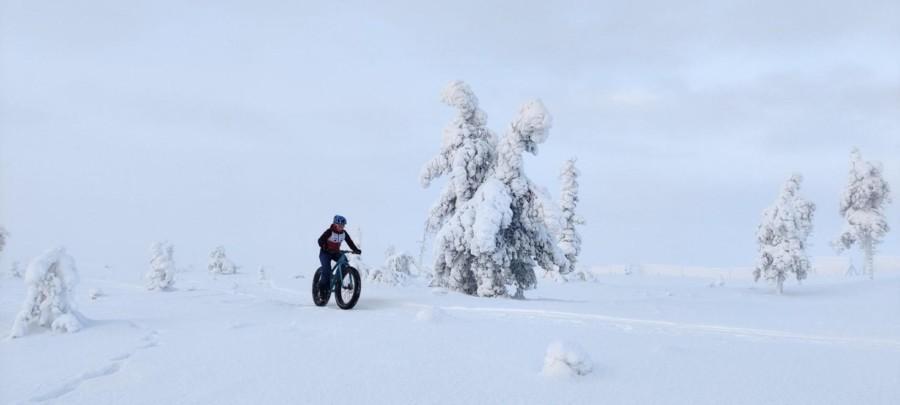 Intermediate round of Saariselkä
starting point: Saariselkä tourist information Kiehinen (68° 25.2790′, 27° 25.6183′)
Distance: 20km
Duration: By a relaxed pace 3 hours and by speedy pace 2 hours
Difficulty: Intermediate because of the height differences and length.
GPS – trail
With winter biking consideration of others emphasizes as well as the use of the right gear and patience to use the trails only when the conditions allow. There are countless users on the routes and the routes are located in public area. Hence why also other people than winter bikers are using the trails. Trails are fairly narrow why all must adjust their speed accordingly to avoid collisions. You might have to stop your bike or slow down fairly to pass another outdoor adventurer. The trails cross skiing tracks and snowmobile tracks when you must follow absolute cautiousness!
Estimating and monitoring the condition of the trail is a crucial factor in taking other bikers in consideration. One driver with wrong gear and conditions riding the trail can ruin the trail so much that it will be difficult to drive for experienced drivers and impossible for beginners. Trails are maintained by local operators with limited resources. During these times we ask for patience and respect towards the trail maintenance. Below you can see the tips which you can ensure that the trail stays in good condition after you.
Don't drive if you sink! If your tires sink even a little through the surface of the trail. If you drive on the trail when it's soft a groove forms quickly and gets deeper too when other bikers struggle to drive the trail.
Avoid locking your brakes is steep turns and hills. Locking your brakes forms dangerous grooves to the trail base.
Drive on low pressure tires. If you even slightly sink through the trail surface you must lower the pressure on your tires. Tires can have low pressure (0,2-0,5 bar) during the softest weather. Low pressure tires make driving as light as possible keeping the bike on the surface of the trail and no energy will be used to breaking the surface of the trail. If with lowering the pressure of the tires on your bike does not help and you are still sinking it is best to turn around and le the trail harden. Tires under 3,8″ are usually never suitable for winter trails because even if driving would be possible there would be dangerous grooves on the trails afterwards and making driving impossible for others.
Walk your bike at the edge of the trails. If for any reason you have to walk your bike, push the bike in the middle of the route and walk on the side. This way you avoid possibly dangerous dints forming on the trail.
After the route has been maintained let it set and harden. Very rarely winter bike trail is drivable right after maintaining as it requires at least one night to set.