September 10th, 2023
Kiilopää – Salonlampi, 20 km
It´s been a few years since I last wore you. My previous overnight-stays in the nature took place over three years ago, as I explored the National Parks in Lakeland region in Finland. I am so happy to wear you again for the autumn hike to UKK National Park, Saariselkä, Lapland North, Finland. Our plan is to hike the Luirojärvi Route in the next 4 days.
The hike started from Kiilopää Nature Center around noon on Sunday. My friend Veli-Matti Partanen had traveled with train and bus connection from the capital city Helsinki from southernmost Finland, and I drove to Kiilopää from my home village, Utsjoki, about 200 km north from UKK National Park. Weather was quite nice, with temperature around 15 Celsius degrees and thin clouds on the sky. Ruska-season (Autumn colors) was about to start, so colors of the nature were turning from the summery green towards yellow, orange, red and purple. Almost all parking places were occupied, as joyful people of all ages were heading to the wilderness – some picking berries and mushrooms, some riding a fatbike or MTB, some just for a day hike and some, like us, with heavy rucksacks with enough gear to survive a week in the nature. (This is actually one of the things I love best in Finland. People really do spend time outdoors, and there is infrastructure for all ages and fitness levels to enjoy the nature!)
This was my first time exploring deeper into UKK National Park trails. I have previously visited the marked trails of the National Park by foot, bike and skiing, but this time we were heading to the unmarked paths towards east.
Our first break was in Niilantupa hut, where we enjoyed some snacks. The trail to Niilantupa is also used by bikers, so the trail is very visible and well-marked. Our conversation focused mainly on work and family, as our minds were still set in the everyday life -mode. After Niilantupa we headed towards to Suomunruoktu. The trail was not marked, but it was easy to follow the much-walked path towards south-east. It is always important to use only the visible paths, to avoid leaving any new traces to the undergrowth.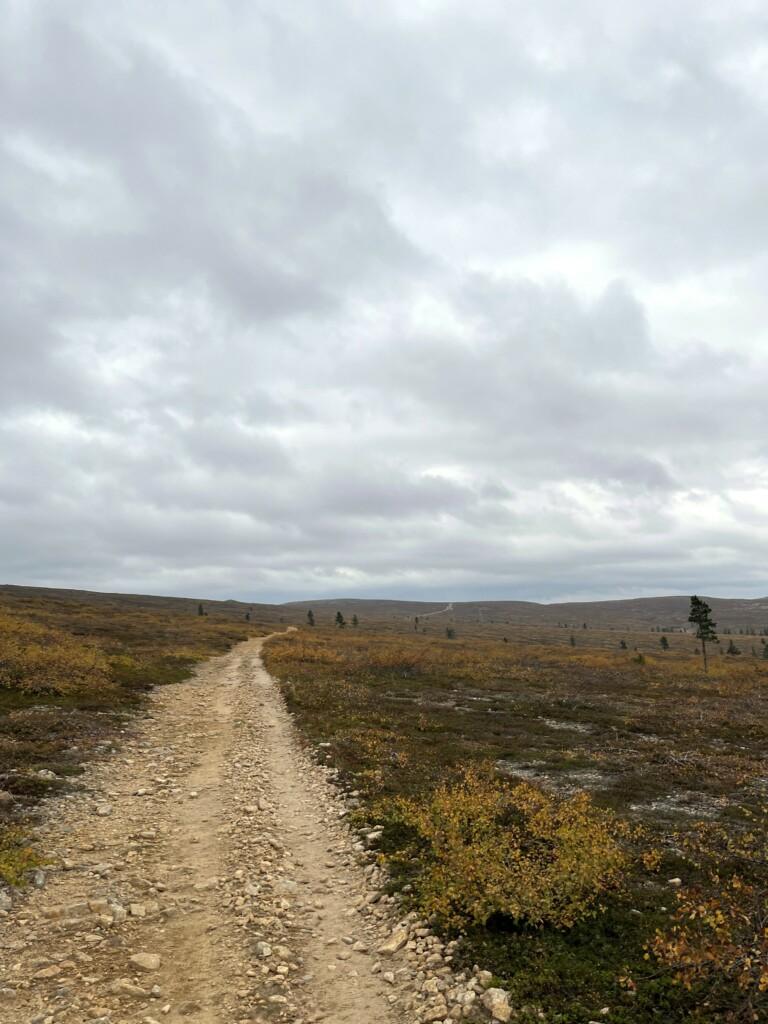 Early in the evening we reached Suomunruoktu wilderness hut by Suomujoki river. (If you are interested in how the Finnish wilderness huts actually look like, you can check on youtube). The original name "Suomaruoktu" in north Sámi language means "A Finn´s home", but the Finnish translation "Suomunruoktu" refers to a fishing hut. We had good time to check out the museum building in the surroundings, a bit south from the newer Suomunruoktu hut. The place has a lot of history of goldmining and also providing shelter to soldiers during WW2 (you can read more about the interesting history here).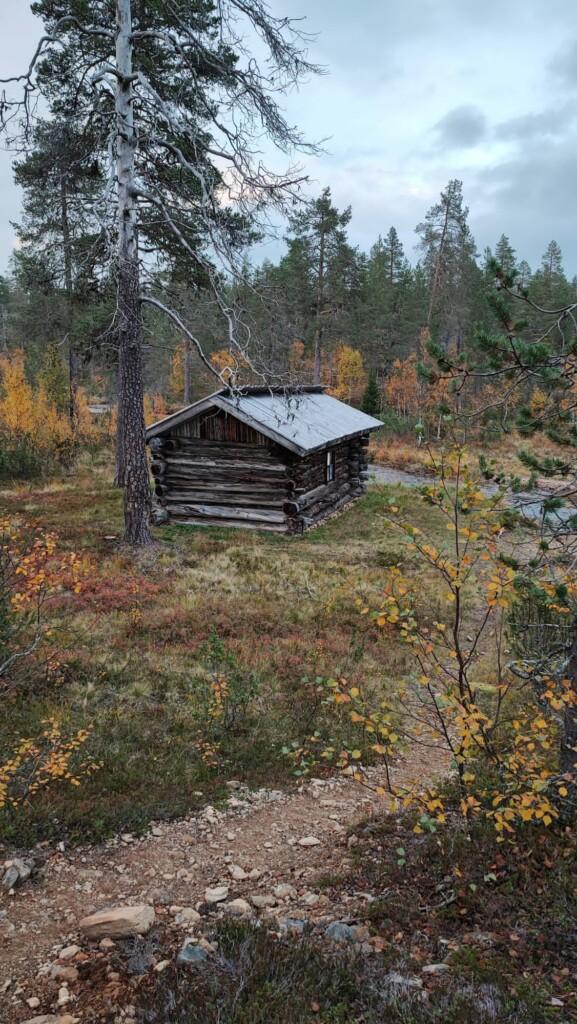 With enough energy and still a few hours of daylight left, we decided to make some changes to our planned route and continue our way towards east to Salonlampi, where we could sleep in a built shelter that we Finns call "laavu". However, some problems occurred, as we two experienced hikers managed to make one wrong turn. Near Aitalampi, we did not see the smaller path taking a turn towards east, and we continued towards south-east to Vintilätunturi Fell. Luckily we noticed fairly soon that we were walking on the wrong path, and decided to take a shortcut through the forest towards north and Suomujoki River. As the sun was already setting, daylight was getting dimmer and dimmer, so we hurried towards Salonlampi lake and the shelter. I was reading the map and the compass to see that we were heading to the right direction. As I was putting the compass back to my pocket, I accidentally dropped it to the ground, but didn´t notice until it was too late. (Lessons learned for next time – always have a spare compass AND rather backtrack the trail than start wondering in the mossy woods right before dark*…)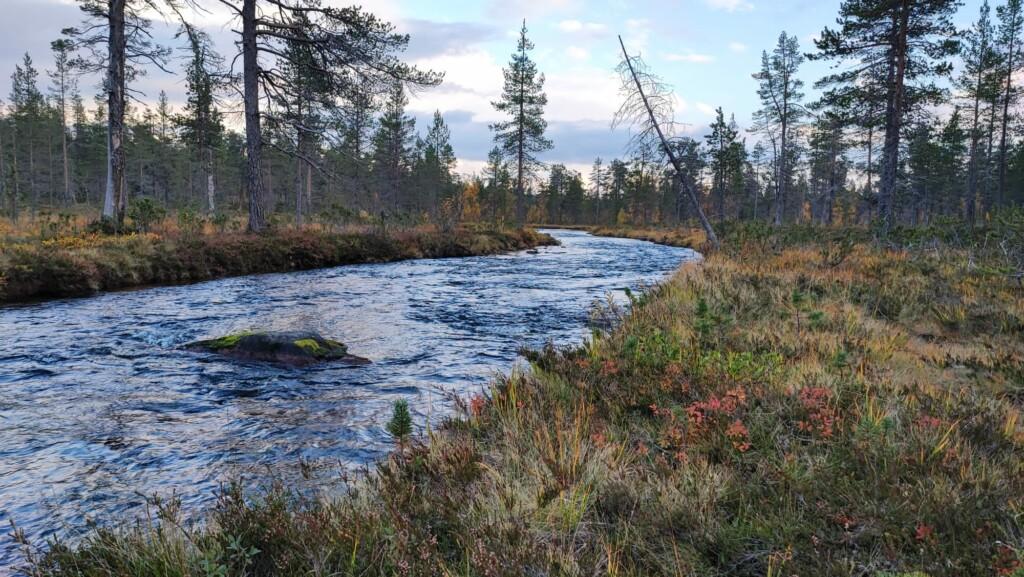 As there was no phone connection and I had lost our only compass, we looked at the map and sun setting to west to navigate our way to Salonlampi. (We managed to find the place, but if it had turned dark sooner, we would have had our own tent and enough water to set a camp anywhere to wait for the morning and sunlight.) Thanks to our adventure after taking the wrong turn, both of us forgot all about everyday-life hassles, and had our minds set on survival-mode. At the fireplace in Salonlampi, we cooked some delicious sautéed reindeer and mashed potatoes for dinner and made our beds in the open shelter. The temperature went below zero during the night, but in the fresh air and after a long day of walking, I slept like a log in my 4-season sleeping bag. No Aurora was seen this night, but hundreds of beautiful bright stars were watching us sleep.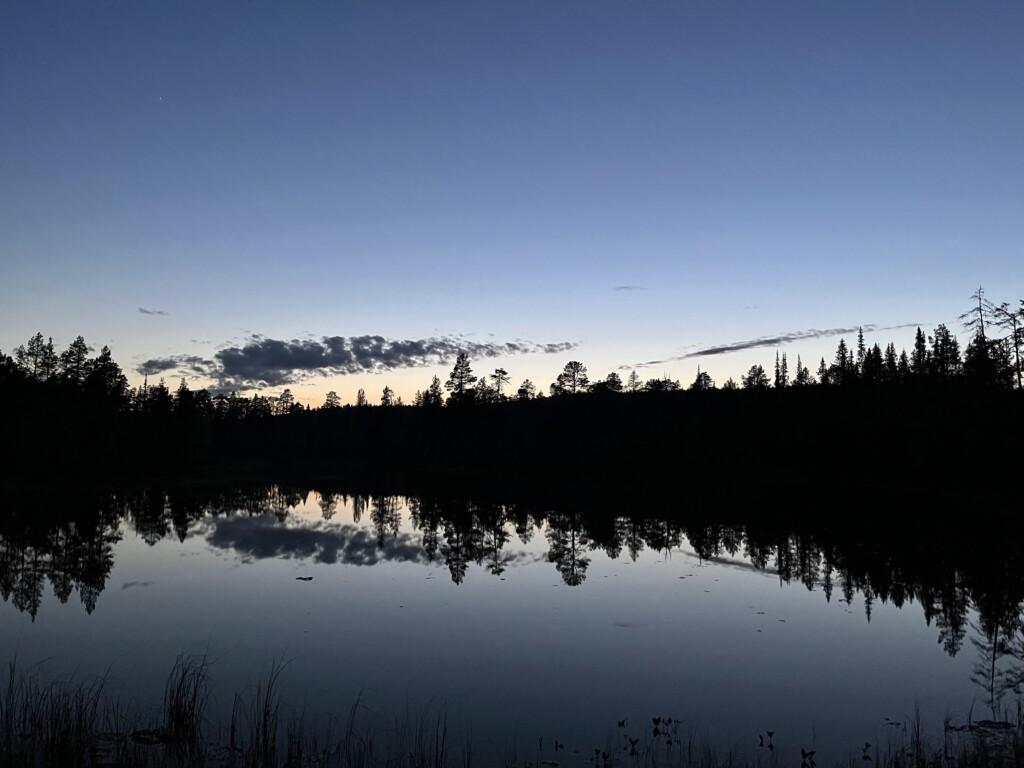 (*Many of my friends often rely on GPS and electronic devices when trekking, but personally I prefer the old-fashioned way of having a map and a compass, and use a GPS only as the last option. This keeps my orienteering skills better, plus electronics are really fragile in the outdoor conditions, especially in cold temperatures. If you want to learn more about using a compass, the American company Recreational Equipment, Inc. (REI) has several online courses that I really recommend!)
September 11th, 2023
Salonlampi – Luirojärvi (& Sokosti Fell), 25 km
We woke up in a chilly air, with the lake near by covered in beautiful fog. I woke up first so I set the fire and started preparing breakfast. Warm coffee and oatmeal with rye and oat bread with Lapinliha Kotasavu reindeer salami prepared us for today's hike (I am terribly sorry but I have no idea weather Lapinliha delivers products outside Finland, but if you ever visit Finland, check from bigger Finnish supermarkets for their products or visit their factory outlet in Rovaniemi!).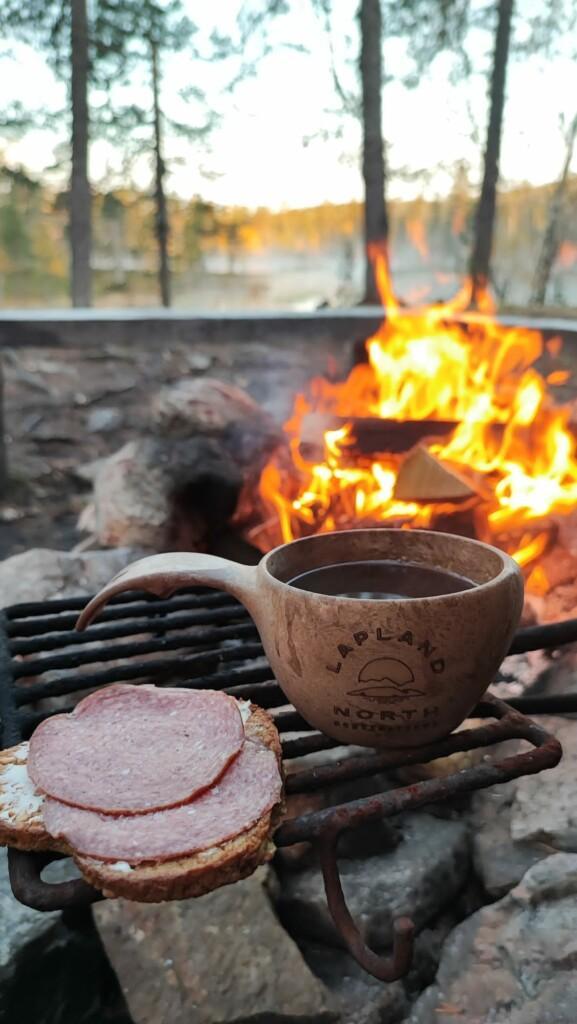 The sky was clear and sun was already starting to warm the air. We packed our rucksacks and started walking towards Tuiskukuru and Luirojärvi Lake. The day was very warm, so we had to fill our water bottles often from the flowing streams. Flowing water in the Lappish nature is usually okay to drink, but because there is always the risk of bacteria in the water, we had a filter with us. Before heading down towards Tuiskukuru and our lunch break, a gorgeous view over the fells in mid UKK National Park and having some internet and phone connection made me stop and make a video call to my dear 4-year-old son. I was happy showing him the gorgeous scenery on the video, but he was even more excited to tell me that he had been baking ginger breads with grandma, dressed like an elf (yes, in September…).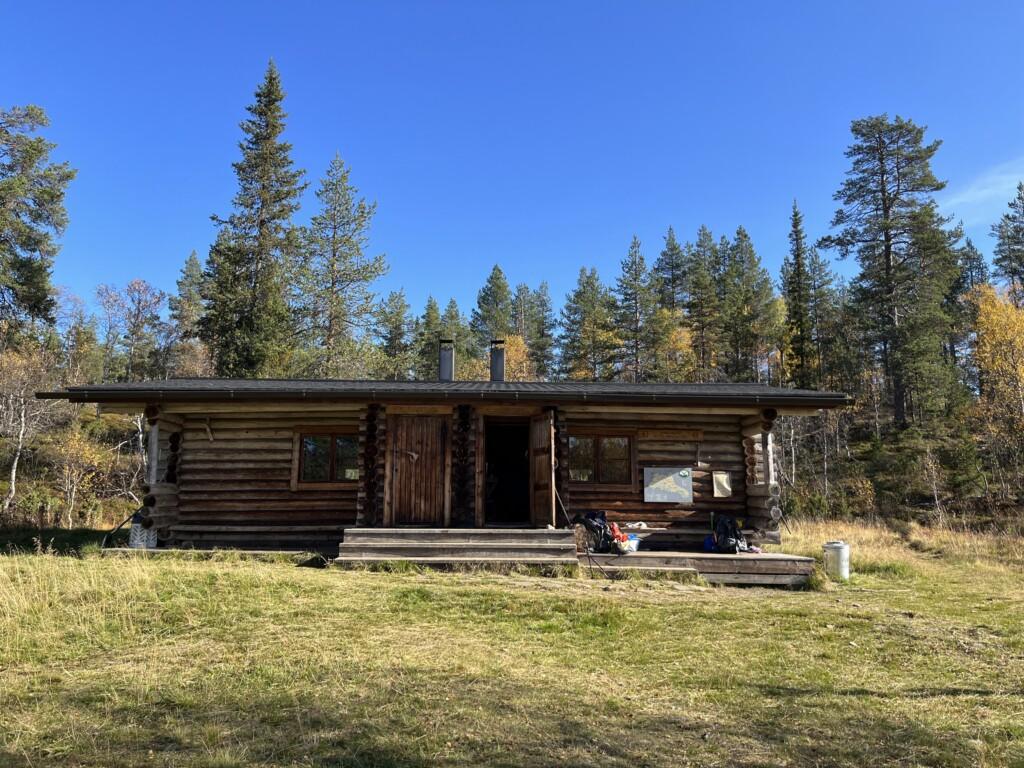 We continued to Tuiskukuru wilderness hut and prepared our lunch there. In Tuiskukuru we met several other hikers as well. Because we Finns are such outdoor people, we have unspoken rules people follow in the nature, such as always leave your rucksack outside the hut, do not leave any trash in the nature or clean up after yourself and fill any empty firewood baskets when using common huts. Luckily today, thanks to modern technology and the internet, these unspoken rules are now available online and in different languages – so I recommend reading them through if you are planning a trek in Finland!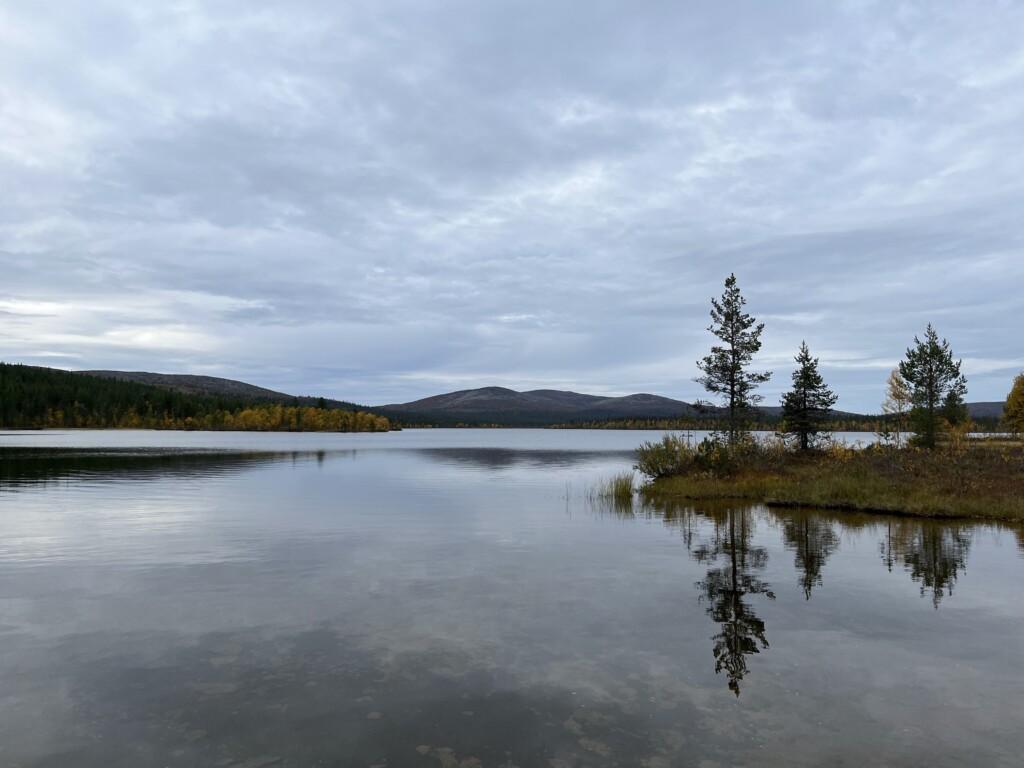 From Tuiskukuru we continued our way to Luirojärvi Lake campsite. Luirojärvi has several wilderness huts and even a public sauna for visitors, and you can pay the few euro sauna fee in a mobile app on the spot. In the same app you can also rent a bed place in some of the huts in National Parks, which is actually a good idea, especially if the weather turns bad or you travel with a bigger group and don´t want to set the tent every night. The price for reserving a bed in a hut for one night is about 15 euros. We had not reserved a hut, so we set our tent and had some snacks.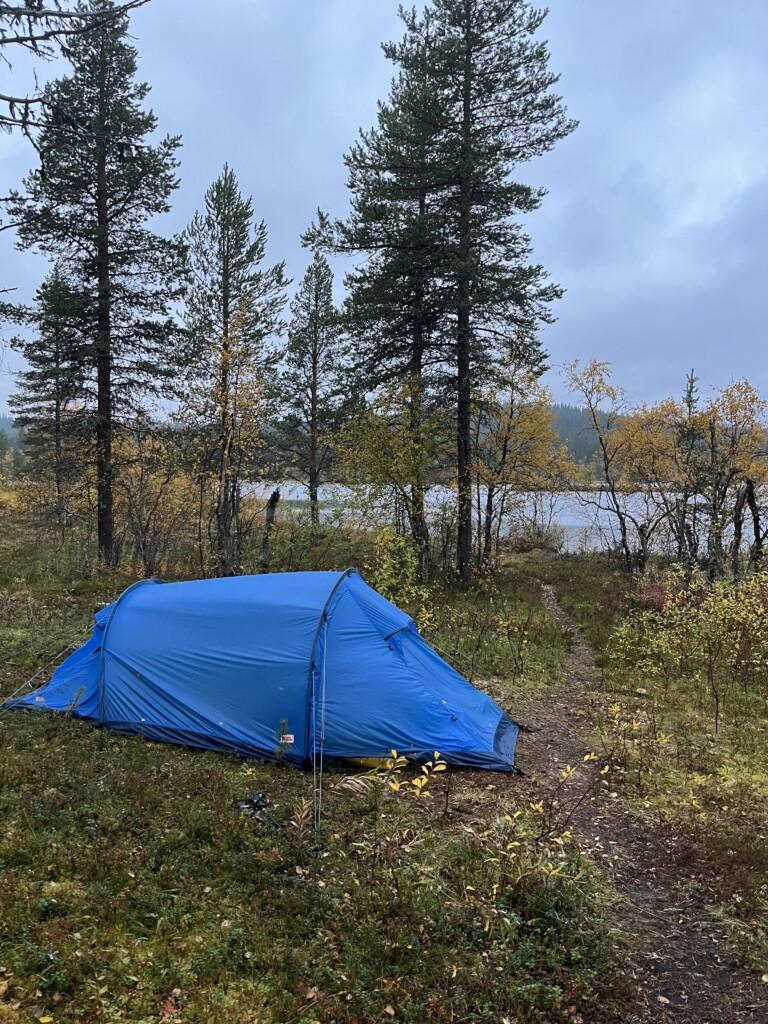 The clock was something after 6 P.M., so we decided to leave our rucksacks at the camp and do an evening walk up to Sokosti Fell, which is about 5 km from the Luirojärvi campsite. However, again we had a bit too positive impression about our pace with sore feet. About half way up to Sokosti we met three hikers coming down, who told us that it took them at least 2 hours to go all the way up. The path was very rocky and steep at some points. This night we were wiser than the previous night, so we as well decided to turn back to the campsite before dark. But we did see spectacular view across Luirojärvi lake, and at least now we would need to come back to UKK National Park to climb all the way to Sokosti another time! It could be a good idea to spend two nights in Luirojärvi, so there would be a whole day to visit Sokosti Fell and maybe do some photography from there.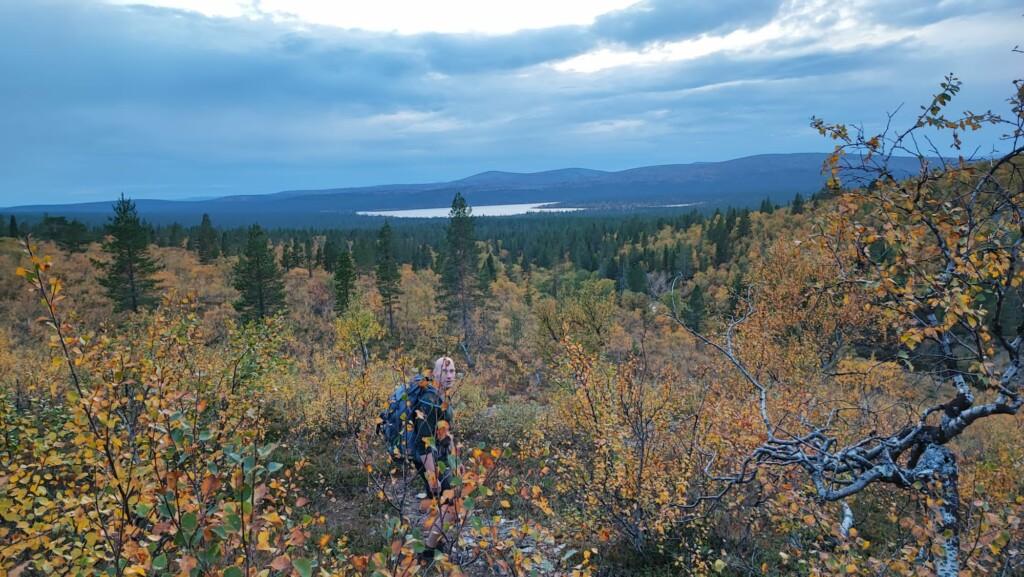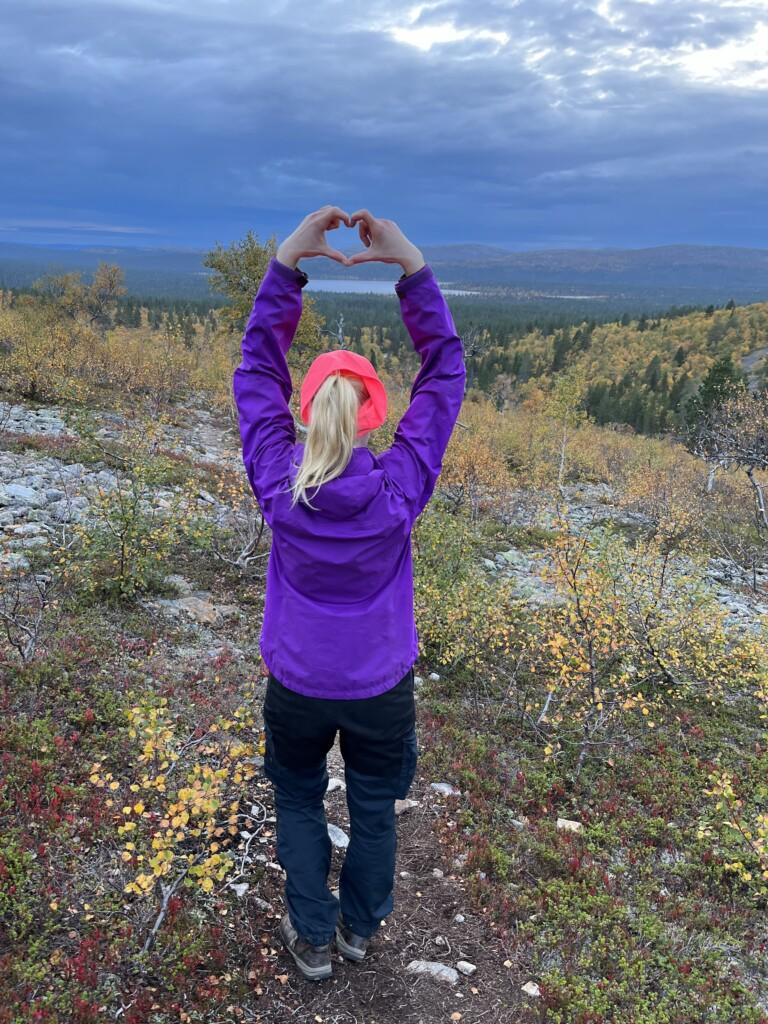 Want to read the second part of our hiking adventure in UKK National Park? Check it out here!
This blog was written by Petra Suontausta, living in Utsjoki and studying tourism in Sámi Educational Institute, Inari.