Aurora Queen Resort is a brand new destination in the region. Family owned resort is located in northernmost Lapland surrounded by peaceful nature. Glasroofed igloos and panoramic suites call you for a magical visit in the embrace of nature and tranquility. Because of love and respect for nature the owners want to be sustainable hence why they use geothermal heating and wood in their northern resort.
Whether you are in a search for active and adventurous holiday, romantic getaway or to surround yourself with quietness in nature, Aurora Queen Resort is a place for you. With a wide selection of activities you are able to fulfill your holiday in northernmost Lapland.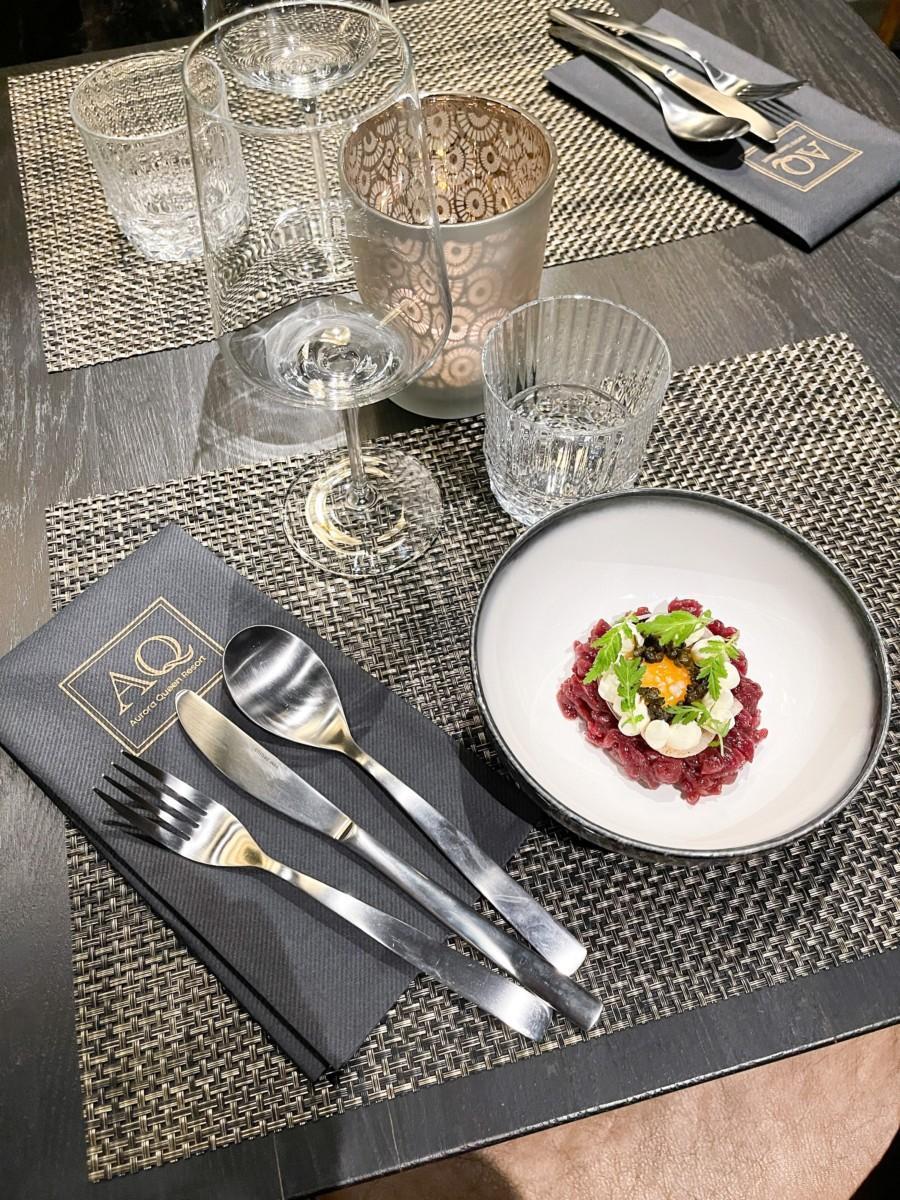 In the embrace of nature you can find a gem of Lapland
Arriving to Aurora Queen Resort you attention is captured by the atmospheric lighting and beautiful black main building. Inside the main building is located the resorts restaurant. The stunning interior takes you aback for a moment. Decorated with a good taste the interior mixes black and gold which makes the atmosphere really warm. Textiles and materials are carefully selected and placed. In the restaurant you feel like you are dining in nature because of the massive windows. No specific art pieces are necessary because windows are acting as one everchanging painting. Outside, trees topped with snow glimmer in the frosty air while an intriguing scent of delicious food reaches you from the kitchen. Aurora Queens restaurant is open everyday and even if you are not staying there you should really enjoy a dinner there.
Restaurant is open as follows:
Lunch 12 a.m. – till 2 p.m.
(excl. week 50)
Dinner:
5 p.m. till 10 p.m. (Kitchen closes 9 p.m.)
Fri and Sat 5 p.m. till 11 p.m. (kitchen closes 9.30 p.m.)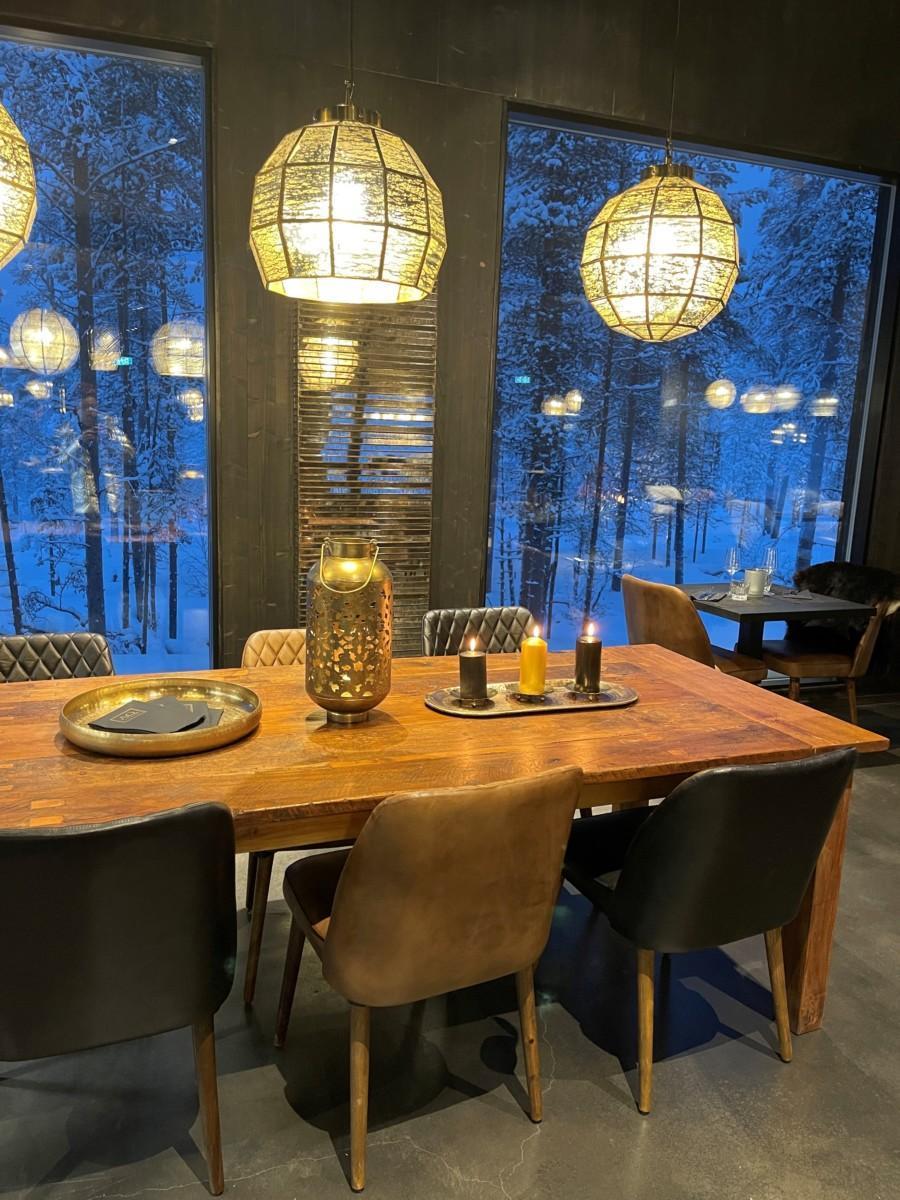 Flavors of North on your plate
Chef Akseli Mäki has designed the menu himself and it takes you to a journey that touches all your senses. Using local ingredients the menu includes familiar northern flavors that stay on your palette for a long time. A successful experience as a whole forms from all the small parts combined and when leaving makes you wistful it means that the whole is a success. Aurora Queen Resort is something special in northernmost Lapland wrapped by the surrounding nature and authentic elegance. Personal and warm service makes you feel like your visiting friends after a long time of being apart.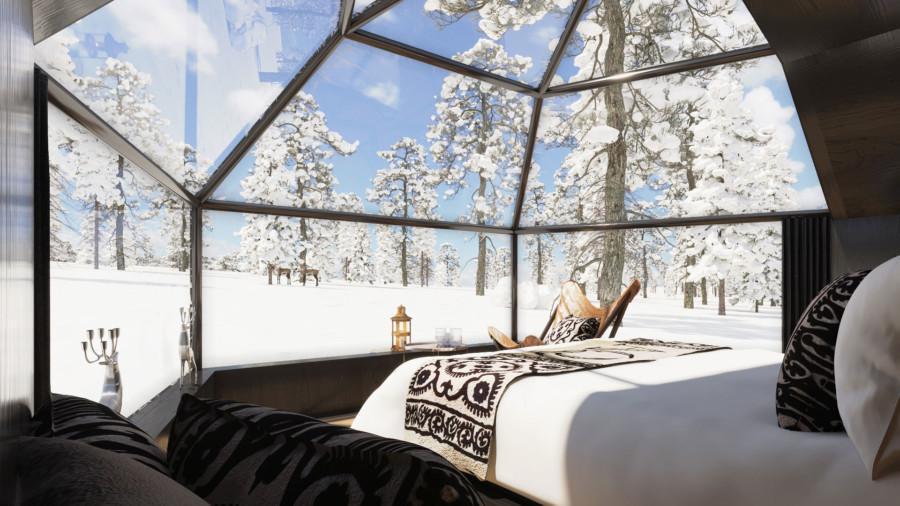 Sleeping under the starry skies
From the main building you can easily access the accommodations placed carefully apart with your privacy and tranquility in mind. Aurora Queen Resort is located outside of light pollution so you can enjoy bright night sky and see the mystic dance of northern lights. The igloos are designed in a way that they bring you as close as possible to nature and the night sky but every detail inside is thought carefully thinking about comfort and indulgence. In the spacious room you are able to enjoy your morning coffee first thing and enjoy a delicious breakfast in the restaurant.
Pictures: Restaurant and accommodation pictures by Aurora Queen Resort
More inspiration for your holiday