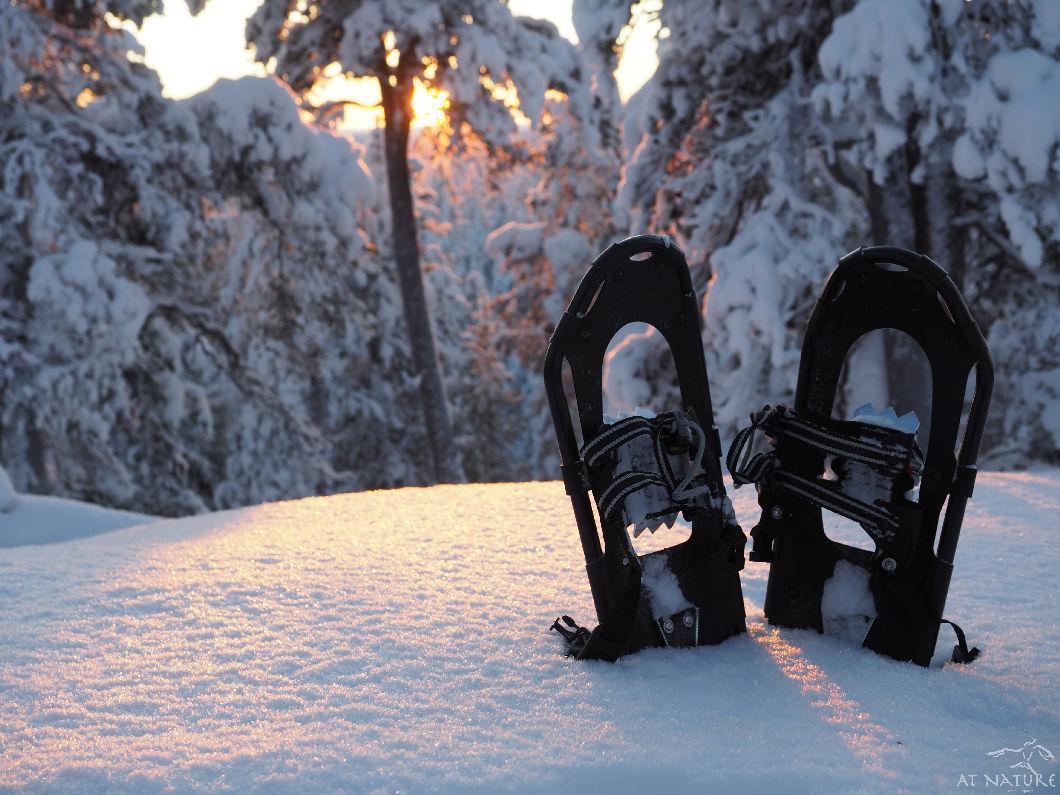 We drive from village Inari about 20 min to our home. On the way we can see beautiful landscape of lake Muddus, wilderness area Muotkatunturi and river Kettujoki (weather permitting). We live near wilderness area Muotkatunturi which is like a "second living room" to us. Our place is tranquil; we even cannot see the lights of our nearest neighbor. Upon arrival you get to know more about our home and lifestyle in the Arctic where bush craft skills are part of everyday life. 
Our snowshoe walk takes you into the ancient woods along lakes and mystic mires. The forest we see belongs to the oldest forests in Lapland. During the walk we observe possible animal tracks and nearby feeding birds. Siberian Jay and Siberian Tit are commonly around and with good luck we might see even Elk and Mountain Hare during the walk. By mid-February or early March we start looking for first Pine Grosbeaks to return. You also learn about the importance of the snow for the arctic life. Before transfer back to Inari we enjoy open-fire hot drink and local snacks in our kota.
Know before you go
We walk on paths and in the snow at a slow pace. Our route rises on a small hill nearby. You do not need any previous experience with snowshoes. The walk takes about 1½ hours. Please, see the video about correct winter clothing on our Activities site. For example your shoes need to be large enough, your socks should be non-cotton socks (at least two pairs) and you should wear many layers of clothing according to the prevailing weather conditions.
Children must be accompanied by a parent. 
The guiding languages are English and Finnish. However, we can help also in German.
What do I need to bring?
We recommend you to bring your own camera and/or binoculars.  
Book now
Information
Duration
3 hours and 30 minutes
Booking in advance
1 day
Difficulty
Easy
Minimum age
7
Contact the company
Not exactly what you're looking for? Contact the company for special requests and larger groups!