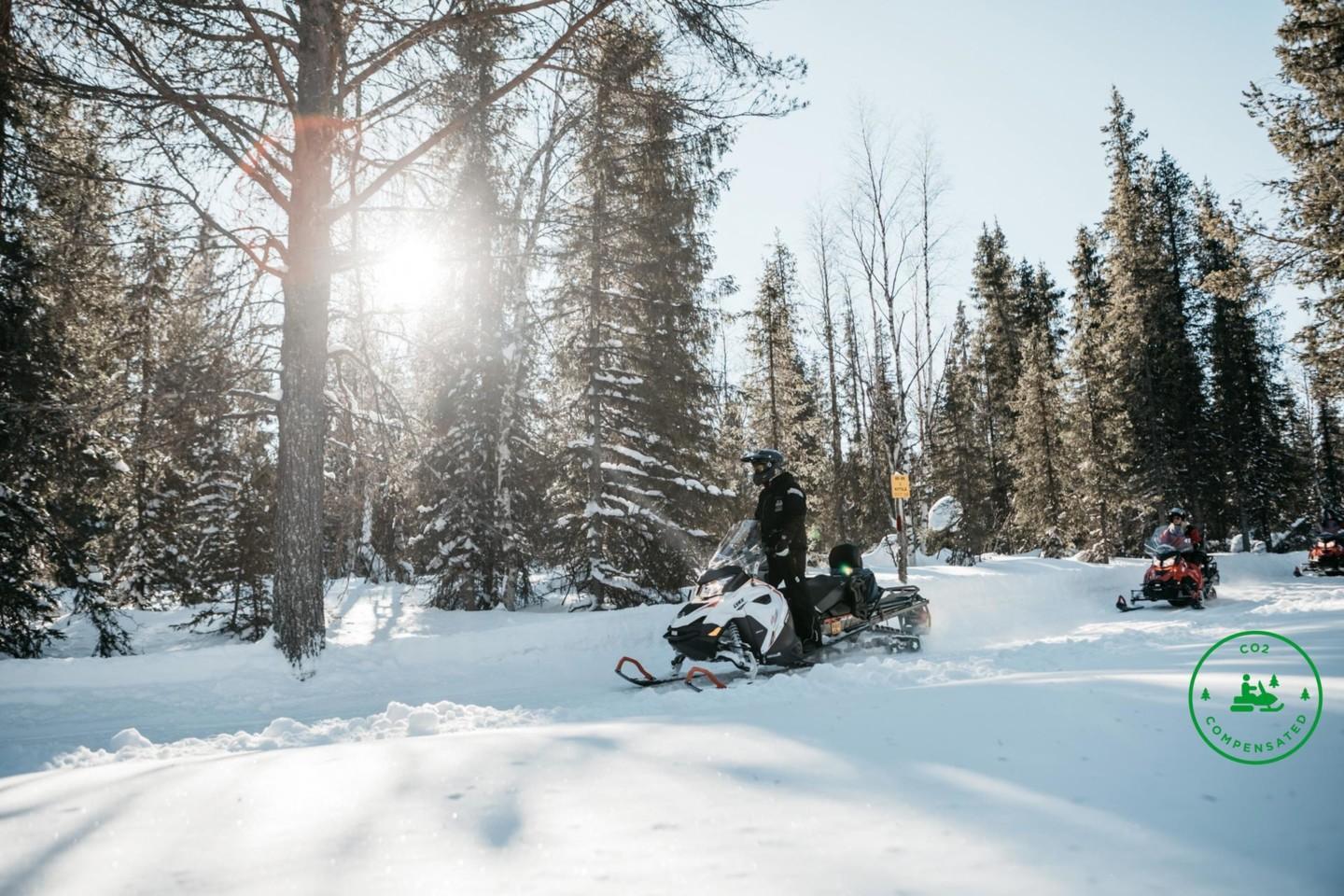 Enter the arctic nature on a snowmobile – try ice fishing and snowshoeing
Enjoy the great outdoors on this snowmobile safari to the heart of nature. The trail traverses rugged fells and narrow valleys before you will have the chance to try ice fishing and snowshoe walking on the way. The weather in Lapland can change quickly – ranging from cold, blizzard conditions to sunshine over crisp and fresh snow – the snowmobile trail you follow may change accordingly. A delicious soup lunch will be served during the day.
MENU
Soup, bread and table spread
Coffee / tea and sweet pastry.
Know before you go
Program has a set menu, so please advise on any special diets or food allergies in advance

Please notice that the pick-up time for the safari is different from start time and depends on your accommodation. We kindly ask you to check carefully the correct pick-up time from your ticket.   
Each snowmobile is shared by two guests taking turns in driving. The driver of the snowmobile has to be at least 18 years of age with a driver's license valid in Finland. Driving a motorized vehicle under the influence of alcohol or intoxicating drugs is prohibited by the laws of Finland.
This adventure requires basic physical fitness and is recommended for children of 15 years or older.
This safari is co2 compensated from the snowmobile fuel emission
Self liability can be reduced to €150 by paying waiver supplement €15 per safari driver
Solo riding possibility. Supplement for solo riding 85 € / person.
See also General Information for additional info
What do I need to bring?
Please take your driving license with you on the snowmobile safari as the police may check the validity of the license during the safari.
Book now
Information
Duration
6 hours
Booking in advance
1 day
Difficulty
Moderate
Minimum age
15
Contact the company
Not exactly what you're looking for? Contact the company for special requests and larger groups!