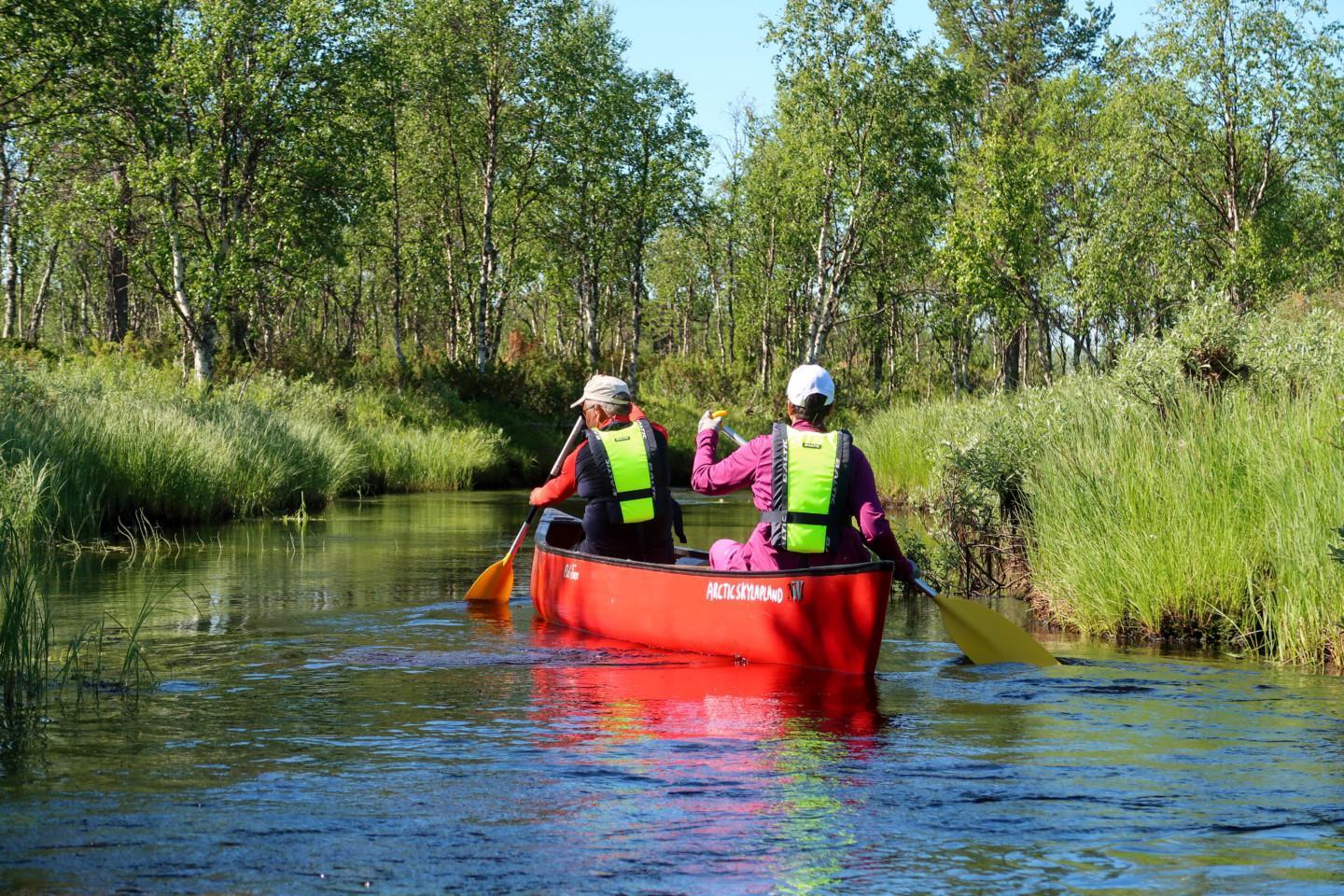 Tankajoki is an easy river to paddle and suitable for beginners, families and everyone interested about slower pace. River has a lot of curves and the water level is low. This route leads you through a beautiful nature!
Let us meet at Arctic sky and check the gear. We will take you to the starting point of the self guided tour and give you instructions how to paddle and how to inform us to come pick you up! Enjoy the canoeing and take break when ever you need one! We will meet you about 17km (and 4-5hours) later at Purnumukka village.
Please notice! Maximum 2 adults (+ 1-2 children can be taken to some of our canoes) in each canoe. No live guide included. Minimum group size 2 persons!
All participants need to know how to swim. Please have your mobile phone fully charged to call for pick-up.
Wear clothes suitable for outdoor sports according the weather. Rubber boots are recommended. Have some snacks and drinking water with you!
Know before you go
All participants need to know how to swim. Take your personal medication with you. Charge your phone full and save battery for possible emergency call. Pack your phone in water proof container or in double zip plastic bag. Have extra clothes with you.
You will have a short instruction for paddling with canoe before starting. We are not responsible of customers route selection or swimming skills. We recommend having a travelling insurance. When starting this route, you need to go all the way to the pick-up point.
Children only with adults!
What do I need to bring?
Bring your own canoeing clothes and other gear needed. Rubber boots or slippers are recommended as shoes.
It is good to have some snacks and drinking water. Have your phone charged fully and save battery for possible emergency call and usage of GPS.
Book now
Information
Duration
6 hours
Booking in advance
1 day
Difficulty
Moderate
Minimum age
8
Contact the company
Not exactly what you're looking for? Contact the company for special requests and larger groups!