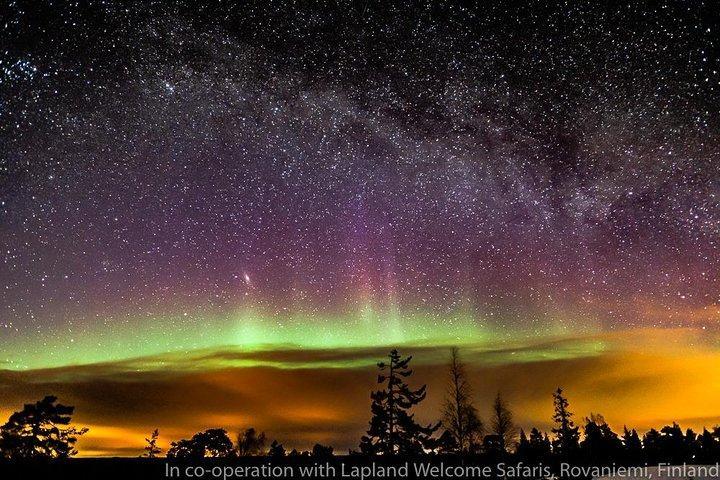 Join our legendary Northern Lights trip to maximize your chances to see this great natural arctic phenomenon and learn to take pictures of Auroras.
Our destination is the best possible place – a small mountain where the sky is often clear and view to the north perfect. 
We will pick you up from your accommodation and go by private minibus. Afterwards if you like we will have a little walk up the hill where a comfortable tepee is waiting for us. We make a fire in the tepee and enjoy warm beverages and barbeque while watching the sky. The guide shares information about Northern Lights and the old mythology around them. The arctic starry sky is very beautiful. Spot the Big Bear and Polar Star, Northern Lights often appear just under the Polar Star. Listen to the stories about local life and nature by living fire. Experience some Lappish shamanism and see your future with our great Aurora guides!
Our Northern Lights trip has got excellent feedback already for years. This is because our Northern Lights spotting place is the best possible place where no other lights are at all, northern sky is fully open, and the weather is often clear even if it is cloudy or foggy in the town. From our long experience, the right hours to be out there are 11-12 PM. Anyway, you need some luck to see the lights because it is unpredictable even during the trip! Great surprises happen! The likelihood is about 80% to see some kind of lights. Is it the highest in the world? We do not know but we think so 🙂
Why to book our organized trip? It is all about knowing the best place for following the lights. Many people believe that a glass igloo helps you seeing the Northern Lights. It is a special experience indeed to sleep in one but actually they don't help you seeing the lights. The best chances and places are on mountains and hills having great view to north and what is really important for photographing – far away from all artificial lights.
On this trip the weather is often better than elsewhere thanks to local microclimate, and you can see even the first thin lights once they appear. All kind of Northern Lights you see clearly because there is no artificial light in the air. The mountain has got a special microclimate that means open sky for most of the nights. The northern horizon is all visible and absolutely dark that is very important in Aurora hunting. This trip offers a great chance for taking pictures of Northern lights in the middle of beautiful arctic nature, with trees and tepees. Please also check the tour reviews on our TripAdvisor pages and join us – the Aurora experts! Please inform us early if you are a vegetarian or if you have any food restrictions or physical restrictions. We will help if we know!
Hints:
Inari – Saariselkä is one of the best destinations in the world for spotting the Northern Lights. 
But it is impossible to predict the Northern Lights and the weather reliably. Outside of the villages on little mountains where we go the weather is very often clear and better than predicted. Please remark that you don't need more than 5 minutes clear sky to see the lights. On the mountains it happens very often even on cloudy nights.
It happened already several times that some people didn't book the tour because they thought it is cloudy or not good for the lights. And finally, that evening was one of the best Northern Lights evenings with the most spectacular lights. What a pity if you were already in town and didn't join our trip! We have decided that we always go if somebody books the trip, because it is always possible that we miss the lights if we do not go.
Lapland Welcome was awarded by Certificate of Excellence in TripAdvisor in 2015, 2016, 2017 and 2018. Lapland Welcome Aurora blog was awarded as the 14th best blog in Finland 2018. The 3rd most instagrammable destination in the world 2019 by TripAdvisor. Join and see!
What do I need to bring?
Bring your camera and good mood!
Book now
Information
Duration
5 hours
Booking in advance
8 hours
Difficulty
Easy
Contact the company
Not exactly what you're looking for? Contact the company for special requests and larger groups!