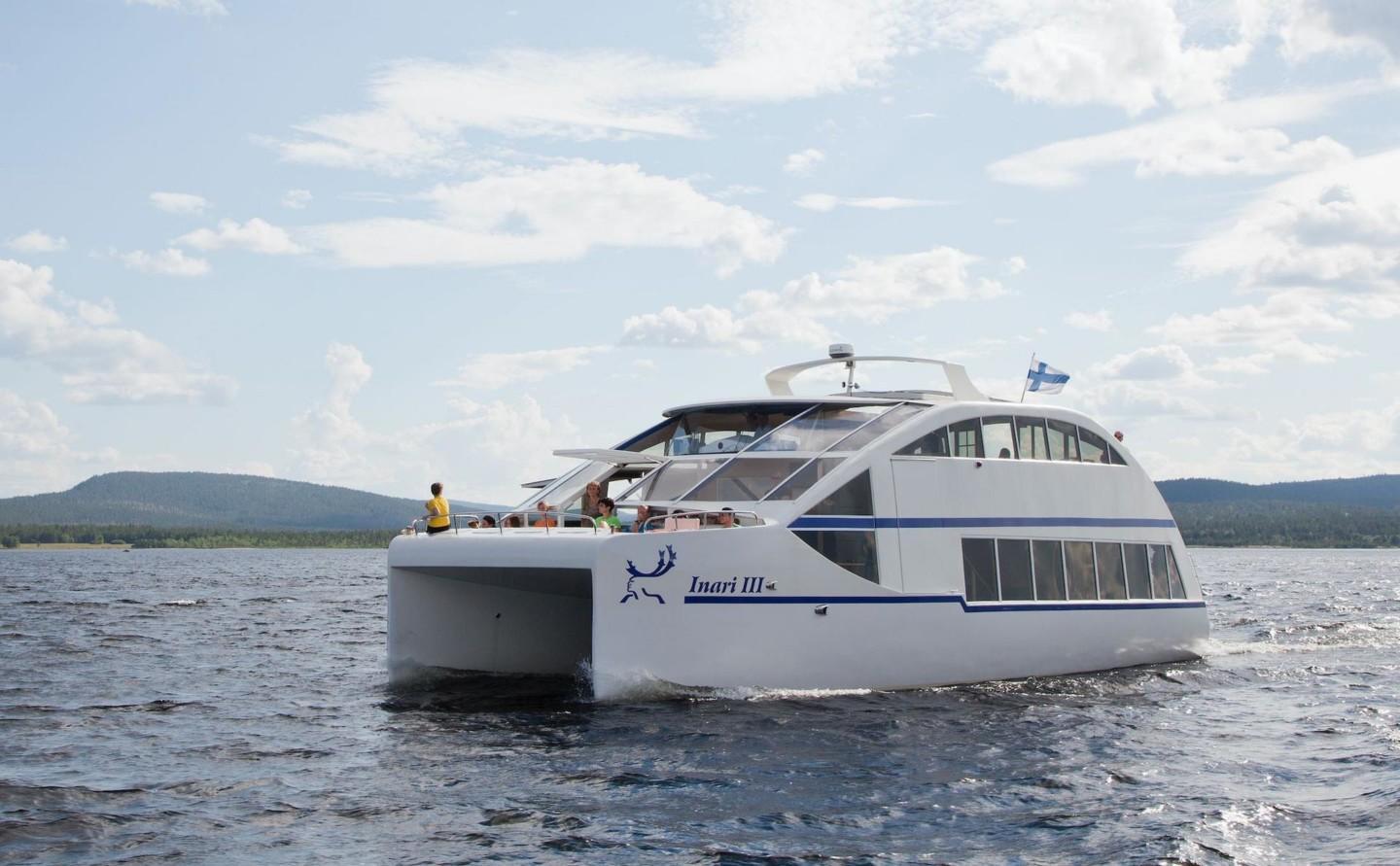 This cruise starts from the harbour by the Sámi Museum, SIIDA, and will take you to see the historical Ukko Island. Lake Inari is the third largest lake in Finland and is home to over 3300 islands. The sacred Ukko Island (or Ukko´s Rock) was used as a Sámi sacrificial offering site right up until the 19th century. At Ukko Island we will have the chance to admire the view from close range of the island. The catamaran has 120 seats. On board you can buy coffee, tea, wine, beer and small snacks.
1pm cruise stops at Pielpavuono on request if weather permits. Please state your wish before the departure. From Pielpavuono there is a marked trail to Pielpajärvi Wilderness Church. The journey back to the village is by walk independently.
Dogs are welcome to join the cruise on front deck or inside in front the catamaran. Catamaran is non-smoking.
Welcome on board!
Know before you go
Bookings are confirmed after Visit Inari has received the payment. 
Children' policy (4-11 years old): -30% for all activities. 
Visit Inari reserves the right to interrupt a safari if a participant is seen as a potential danger to him/herself or to other participants. 
If the program requires special arrangements (e.g. additional transport), the extra cost will not be covered by Visit Inari 
Please note that the Northern Lights are a nature´s phenomena and cannot be guaranteed. If they are not visible during our aurora tour we will unfortunately not offer a refund. We can, however, offer the same or a similar tour with a 10% discount (according to availability). 
The providers reserve the right to change the program due to safety, weather conditions etc. without prior note. 
The estimated duration of tours are standard times and can vary according to road, weather or travel conditions or other unforeseen circumstances. The company cannot be made responsible for losses that a passenger may face due to delay of tour. 
Information
Duration
2 hours and 30 minutes
Booking in advance
1 hours
Difficulty
Very easy
Contact the company
Not exactly what you're looking for? Contact the company for special requests and larger groups!