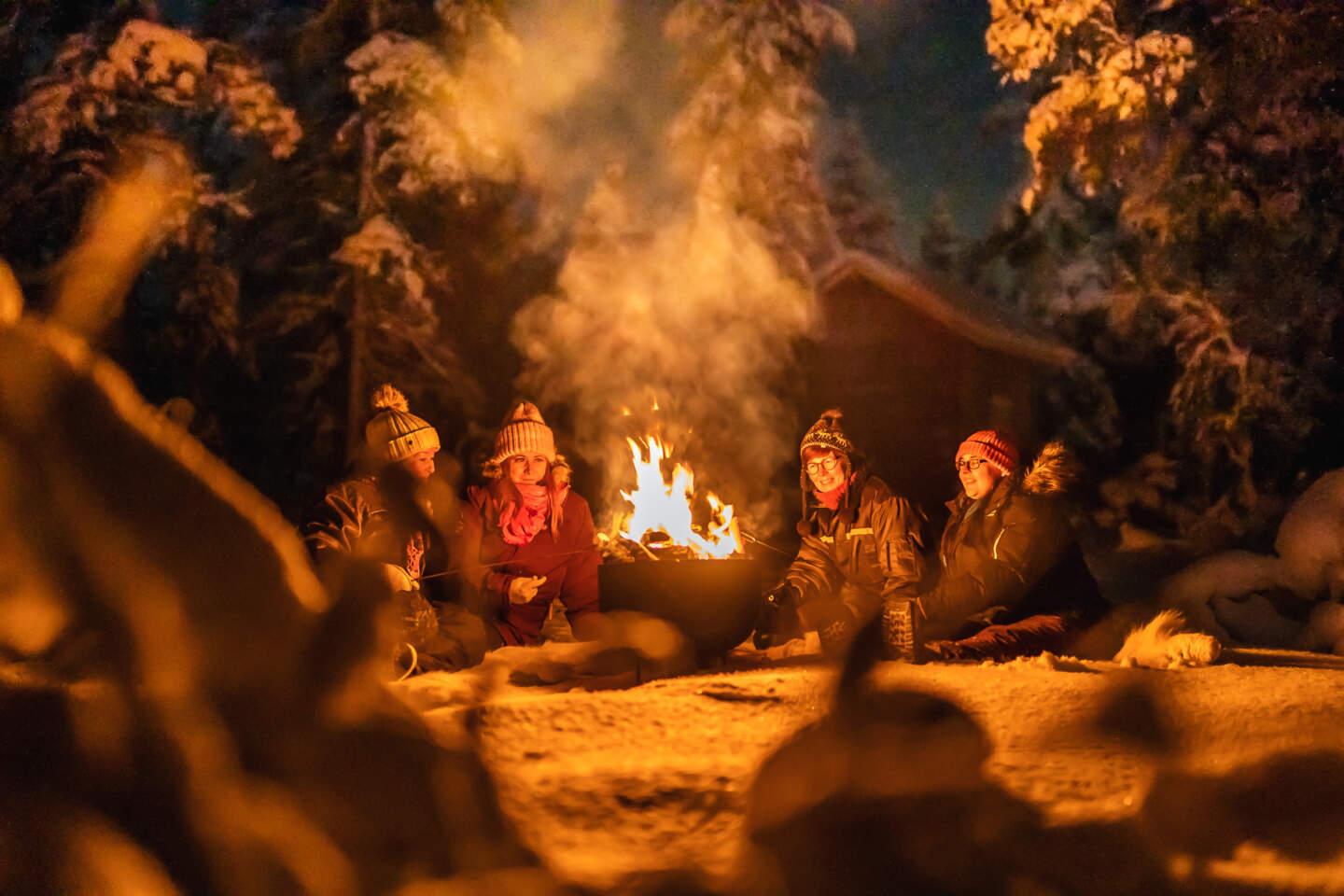 The  magical twilight season – polar night – of Lapland (kaamos) has just ended when our Arctic Wellness Retreat begins. The sun hardly rises up  to the horizon, but for some hours the scenery is still coloured with  the sunrise and sunset colors. The blue moment captures the world for a  moment. Other times the snow reflects moonlight and the probability for  aurora borealis is high. It's the perfect time to listen to your inner  self.
The daily programme is designed to support your relaxation and wellbeing. Here you don't need to hurry or worry, and you don't need special skills to join in. The programme includes a beautiful combination of gentle yoga practices (yin, hatha, restorative and yoga nidra) and experiences out in the arctic nature. Our close location to nature makes your nervous system naturally calm down. Breathing the cleanest air in the world nourishes the mind and body. With the intention of making the experience personal and safe, the retreat is held in a small group of 4-8 persons.
You will stay in shared twin room or single room in our Arctic Sky Chalet (4 nights). The chalet has comfortable accommodation for 8 persons maximum. 4 twin bedrooms, 2 bathrooms, small hybrid sauna, kitchen and living room with fireplace.
Your guide is the owner of Arctic Sky, Minna Kataja who is a nature enthusiast, yoga teacher RYT500, yoga nidra teacher and life coach.
Know before you go
TERMS OF CANCELLATION 
Cancellation: The down payment cannot be refunded. If paying whole retreat in one time, payment will be refunded but the down payment (20%) will be detained. Please make sure you have a valid personal travel insurance in case of a cancellation due to medical reasons. 
Cancellation fees 
* Down payment 20% will be detained in case of cancellation
* 1 month or less prior to departure 50% of the total package rate will be charged 
*14 days or less prior to departure 100% of the total package rate will be charged
TRAVELING TO OUR DESTINATION
We don't sell travel tickets, so we kindly advise you to book your tickets to our resort in Finland via your local travel agency or trustworthy online ticket provider. We cannot take responsibility for any delays or other inconveniences you may face on your way traveling to us and back home. We warmly advise you to make sure your have a valid and comprehensive travel insurance.
TRAVEL DOCUMENTS 
In addition to your tickets, no matter which country`s citizen you are, please check up carefully your need for travel documents, also the validity needs of your passport, in order to travel to Finland

AGE LIMITS 
In order to book you have to be 18 or older. A minor between 16-18 is welcomed to join our Arctic Wellness Retreat (package) accompanied by adult

HEALTH ISSUES 
Please kindly note that we are not medical advisers and cannot take responsibility for any part of your health. In case of uncertainty or any concerns about your health, please consult your doctor. All the activities you take part in during your stay at Arctic Sky Resort are executed at your own risk.

SPECIAL DIETS 
Our special diet options include vegan, gluten free and non lactose. Please inform us about your diet and possible allergies at the time of booking.
REACHING THE RETREAT VENUE
Our nearest and the northernmost airport in Europe, Ivalo, receives direct flights already from 15 different countries during winter months, in addition to the numerous charter flights! Ivalo is well connected to the whole world via Helsinki International Airport, from where Finnair offers daily connections to Lapland during winter time. Flight time from Helsinki to Ivalo is 1-2 hours, and from UK and Germany to Ivalo 3h 30 mins.
Airport bus connections to Arctic Sky are available from every flight: 30 mins bus drive through beautiful scenery takes you from Ivalo airport to us. Taxis and car rental are also available, or you can order us to pick you up!

What do I need to bring?
We always offer the bedlinen, bath towels, yoga mats and equipments plus the final cleaning up service. In the winter time we also offer warm coverall outfits for outdoor activities. Please pack your favorite comfy indoor and outdoor outfits including warm shoes, plus your personal hygiene items and other important belongings with you. Even if your belongings are most definitely safe here, we do not recommend to take any of your expensive jewelries with you. You probably won`t need them anyway here in the wilderness. 

In case of traveling by plane please always check the baggage rules and regulations from your airline.

Book now
Information
Duration
5 days
Booking in advance
7 days
Difficulty
Easy
Minimum age
16
Contact the company
Not exactly what you're looking for? Contact the company for special requests and larger groups!