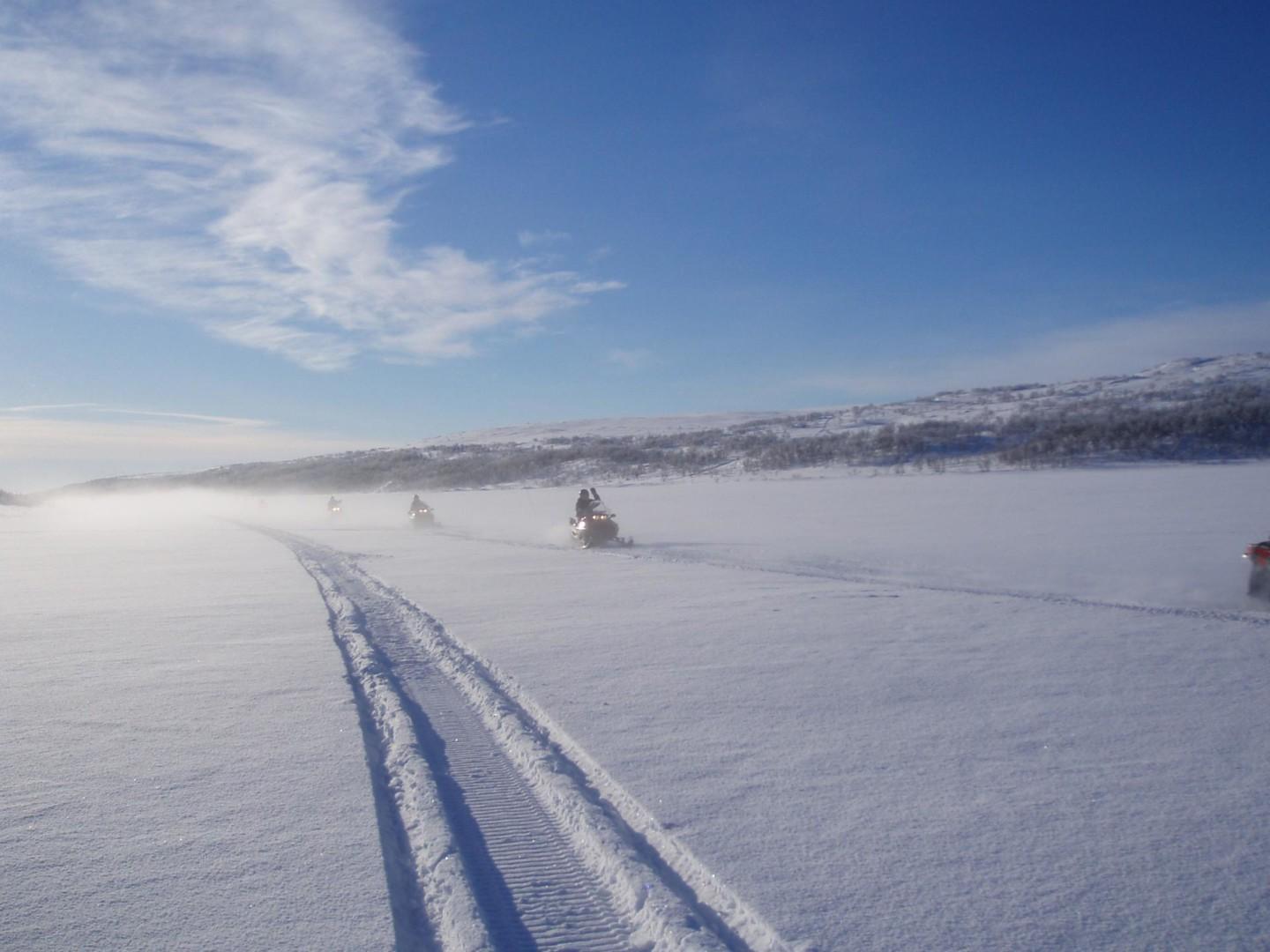 On your arrival day we meet you at the airport and transfer you to your hotel for the first night. After breakfast we meet again in our office and start to get ready for an experience. You will hear about your route and get thermal clothing. Your guide will give you also a final safety briefing before starting your adventure. First part is driving in the fell area and on the river before you arrive to the large lake, lake Inarijärvi. At some point during our journey you will stop for a tasty lunch before continuing the drive on the lake. Once you've reached your destination for overnight, you can relax in the warm sauna and refuel with dinner. 
On the second day after breakfast you hop on your snowmobiles again and cross the Norwegian border! In Norway your journey continues on a beautiful and dramatic landscapes. Once again everything is different and the weather can be extreme! On the shore you will have a break and walk by the Arctic Ocean, or if you dare, you can have a swim in the chilly water… The Gulf stream prevents the sea from freezing so this it is possible to swim! The lunch is served outside or in the restaurant depending on the weather conditions. In the evening it is time to return to you accommodation and once again relax int he sauna and refuel with tasty dinner. Let's hope that the sky is clear and you can enjoy the magical show of Northern lights! 
On the third day it is time to return back to Saariselkä. Once again the route goes trough large lake, wilderness areas and fells before you reach our office and hotel in Saariselkä. During the journey you will enjoy lunch and have several breaks, changes to takes nice pictures and enjoy the beautiful nature of Finland. It will be long day and drive, arriving to Saariselkä is late afternoon or evening depending on the weather conditions. You will spend a night in the hotel before your flight back home. Or maybe several nights, maybe you stay and enjoy the beauty of Lapland for longer..??
Know before you go
The driving distances on each day are long (150-200km). Therefore, we recommend previous experience about snowmobiling before attending to this excursion!1 person/snowmobileWe ask you to inform us, if you have any food-allergies or a special diet. For security reasons, we also ask you to contact us, if you suffer from a disease, that might have an effect on your performance during the trip. (For example: asthma, diabetes or epilepsy)To be able to drive snowmobile, you need to have driving license for a carThe excursion can be cancelled because of too cold weather conditions! We will inform you, if this happens. In case of accident, customers own liability is 1000€. Customer should have a travel insurance.
What do I need to bring?
Driving licence for a car
Travel insurance
Own personal clothing (warm underwear, fleece etc)
Swimming suit and towel if you want to have a dip in the Arctic Ocean!
Own personal medication
Snack if needed
Book now
Information
Duration
5 days
Booking in advance
28 days
Difficulty
Challenging
Minimum age
18
Contact the company
Not exactly what you're looking for? Contact the company for special requests and larger groups!