Winter came suddenly to North Lapland this year! 8 seasons of northern Lapland mean speedy transitions from season to season. Temperature has been swaying from above zero to below zero temperatures during the past few days but it is expected to settle below zero temperatures from now on. For the upcoming week we can expect frosty mornings on fresh snow that slowly fell during the weekend from the sky.
Ski tracks in Saariselkä are the hottest topic of the early winter and early snow fall has made sure that we are already able to ski which is a lot earlier compared to last year. There is approximately 15 cm of natural snow and snow making is happening whenever the weather conditions allow it. Please remember not to walk or bike on the ski tracks.
Saariselkä – Laanila 3,5km
Kuutamolatu 6km
Laanila – Kiilopää – Kakslauttanen 12km
Also tracks on natural snow have been groomed today. The condition of the natural snow tracks is not perfect – be prepared to find some stones here and threre.
Walking and cycling is not allowed on maintained ski trails.
Maintenance of the ski tracks proceeds according to snow conditions. All in all in Saariselkä area there are over 200km of maintained tracks which 34km are lit. Ski season starts usually from late October early November till May. Different kinds of skiing experiences you can try outside of tracks with fell skis or altai skis.
Winter season opening 26.11.-28.11.2021
Winter season begins traditionally on the last weekend of November and Saariselkä Ski & Sport Resort aims to open the first slope areas then. Learn more here > Depending on the snow conditions they will open more slopes as soon as possible.
At the atmospheric restaurant Laavu you can enjoy a break with comforting warmth of the fire with excellent food made out of local ingredients. You can learn more about the experiences, events and vast selection of equipment on their website>
Ski bus begins trafficking already on the 19th of November
Bus leaves in the morning and returns in the evening to Ivalo bus station. The route circles via hotels in Saariselkä and regularly stops on top of Kaunispää fell and Saariselkä Ski & Sport Resort. It also stops at Shopping centre Kuukkeli. Twice a day the ski bus travels via legendary Laanila Savotta Café to Kiilopää fell centre.
Stops and schedule are found on every marked stop and you can grab a schedule with you from the bus as well. Schedules are available at hotels and tourist informations.
Biking continues
You can still ride multiple routes with bike in Saariselkä area and in the National Park of Urho Kekkonen. Now it's time to put away your bike with narrow tires and ride with a fatbike. It won't be long now tht the winter trails open for bikers and pedestrians.
Follow the upcoming winter
You can follow the changing season through our web-cameras in the area. Book your holiday to North Lapland where you have space to breath and relax. You have room to roam and experience true wilderness. It will be an unforgettable holiday!
Winter is best taken in while surrounded by nature. Winter trails take their place already as we walk on the fresh snow and it gets packed. Kiilopää which is the highest fell in Saariselkä area is easily accessible. You can see lots of animal tracks on the snow and it is truly remarkable how many forest animals move right next to you without being seen. Formations of tracks and snow keep children interested as well and this way topping Kiilopää can be done with smallest members of your family too.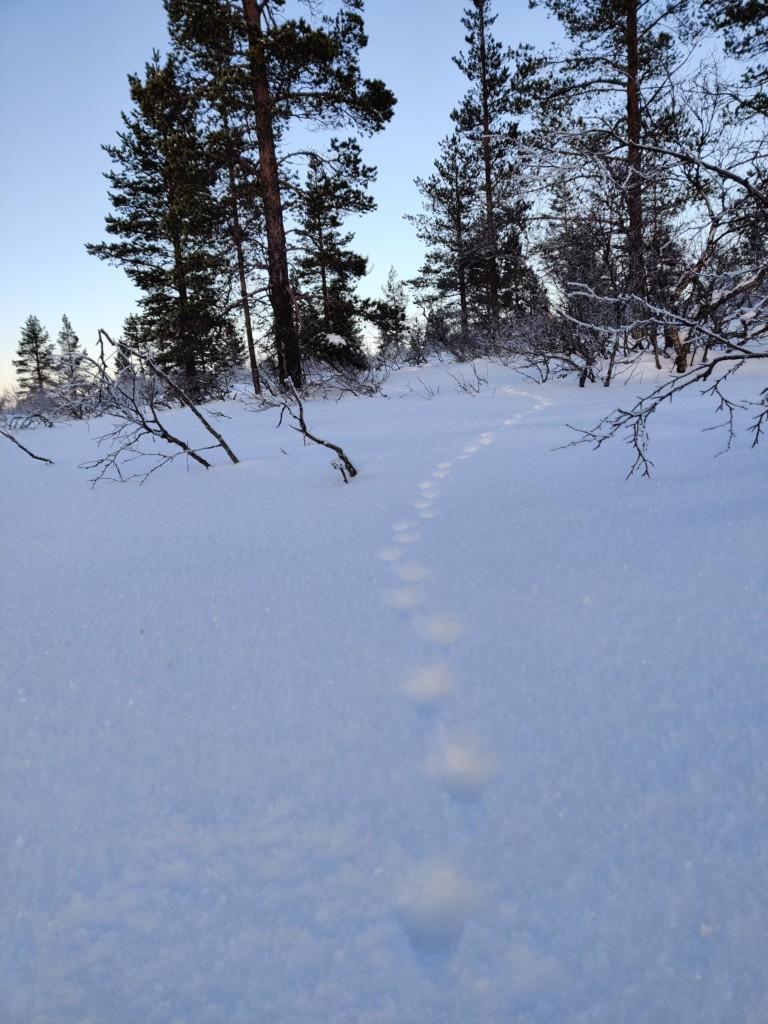 Atmospheric accommodation
Our region has quite the selection of accommodation and hotels offer multiple ways to stay in addition to more traditional hotel rooms, for example igloos and huts. Panoramic cottages by a lake or a river with your own sauna and fireplace give you a true cabin experience. Sleep under the starry sky on top of a fell or in the middle of wilderness.
Delicious experiences with Lappish cuisine
Restaurants in our region have created their menus around northern flavors. Local ingredients with traditions through decades have molded the modern Lappish cuisine.
Light phenomena of North Lapland
Northern lights are a mystic perhaps the most magical light phenomena in the northernmost Lapland. They appear because of our sun but also during the day while travelling towards polar night, many of the daylights art works are visible.
Horizon starts to flame already at 4 in the afternoon when sun begins to travel behind the fells. Frost and clear weather have made the early winter days feel almost spring like but the scent of waking nature is missing. During sunset the sky appears to be on fire. Different shades of yellow, orange and red turns even gazes of locals towards the horizon. The view is truly mesmerizing.
The famous blue moment enters during dusk for a short while before the moon rises to the sky, first seeming as it would be almost too close and soon already as the white bright light up shining on tree trunks and branches. At a camp fire we share stories from past days, months and years and sometimes even singing echoes through forest.