First ski track update for the winter season of 2021-2022!
Due to snowfall that has continued for a few days the maintenance of ski tracks has begun in Saariselkä. You are able to ski freestyle already as follows:
Saariselkä – Laanila – Kiilopää – Kakslauttanen 16km
Kuutamolatu 6km
These tracks are now for skis only so you shouldn't go there by foot or by a bike for example, starting from today (18th of October) To other ski track bases you can still go by foot and bike.
Snowmaking is also being prepared to start as the temperatures keep steadily low enough. During snowmaking you shouldn't go to the area from Saariselkä towards Laanila.
Holidays on first snow in October
October has begun in the northernmost Lapland as snowy and frosty. Especially on highland fells there is several inches of snow. Due the temperature swaying under and above zero, children have build snowmen all over the area and they smile happily to everyone passing.
Excursions on frozen land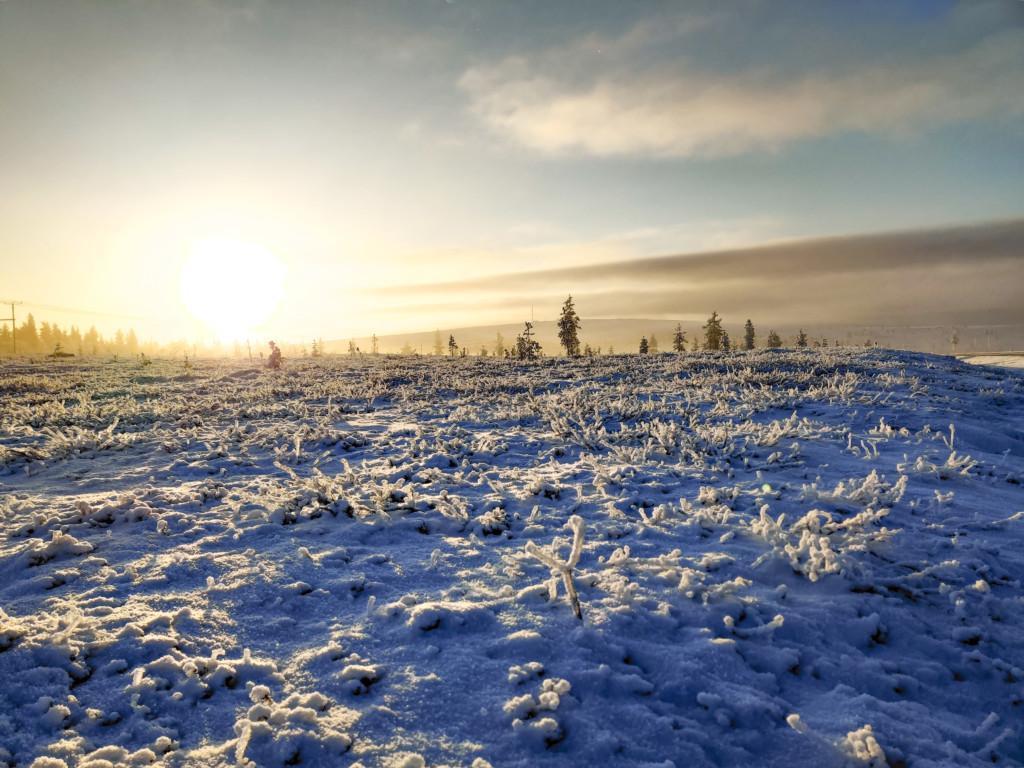 Scenery changes rapidly by the arrival of winter. Fresh frosty mornings appear rather like a morning in a magical land in the morning sun. During day trips to national parks notice hay fields in frosty veil. Has a reindeer, a fox or a willow ptarmigan run through it leaving a visible trail on hay field or forest bed? Spending your holiday with children this time of the year in Lapland can be the most interesting holiday ever. There is so much to learn and see in nature when animal tracks are clear and animals are visible because all the leaves have dropped and don't camouflage animals that well. Willow ptarmigans for example have their winter suits on and are clearly seen in spots without snow. Do you know how many animals here change their appearance according to season or how is nature preparing for winter? You should observe nature quietly as this season makes all animals jumpy too. Magnificent art pieces of nature can be seen everywhere. Check out small streams where water has splashed and build icicles on a straw hanging over the stream.
Small ponds and puddles get their thin crystal clear ice cover and you can now see the bottom very clearly as the ice is not reflecting so much light back like the open water. Be careful though, the ice is not thick enough to carry any weight yet so don't step on it. In the forest on the trails ice crackles under your feet when you step on a puddle, this is a favorite thing for children to do! Light is very different now compared to other seasons and offers a chance to photograph some of the most amazing misty and frosty pictures from trees and light phenomena of first snow.
Many times the most anticipated moment of a trip in nature is snack and lunch break. There is just something in fresh outdoor air that makes all food taste a dozen times better. Make sure to pack something warm to drink and enough to eat as during cold weather you use a lot more energy too. If cold catches you, you can give children different kinds of tasks during your trip, like finding animal tracks or recognizing different kinds of plants together by the trail. Explore nature together, how plants and animals get ready for winter.
The North Lapland road trip is ever so special during first snow. Mist rising from lakes and streams, hills with dark green forests covered in light frost and rays from sun light up the tiny flecks of icy frost in the air. North Lapland road trip is the best way explore the whole region and you will be stunned by the greatness and diversity of it.
Biking year-round

Biking routes in Inari-Saariselkä area are comprehensive by scenery as by their profile. By the arrival of first snow you should leave your thin tired bikes at home and hop on a fatbike with more wider tires that suit the changing terrain. You are in luck as in Inari-Saariselkä area there are hundreds of bikes for rental with and without electrical assistance if you don't have or can't bring one with you to the area. Fresh frosty air tingles your cheeks and you should prepare with warm clothing to your bike trip as cold wind might make your toes feel uncomfortable. By biking you are able to see a lot of different views during one trip on first snow. Remember to notice and respect others on routes, hikers with big pack backs, children enchanted in wonders of nature and for example hikers with dogs.

For all winter lovers we have gathered together a concept that allows you to plan and book your dream holiday in North Lapland. All the activities and accommodation have been selected with northern lights in mind. You can pick some ideas from this holiday theme and add to your own plans maybe something you haven't experienced before!
Find more inspiration for your holiday
Latest news from our region