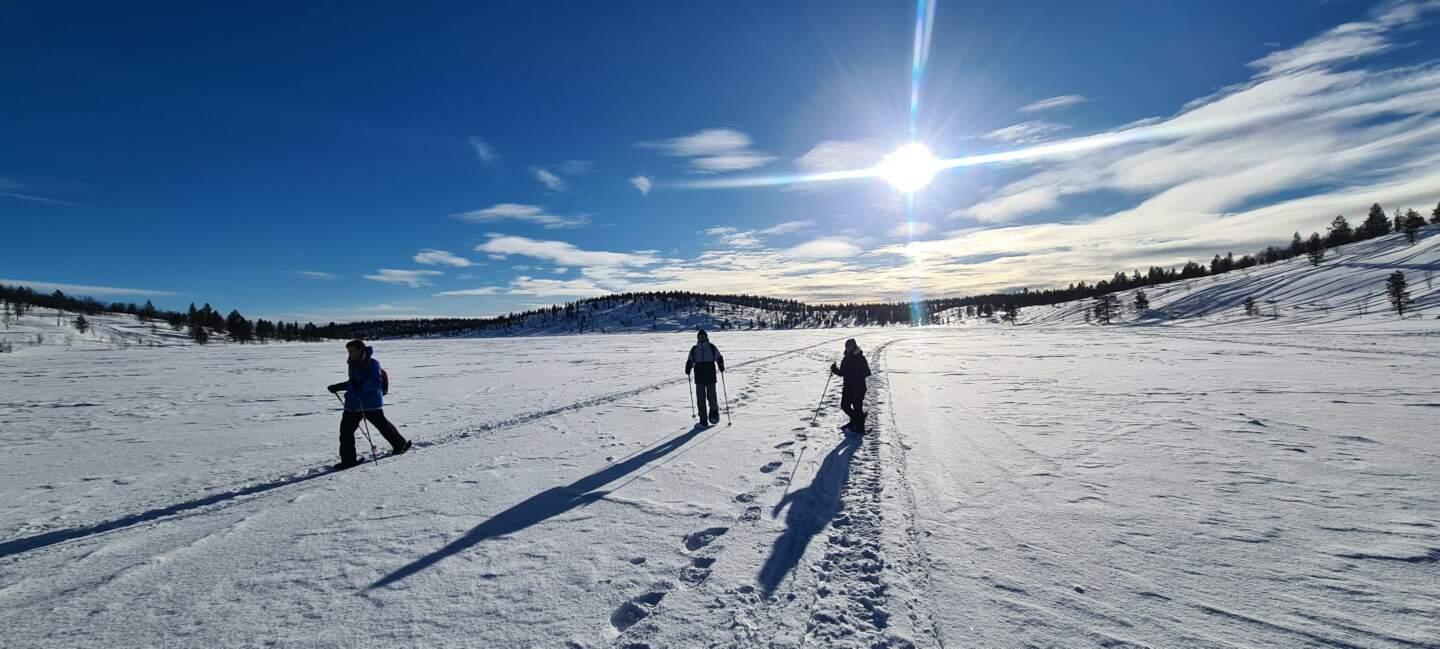 Join this guided trek to the untouched wilderness of Inari municipality. Depending on the snow circumstances, we hike with either snowshoes or modern Finnish "gliding snowshoes" (short and wide, partly skin-based skis). Our trek takes us deep in to the forest with no human-made structures or tracks, only untouched snow and calm nature. We will travel in the forest, admire its beauty, learn about the nature and examine animal tracks, trying to figure out who made them. If we're lucky, we can see willow grouses in their snow-white winter outfit, grazing reindeers or even the biggest wild creature of Finland, moose. 
When we head back to car, it might be getting dark all ready. Snowshoeing / skiing in the dark is a magical experience. With the safety provided of our head torches, we can experience a totally different kind of forest. Mid-winter forest is silent and still, and moving around is like walking on a cotton cloud. Experience the complete darkness or use your headlamp to make big, deep shadows around you – either way, for sure you can make your imagination fly…
Schedule and directions: 
We start at 10:00 from Eräsoppi / Xwander shop (address Ivalontie 12) with a car ride to the site. total duration of the trip is around 6 h. We return to the shop by 16:00.
The trip is executed with a minimum of 2 participants.
We have a pick up service for Inari, Nellim, Saariselkä and Kiilopää areas. Contact us ahead to book a transfer.
You can contact us by email and phone:
info@xwander.com
010 200 7636
Know before you go
The whole trip is outside, so dress accordingly. Moving around makes you warm, but on breaks you might get cold. Dress in layers and bring extra warm and windproof clothing! In case you have any questions regarding what to wear or bring, don't hesitate to contact us, we're happy to help.
What do I need to bring?
Bring clothes suitable for outdoor activities
Daypack
Bring you water bottle and some small snacks
Book now
Information
Duration
6 hours
Booking in advance
41 hours
Difficulty
Easy
Contact the company
Not exactly what you're looking for? Contact the company for special requests and larger groups!