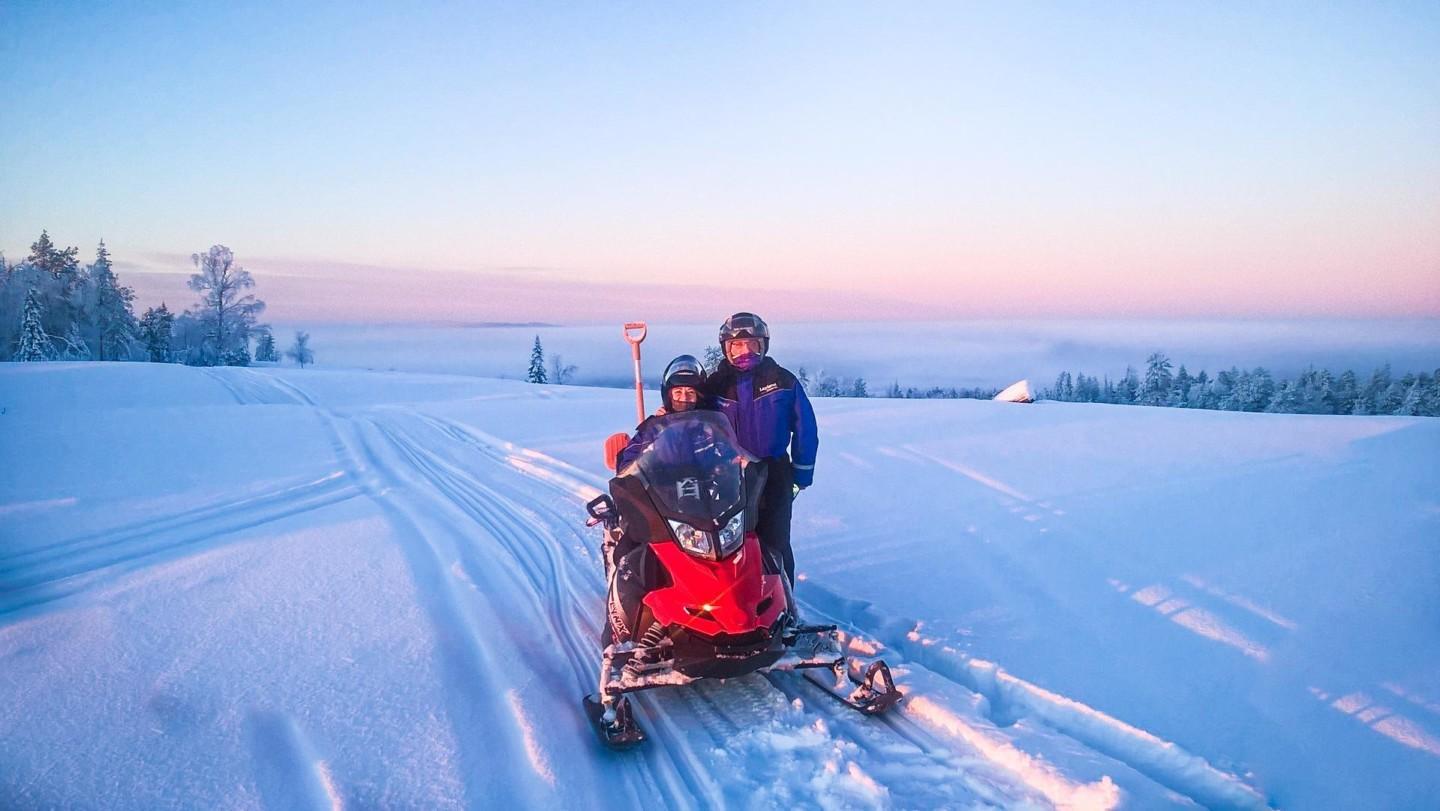 Experience a thrilling, unforgettable trip riding a snowmobile. You may drive or sit as a passenger as the snowmobiles are equipped with a passenger seat, too. This safari is suitable for all people who want to experience the nature and modern snowmobiles. Recommended.
After the briefing we will learn to drive on special tracks. We will drive into the snowy forest and on open snow fields. We will have one longer break for barbequing and warm beverages.
Our snowmobiles are Lynx Adventure ACE snowmobiles, modern, silent, ecologic and very easy to drive.
Transfers from your hotel to the starting point and back, all equipment, winter clothes and boots and are included. Warm beverages and snacks are offered during the safari.
Two starts a day, 10 AM and 2 PM. Solo driving is available by additional price.
The first snowmobile was created during the 20th century. With the shape of a sledge, it was intended for work to drive over snow and icy roads where other vehicles were not able to go. Stronger and faster it quickly replaced the sled dogs as a modern mode of transport. Nowadays, snowmobiles are mostly used for recreation.
BOOK ACTIVITIES ONLINE AND SAVE! WE OFFER 2% DISCOUNT FOR ONLINE BOOKINGS
Know before you go
Each snowmobile is shared by two guests taking turns in driving. If you want to drive a snowmobile by yourself, without another guest, please add the solo driving supplement and enjoy the safari to the fullest! 
The driver of the snowmobile is held liable for damages caused to the vehicle. The maximum personal liability is 900 € per person / snowmobile / accident.
The self-liability waiver reduces the amount of maximum self-liability from 900 € to 200 €. The self-liability waiver costs 20 € per driver per safari and can be bought on our webstore as an optional for all our snowmobile safaris or on the spot before the safari. The self-liability waiver is personal. 
You will find both the solo-driving supplement and the self-liability waiver under Extras. These extras are available only for drivers.
Please, check the pick up time from your hotel on your ticket.
Book now
Information
Duration
210 minutes
Booking in advance
4 hours
Difficulty
Easy
Contact the company
Not exactly what you're looking for? Contact the company for special requests and larger groups!