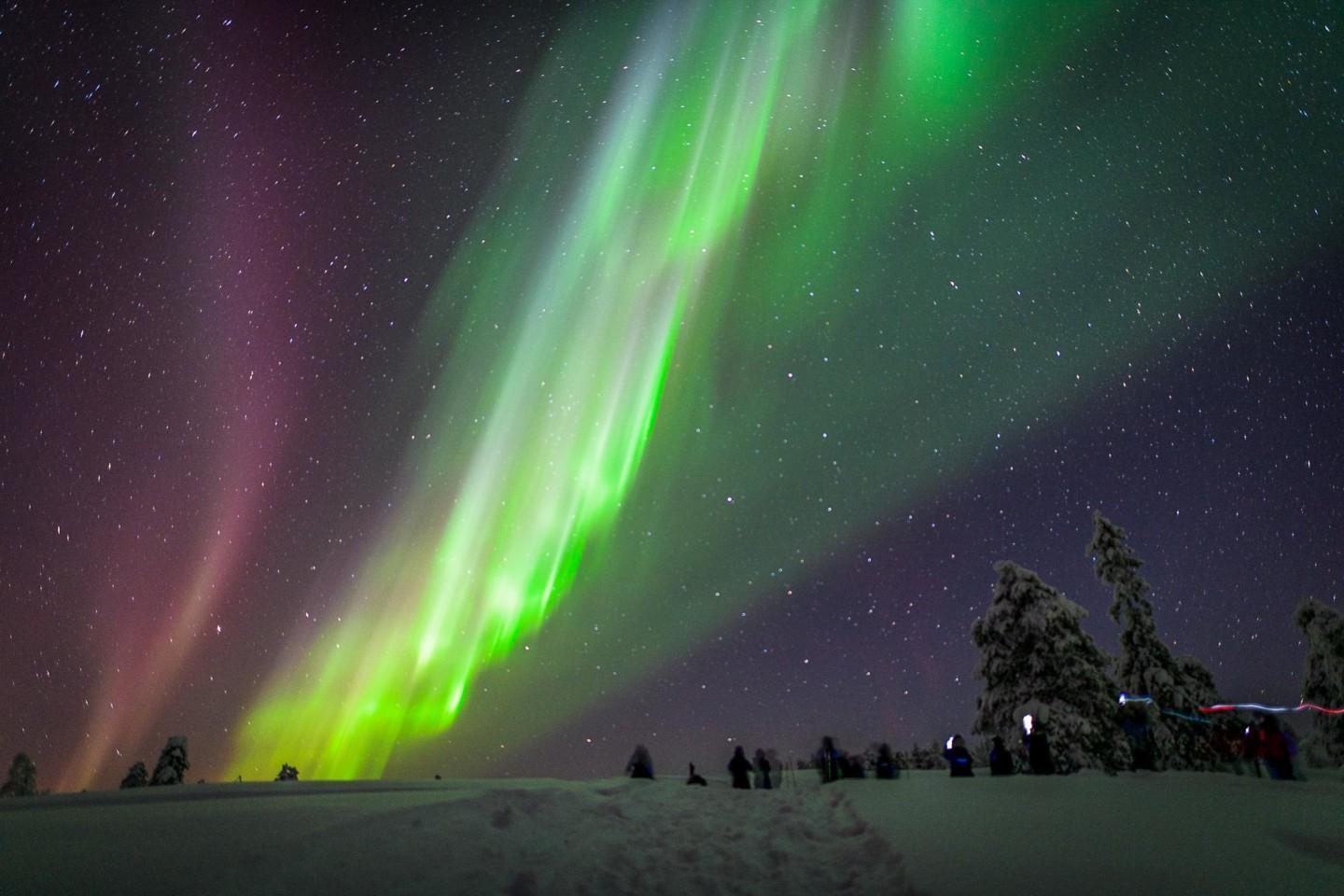 Join the Aurora Experts on our legendary Northern Lights trip to reach the best places and see this great natural arctic phenomenon. The guide shares information about the Northern Lights and the old mythology around them. Listen to the stories about local life and nature by living fire. Experience some Lappish shamanism and see your future with our great Aurora guides! Make pictures by the hints from the Aurora guide. The visibility of Northern lights depends for example on the weather and activity of the Sun, but this trip is to offer you the best chance to see the lights on the best possible location in Ivalo – Saariselka area.
The site is absolute dark site far from the village lights and hotels. This is important because most of the lights are relatively faint so in absolute darkness you will see much more. The site also has got a great micro climate which means that even if it is foggy on Inari lake or Saariselka fells the sky might be clear on our site.
The longer you stay the more you see. This is why our tour is relatively long. The best hour to see the lights is just before the midnight but the best lights may appear whenever. On the way to the site we stop the car even several times if needed and follow the lights.
During this tour we also spend nice time in a tepee on the best possible site for following the sky and barbeque for all tastes and diets.
We will also advice you in taking pictures and we will make pictures ourselves which we share with you from our cloud service.
Please be aware of the pick up times and locations. We keep right to change pickup times. 
BOOK ACTIVITIES ONLINE AND SAVE! WE OFFER 2% DISCOUNT FOR ONLINE BOOKINGS
Know before you go
Please, check the pick up time from your hotel.
Book now
Information
Duration
5 hours
Booking in advance
4 hours
Difficulty
Easy
Contact the company
Not exactly what you're looking for? Contact the company for special requests and larger groups!