Ivalo airport will be reopened on Sunday 2nd of August 2020. Finnair will be flying from Helsinki to Ivalo five times a week in August, Wednesdays and Saturdays there are no flights.
All passengers are kindly asked to respect the security procedures set by the Health and Safety Authority, Finavia and Finnair in regards Covid -19.
When travelling by air remember to look after good hygiene practice in regards hand washing and when coughing and keep the safety distance to people around you. Finavia recommends you to wear a protective mask when at the airport. One should not travel if you have any symptoms of sickness.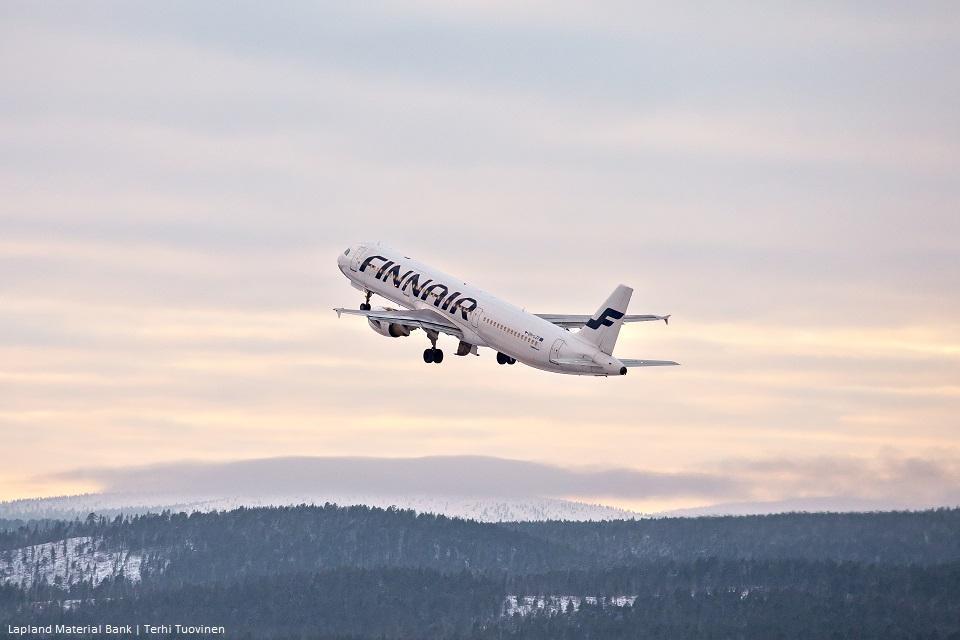 BEFORE TRAVEL
Before you go, check the authorities' travel restrictions and recommendations in your destination country. There still are travel restrictions in place in many countries, and many countries have set special requirements for travel documents and health certificates. Also, some countries require, for example, temperature screening upon arrival and wearing masks in public areas. For more information, we recommend you to visit IATA's website or the embassy website of your destination country.
Check in online or through Finnair mobile app for your flight, so that you can avoid queues and touching the self-service kiosks at the airport.
Packing light is a good idea, as baggage handling increases the time you spend and the contacts you have at the airport.
Please note that we have made temporary changes to our carry-on baggage policy as of 1 July 2020. When travelling in Business Class, you can bring two pieces of carry-on baggage onboard and a smaller personal item. In Economy Class, all customers are allowed to bring one piece of carry-on baggage and a smaller personal item. The allowed, new dimensions for a carry-on bag are 55x40x23cm and for a personal item 40x30x15cm. With this, we aim to smoothen the boarding and handling the carry-on baggage onboard.
Take with you masks that cover your mouth and nose, as you are required to wear one when you board the aircraft and during the flight. This can be a surgical or a home-made mask made of fabric. Kids under 7 years old don't need to wear a mask. If you have a medical condition that prevents you from wearing a mask, please let us know at least 72 hours before your flight. If you have flights with other airlines, please check also their policies before your journey.
Prepare for changed service procedures at the airport and onboard our flights. We recommend that you arrive at the airport in good time, as there may be queues in some service points due to the changed service procedures.
It is good to know that pre-order shopping is not currently available.
Stay home if you feel unwell. Anyone with symptoms of a respiratory infection will be denied boarding. If you bought your flight between 1 April and 31 August 2020 from Finnair's own channels, you can change your travel date flexibly.
AT THE AIRPORT
Terminal changes at the airport are currently possible. We recommend you to check the terminal information from the airport's website.
For your safety, please keep distance to other customers at all times. At Helsinki Airport, floor stickers will help you.
At Helsinki Airport, customer service points have plastic screens and our ground crew wear surgical masks. Finavia and Finnair recommend you to wear a mask already at the airport.
We have changed our airport services to reduce direct contact between our customers and the ground crew and ask you to favour self-service channels whenever possible.

When visiting our check-in desk, please show your travel documents to our check-in agent instead of handing them over.
Our crew will continue to assist you at the check-in kiosks but without touching the screens.
If you printed your bag tag from a kiosk, we kindly ask you to attach it to your bag yourself.

We have discontinued the Helsinki Airport Priority Security service and the car service for Finnair Plus Platinum Lumo members. We're actively working towards gradually restoring the services as autumn approaches. There may be changes in the Priority Security service at other airports as well.
Help yourself with hand sanitizer that is available both at check-in and at the gate area.
In the security control, please remove tablets, laptops, power banks and other devices containing batteries out of your bag for x-ray scanning.
Please note that cash payments are currently not possible at Finnair airport service points.
We have made changes to our lounge services.

Our Finnair Lounge in the Schengen side of Helsinki Airport is open again as of 1 July but with limited service. The opening hours are 6-10 am and 2-8 pm.
Finnair Business Lounge and Platinum Wing in the non-Schengen side remain closed for now. If you are travelling from the non-Schengen side of Helsinki Airport and are eligible for lounge access, you are welcome to enjoy our services at Finnair Lounge in the Schengen area.
It is good to know that there may be changes also in lounge services at other airports.
WHEN BOARDING
We have a new boarding order to minimise unnecessary contacts and movement in the cabin. Boarding will begin from the rear end of the aircraft. Priority boarding is available for our Business Class customers on intercontinental flights, but otherwise, the service is temporarily discontinued.
Our crew reviews seating at the gate and customers are seated far away from each other whenever possible. Families can, of course, sit together.
At Helsinki Airport, in bus transportation, we carry fewer customers in each bus than usually to help you to keep distance.
You need to wear a mask that covers your mouth and nose by the time the boarding begins and during the flight. Please bring your own masks, as your boarding can be denied without a mask and in your destination country, wearing a mask may be required.
Depending on your destination, we may have extra checks required by the authorities when boarding.
Please note that anyone with symptoms of a respiratory infection will be denied boarding.
DURING FLIGHT
Our cabin crew wear surgical masks during the flight, and also you are required to wear a mask from boarding to leaving the aircraft. You can remove the mask while you're eating or drinking. Children under the age of 7 are not required to wear a mask.
We encourage you to store your carry-on baggage under the seat in front of you so that you don't have to stand up during the flight to get items from the overhead lockers.
We clean our aircraft at every "turn" when the aircraft are on the ground. We also provide you with a Clean Kit with Kyrö hand sanitizer and clean wipes onboard.
To minimise contact, we have modified our meal service onboard. Please see below for more details. Nordic Kitchen pre-order or onboard selection, including for example sandwiches, snacks or beverages, are not available for purchase on any flights.
Please avoid unnecessary movement in the cabin. If you need to move around for medical reasons, it's of course permitted. Toilet visits are naturally allowed, but we ask you not to queue on the aisle.
There are no duty-free sales onboard.
It is good to know that cash payments are not possible during the flight.
Exiting the aircraft will happen in a new order in smaller groups.
Arrival and how to get around
How to get here?
Inari-Saariselkä is far away in the North, yet just a few hours from Southern Finland. You can get to Lapland with multiple ways, and often the trip is an experience in itself.
How to get around?
When travelling through the arctic hills, you must remember that distances are quite often long. Be sure to enjoy the views while making your way from a destination to another.
Distance
By car {{carTime.h}}{{carTime.min}}
By bicycle {{cyclingTime.h}}{{cyclingTime.min}}
Get to know the Inari-Saariselkä region