The world as we know it has changed during the last weeks and it is not possible to travel to Finland and around Lapland just now. Although travelling in most parts of the world is impossible at the moment, we can all still dream of the winter wonderland and make travel plans for the years to come! Here a guest blogger Charlotte shares her experiences of Finnish Lapland from her trip last winter. You will find more blog posts of Lapland from the travel blog Charlotte Plans a Trip!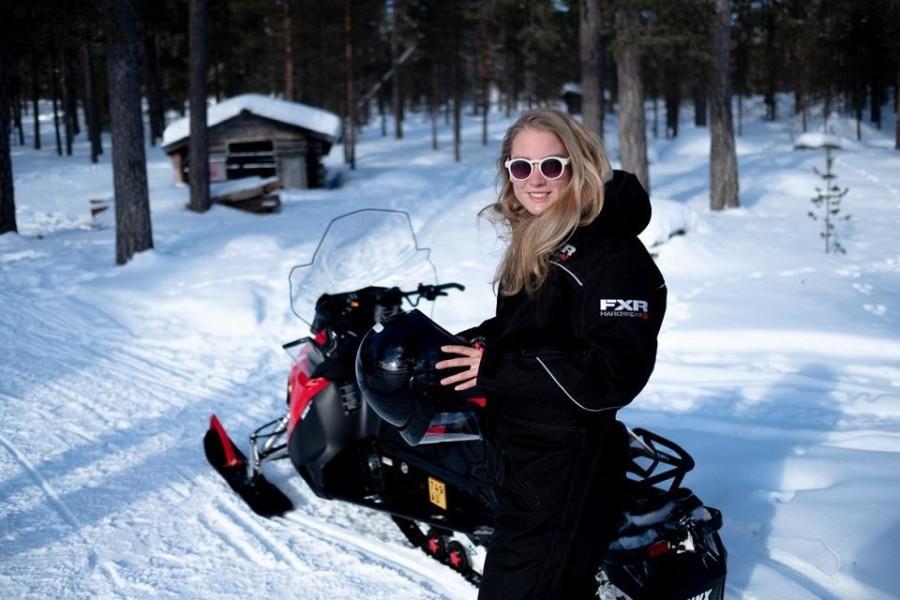 Guest blogger: Charlotte Plans a Trip
Hi, my name is Charlotte. Together with my fiancé I travel the world searching for beautiful locations and special experiences. All of my adventures, travel guides and tips can be found on my travel blog Charlotte Plans a Trip.
Go to blog
Recently I made a wonderful trip through Finnish Lapland. In this guest blog, I'll share with you why Finnish Lapland is such an amazing place and deserves a high spot on your bucket list!
1. Witness the most beautiful natural phenomena: The Northern Lights
Probably the most obvious reason to go to Finnish Lapland but truly the most beautiful natural phenomena I have ever witnessed: The Northern Lights. This spectacle of dancing green and purple light can be seen near the North Pole, a place where you are very close in Northern Finland.
Did you know: that the more northern you go, the chances of seeing the famous Polar Lights are bigger? We chose Saariselkä because of its location far up in the north of Finland.
We saw the Northern Lights four nights in a row, with the last night being the strongest. On a pitch-black sky the green light danced for hours, it grew stronger, then weakened, but it remained visible. You must be lucky to see it. For example, clouds or light pollution can throw a spanner in the works. In my view, the Aurora Borealis alone is enough reason to add Finnish Lapland to your bucket list!
Tip: in October and March, the chance of seeing Polar Lights are the biggest. Since most tourists visit Saariselka from December onwards, October might be the perfect timing! Less other tourists and a big chance to see the Northern Lights!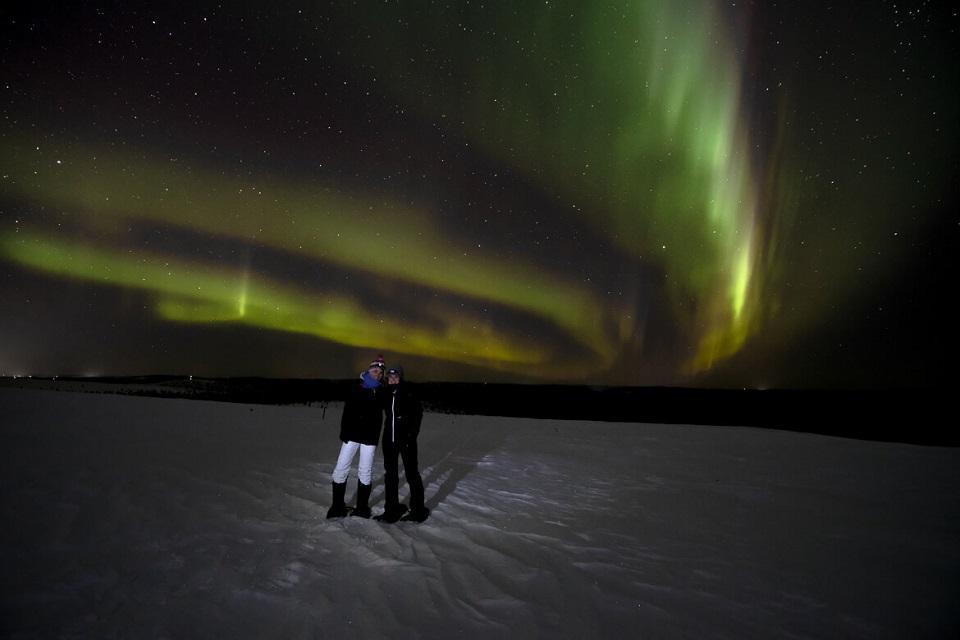 2. Experience the coldness in Finland: – 25 degrees and below!
Secretly I wasn't looking forward to the cold weather. I am a true summer lover, even thinking of snow makes me shiver and put on an extra sweater.
I was therefore pleasantly surprised by how much I enjoyed the cold in Lapland! Of course, you shouldn't stand still for hours in the snow, but the experience of being wrapped up in warm clothing, stepping outside and then feeling that low temperature, I thought was great.
Furthermore, 25 degrees below zero is not at all as cold as you expect. Especially when there is hardly any wind and the coldness feels mostly dry, it is very doable. And then back in the lodge drinking hot cocoa near the fireplace while playing board games. I mean it doesn't get cosier than this!
Tip: we brought heat packs which we put in our gloves. In this way, our hands stayed comfortably warm for hours.
3. Lapland = the ultimate winter wonderland
Northern Finland is the ultimate winter wonderland. With meters of snow covering red little cottages, frost flowers on the windows and an occasion "plop" when the powdery snow falls of the pine trees. Yes, winter in Lapland is special and so different from any winter I have experienced back home (in The Netherlands).
The snow in Northern Finland is worth describing on its own. It's thick, powdery and super crispy. Meters of tiny water crystals which feel like a thick blanket when you lie down in it to make a snow angel. It's the perfect snow for Cross Country Skiing or a snow hike.
Tip: make sure you don't get any snow in your face (yes, I am talking from own experience here). When the snow melts and leaves your face wet, it can get really, really cold when it's -25 degrees.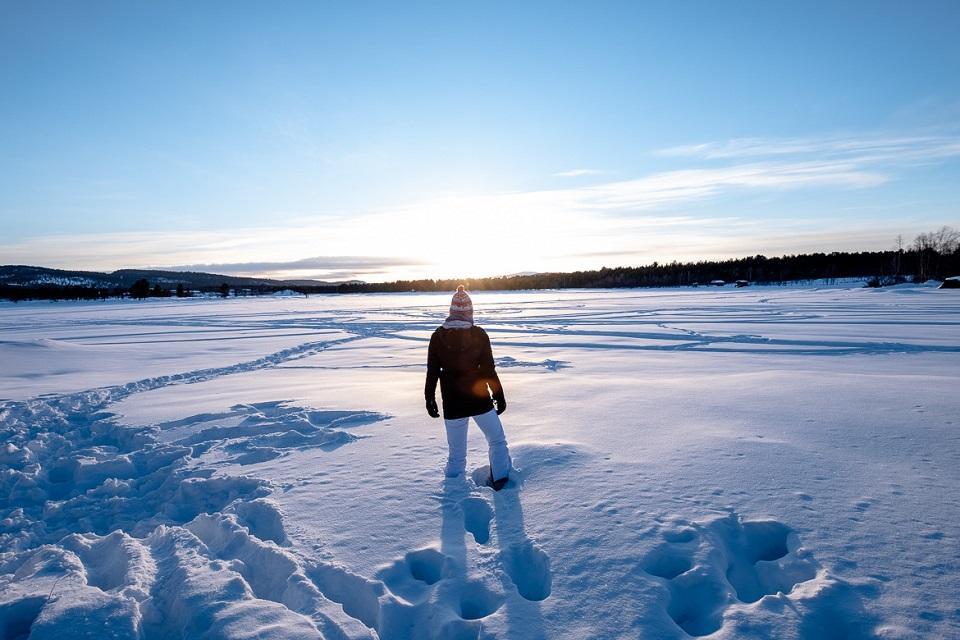 4. The cool activities in Northern Finland that you can do nowhere else in the world!
With all that snow and ice, there are some cool activities to do in Northern Finland. For example, we had so much fun driving a snowmobile over the frozen lakes. I was surprised to see people use the ice in the winter as an extra road, including signposting on the thick layers of ice.
Another must-do activity is, of course, a husky sleigh ride. These cute dogs love this winter weather and are already jumping enthusiastically when you step on the sledge. The moment you release the brake, they shoot away and it feels like you are flying over the snow. Other activities in this wintry landscape are ice fishing, a reindeer safari and of course skiing.
Are you travelling with kids, then Northern Finland is home to the house of Santa Claus. A must-do experience in which you will leave your kids and yourself in awe of this magical fairytale.
5. Interact with beautiful polar animals
On our first morning in Lapland, we already saw footprints outside our lodge and a little later we saw them walking in the wild: beautiful reindeer. A lot bigger than a deer, with a big coat and a good antler. Gracefully walked these animals through the forest, when we got too close, they sprinted away, but then just a few meters further we had a good sight on them again.
In addition to reindeer, there is more local animal which lives in this polar land: moose (a bit dangerous), lynx, arctic fox, wolverines (a sort of mini bears), wolves and bears themselves. We saw a small white arctic fox at our lodge and passed a wolverine while driving.
Tip: wolves and bears are found in Lapland, but are fairly shy. The moose is more dangerous. If you encounter this huge beast, you do have a problem.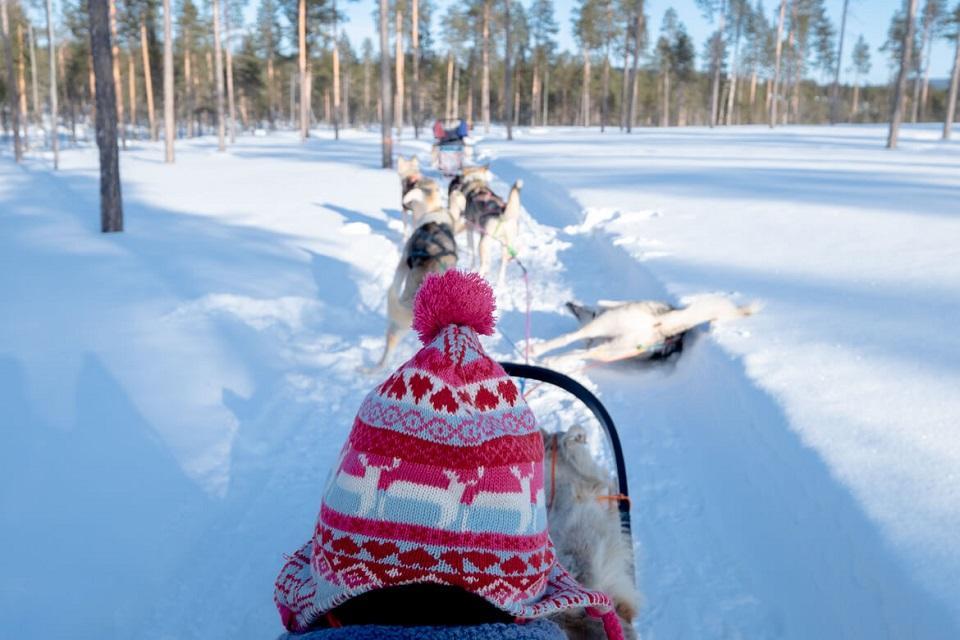 Is Northern Finland your next holiday destination?
So, what do you think? Is Finnish Lapland your next destination? For me, it was truly the most magical holiday ever. Even more when my boyfriend went down on one knee (in knee-deep snow) and asked me to marry him. My favorite travel-memory is therefore made in Northern Finland!
Do you want to read more about my experiences in Finnish Lapland? Then take a look at my travel website.

Text and photos: Charlotte Plans a Trip