Every year, the fells of Saariselkä are covered by a layer of fluffy white snow. This outdoor & ski centre, the northernmost in Europe, boasts a myriad of beautiful slopes, fun sledging hills, well-maintained ski trails and guided treks. In Saariselkä, the ski season is guaranteed to last from November to May.
The natural snow in Saariselkä is of excellent quality and lasts until late spring on the slopes between two fells, where beginners can find suitable courses and more experienced skiers can try their hands at tricks. Saariselkä also boasts two extra long sledging slopes, one of which is the longest in Finland. On this 1,800 metre run, daredevils can whizz down from the top of Kaunispää all the way to the lower chairlift terminal. The toboggan slope is illuminated with aurora-inspired light art.
In December the sun never rises in Saariselkä, but the ski centre's well-lit slopes guarantee that the winter fun doesn't have to stop. The polar night brings its own magical atmosphere to Saariselkä – and the arrival of spring offers another enchanting experience when the days get longer and the April sun glistens on the snow like a thousand diamonds. Even for visitors who have never experienced snow before, learning downhill skiing, snowboarding, sledging and cross-country skiing is safe and fun with Ski Saariselkä's professional instructors. To ensure safety, the beginner slopes and other practice facilities have been designed with novice skiers in mind.
The outdoor resort of Saariselkä boasts about 200 kilometres of well-maintained ski trails, 34 kilometres of which are illuminated. With its vast wilderness area, Urho Kekkonen National Park, situated a stone's throw from the centre, offers great opportunities for cross-country skiing and trekking. A map of the ski trails is available online at infogis.fi/saariselka.
Toboggan through Finland's longest sledging slope which is illuminated with aurora-inspired light art.
Snowmobile safaris into the wilderness
Playing in the snow comes naturally to children, and the unspoilt, snowy forest often brings out the inner child in many adults too, who find themselves building snowmen and making 'snow angels'.
For some, on the other hand, snow may be such a novelty that they feel slightly nervous about the unfamiliar conditions. For this reason, Saariselkä's winter safari organisers often pick up their customers from the hotel or Saariselkä centre and kit them out in warm snowsuits. They also rent outdoor gear such as skis, snowshoes, sliding snowshoes and sleds to DIY travellers, as well as offering ski waxing services. Shops in Saariselkä sell a wide range of winter clothing, from socks and thermal underwear to hats and outerwear.
Lapland Safaris' most popular excursion, the Aurora Borealis Safari, takes visitors on a hunt for the Northern Lights half an hour's drive, or an hour's snowmobile ride, away. Situated by a large lake, the viewing spot, far from any artificial lights, has been selected to maximize the chances of seeing this incredible natural display. Also fat bike treks are organised along snow-covered forest roads to a frozen lake for a spot of ice fishing.
Northern Lights Village also offers a variety of winter activities, including photographing the Northern Lights. Children over the age of three can put their skills to the test on a children's snowmobile. In addition to an ordinary restaurant, the hotel boasts a snow restaurant where diners can sample drinks and savour á la carte dishes while seated on ice benches covered with reindeer rugs. The hotel has its own reindeer farm, and visitors can discover a world of Arctic adventures right on the hotel's doorstep, including snowmobile, reindeer and husky safaris.
Ice fishing on a frozen lake
Joiku-Kotsamo Safaris, run by a local Sámi family, offers a variety of reindeer safaris. Once the ground is covered by a layer of snow, reindeer-pulled sled rides are arranged every evening. On these two-hour outings, you can scan the skies for the magnificent Northern Lights before stopping to warm up by a campfire with some hot drinks. During the day, the reindeer safaris weave their way through snowy pine forests.
In December, when lakes get their ice cover, fishing on a frozen lake makes for a memorable experience. After riding to the lake on a snowmobile, you can fish for Arctic char and grayling through a hole cut in the ice. Your catch is transformed into a mouth-watering fish soup, washed down with coffee brewed on a campfire.
In the daytime, snowmobile safaris, lasting either two or three hours, take visitors to admire the majestic fell scenery, while in the evening the goal is to make an Aurora Borealis sighting. The reindeer farm also has a traditional Lappish log cabin where you can enjoy authentic Sámi delicacies: smoked reindeer, salmon cooked on an open fire and Arctic berries, with the experience completed by Sámi yoik and folktales. Advance booking is required.
Snow safaris arranged by Lapin Luontolomat take visitors through vast northern forests to the shore of a lake, known for its clear water, where they are welcomed by a log cabin, sauna, hot tub and a fisherman's cottage. This spot under starry skies makes for an idyllic setting for ice-fishing and enjoying a candlelit meal by a campfire, while keeping an eye out for the Northern Lights.
Local delicacies can also be savoured at the cabin, which seats 50 people and serves lunches and dinners with yoik as an accompaniment. The place, though far from urban noise and artificial lights, is easy to reach by car and snowmobile. For those looking for a real adventure, a longer snowmobile safari to the Russian border is an ideal choice.
With its wide range of activities, Saariselkä offers something for everyone – whether you are in search of action-packed adventures or relaxation amid Lapland's magical landscapes.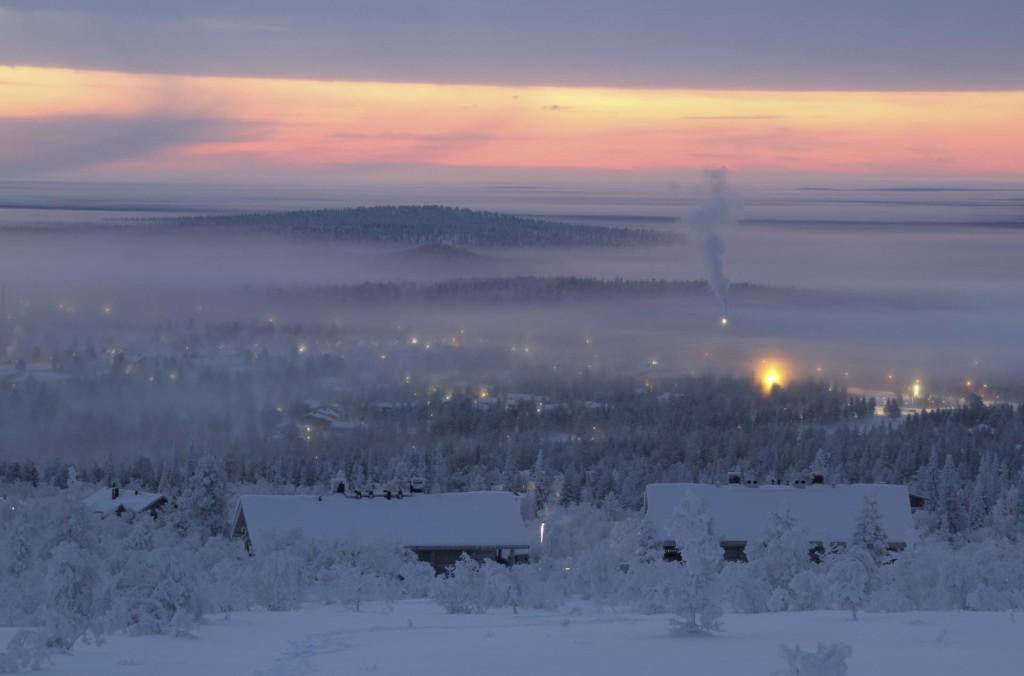 Text: Helena Sahavirta