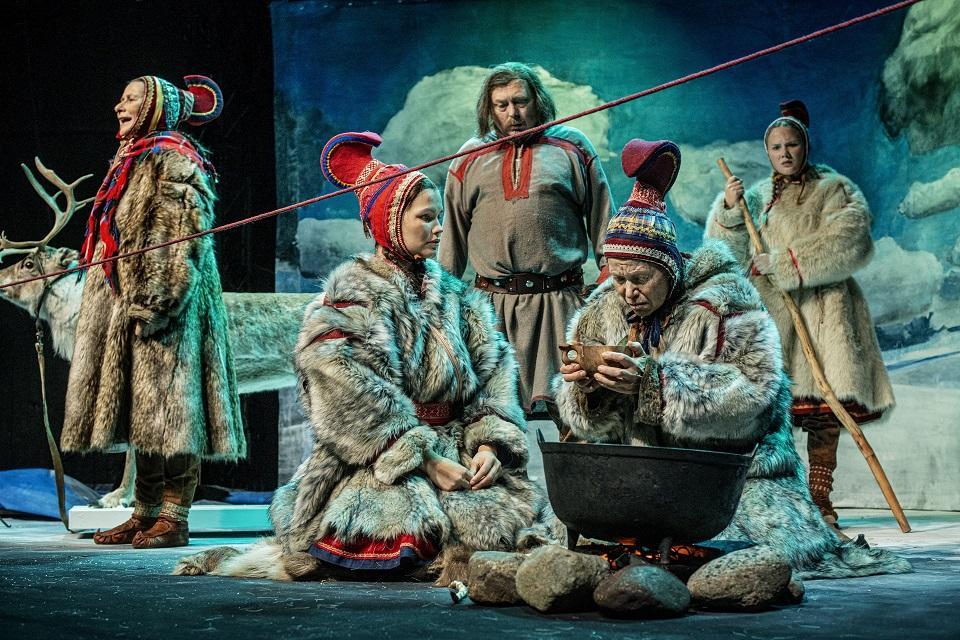 Tickets 22/16 €
Mon-Fri from Sajos 9am-5pm and prior to showtime on Saturday from 5.00 pm onwards. Get your tickets early!
The Sámi National Theatre Beaivváš (SNTB) is based in Guovdageaidnu in Norway's Finnmark Council, which has made it its priority to consistently perform all of their plays in different Sámi languages. The theatre tours Sámi areas in Norway, Sweden and Finland.
Human Zoo: From the beginning of the 19th century until well into the 20th century, tribes and indigenous peoples, including the Sami, got sent on tours in Europe and the United States. In traditional clothing, with the tipi and reindeer, they were exhibited in zoos for curious inquisitors. In Human Zoo, we follow a Sami family's journey from open plains to enclosed areas, which are getting increasingly narrower and narrowerr. The relationship between mother and father is bad. Grandma has started coughing a lot. The son is tormented by the spectators. And the daughter is asking the questions the parents have difficulty answering. The narrower the room outside, the clearer the conflicts between family members become.
2.11.2019 Sámi handicraft market – we bring Sámi artisans together to sell their handicrafts at Sajos on November 1st from 1 pm to 5 pm and on November 2nd. 10 am to 6 pm.
Come admire beautiful Sámi handicrafts, everything from woolen socks to silver jewellery will be on display, maybe you will find a Christmas present or souvenir for yourself!
Our cosy restaurant Čaiju will be opened from 9 am to 5 pm on Friday and from 10 am to 7 pm on Saturday. Enjoy delicious pastries and wide selection of beverages. Plenty of organic, vegan and gluten-free choices and best (organic&fair trade) coffee in town!