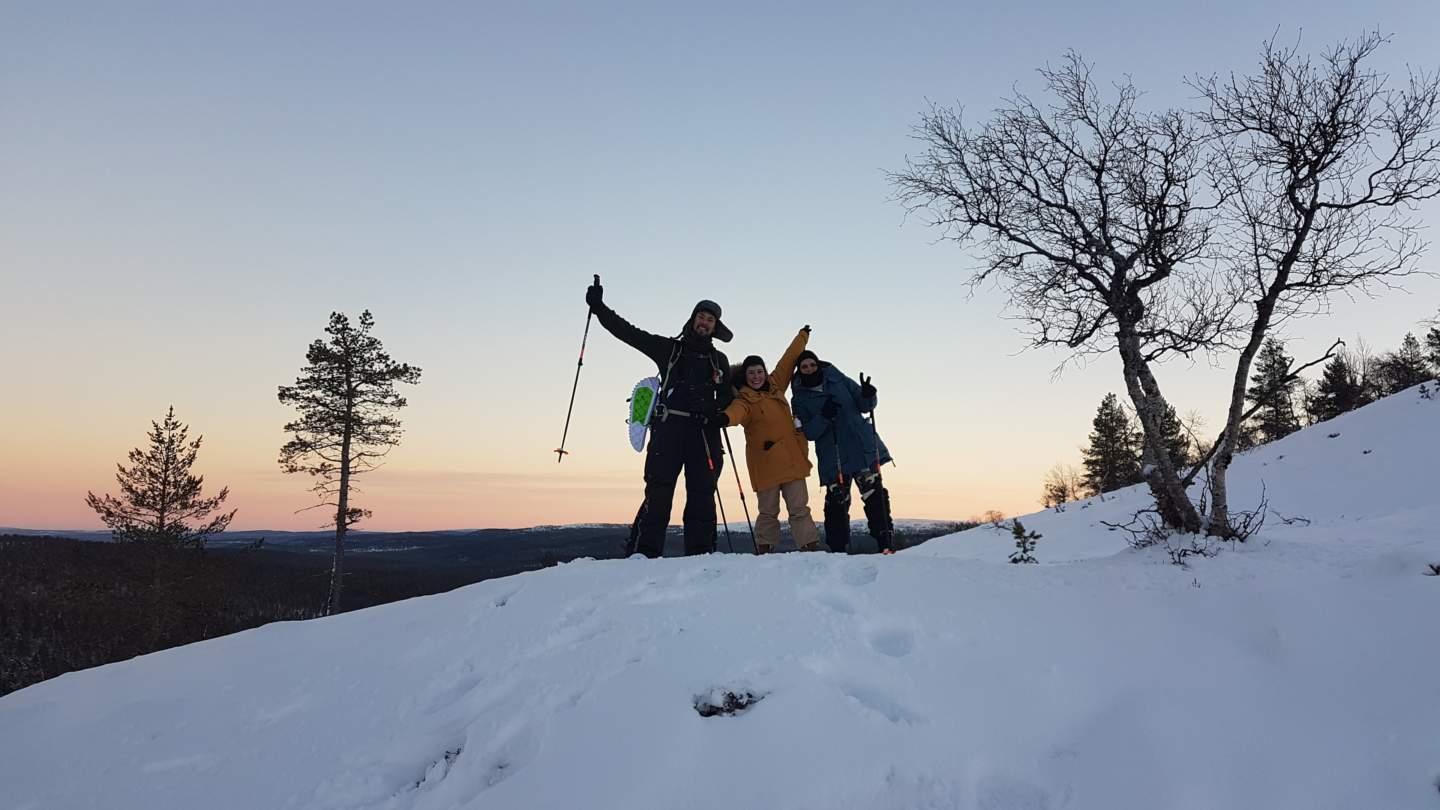 Embrace the winter wilderness of Lapland in an unforgettable Survival Skills Camp that incorporates ice fishing, ice swimming, and a traditional tent sauna. Immerse yourself in the beauty of the Arctic landscapes as you learn essential survival techniques and experience the thrill of winter activities.
Under the expert guidance of skilled instructors, you'll master survival skills crucial for thriving in the winter environment. Learn to build snow shelters, start fires in snowy conditions, navigate through snowy terrain, and identify edible plants and wildlife tracks. These valuable skills will empower you with the confidence and knowledge to venture into the winter wilderness with ease.
As part of this extraordinary camp, you'll also have the opportunity to try your hand at ice fishing. Venture onto a frozen lake or river, drill a hole in the ice, and drop your line in the hopes of catching Arctic fish such as trout or perch. Enjoy the serenity of the icy surroundings as you wait for a bite, and revel in the satisfaction of a successful catch.
To invigorate your senses, embrace the tradition of ice swimming. Take a refreshing plunge into a frozen lake or river, experiencing the exhilarating contrast between the icy waters and the crisp winter air. The invigorating effects of ice swimming will leave you feeling energized and alive, connecting you with the power of nature.
After your exciting outdoor adventures, unwind and rejuvenate in a traditional tent sauna. Enter the warm, cozy interior of the sauna and let the heat envelop your body, melting away any fatigue or tension. Relax and embrace the peacefulness of the winter landscape as you recharge in this timeless Finnish tradition.
Throughout the camp, you'll be surrounded by the stunning winter beauty of Lapland. The glistening snow, pristine frozen lakes, and majestic forests will create a picturesque backdrop for your survival skills training and winter activities.
Whether you're a seasoned outdoors enthusiast or a novice adventurer, this winter Survival Skills Camp with ice fishing, ice swimming, and a tent sauna promises an immersive and unforgettable experience in the heart of Lapland's winter wonderland. Embrace the challenges, savor the thrills, and forge lifelong memories as you embrace the spirit of survival and exploration in the magical winter landscape.
Know before you go
We're spending the whole day outside. Weather might be cold, so please wear warm clothes and bring extra clothing also. In case you need, we can lend you a warm winter overall and boots.
There's no indoor toilet at the Wilderness Camp, but we do have a traditional Finnish outside toilet
There's a campfire and a heated tent at the Wilderness camp, and these may be used for warming up when necessary
The participants will use sharp objects such as axes, knives and ice drills. We will also work closely with fire. Please be extra careful with these activities. If the participants are physically or mentally restricted, please let us know in advance, so we can assess necessary extra safety measures.
What do I need to bring?
Bring your camera and or phone!
Head torch if you have one
Water to drink
Tissues for a runny nose
Snacks, if needed
Your personal, necessary medication
Book now
Information
Duration
7 hours
Booking in advance
3 days
Difficulty
Moderate
Minimum age
15
Contact the company
Not exactly what you're looking for? Contact the company for special requests and larger groups!