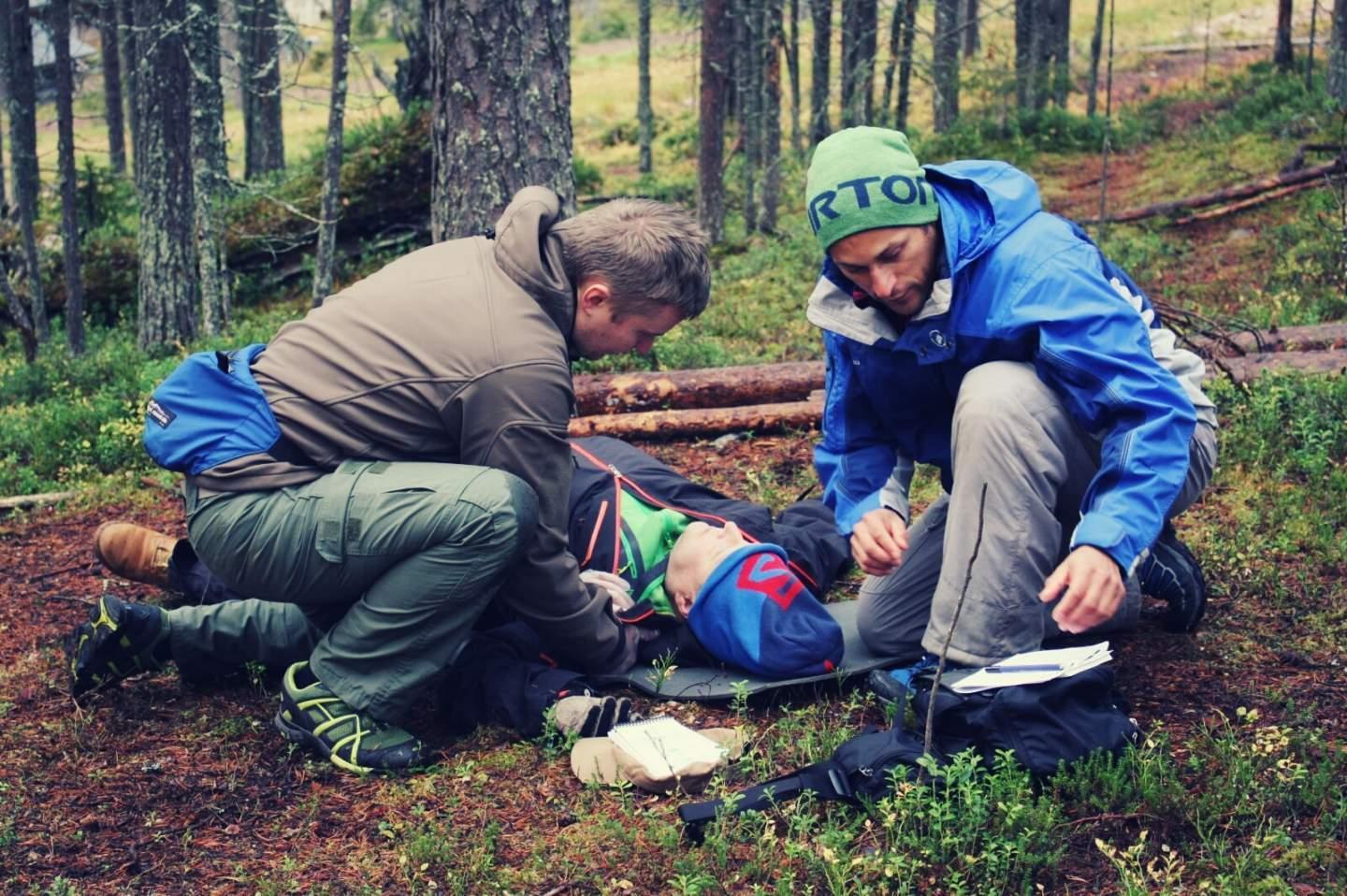 Wilderness Medical Associates has offered high-quality First Aid Trainings world-wide from the beginning of the 80's. Courses are filled with information and offer the participants a practical approach to First Aid assistance in the wilderness. Courses are suitable for everyone moving in nature and do not require any former First-Aid experience. And now we're bringing these trainings to Ivalo and in winter environment for you!
Wilderness Advanced First Aid – training is a comprehensive training for everyone spending time in nature. It is designed especially for those moving in remote wilderness areas and circumstances where reaching medical care may take up to hours – For example Finnish Lapland. The course will give you a good theoretical base and practical skills to look after a patient whilst waiting for professional help. It will teach you the skills for decision-making in situations which may require evacuation as well as planning and proceeding with evacuation if and when reaching help is taking too long. 
Course Content
The expected target audience is seasonal outdoor staff and those involved in recreational wilderness trips. The course content meets the anticipated medical needs of those communities.
Course topics are:
Patient Assessment System
CPR
Circulatory System
Nervous System
Respiratory System; Fractures
Stable Injuries
Splints 1-Extremities
Hypothermia
Hyperthermia and Heat Illness
Near Drowning
Lightning Injuries
Wounds and Burns
Anaphylaxis
Lifting, Moving Extrication; Patient Carries; Backcountry Medicine
This course is traditionally scheduled for 4 days or 40 hours of instructional and practice time. Upon successful completion students will receive certification in Wilderness Advanced First Aid and Adult CPR. Certification is valid for 3 years.
Instructor: Training will be held by Ville Melkko from the Suomen Eräensiapu. Ville is trained as a rescuer and a nurse. With a background from various rescue-missions to international crisis management positions he is currently working as a paramedic in Lapland region. In his free time Ville often moves in nature throughout the year either by foot, on skis, on kayak or by bike. www.eraensiapu.fi
Teaching language of this course is Finnish and participants must have good understanding on spoken language. Training material provided will be in english. With it's wide content the course covers commonly accepted EA-training required by many employers in Finland.
What do I need to bring?
Rain gear
Clothing for outdoor use
Good shoes ( hiking shoes, rubber boots)
Notebook and pencil
Information
Duration
4 days
Booking in advance
21 days
Difficulty
Easy
Contact the company
Not exactly what you're looking for? Contact the company for special requests and larger groups!