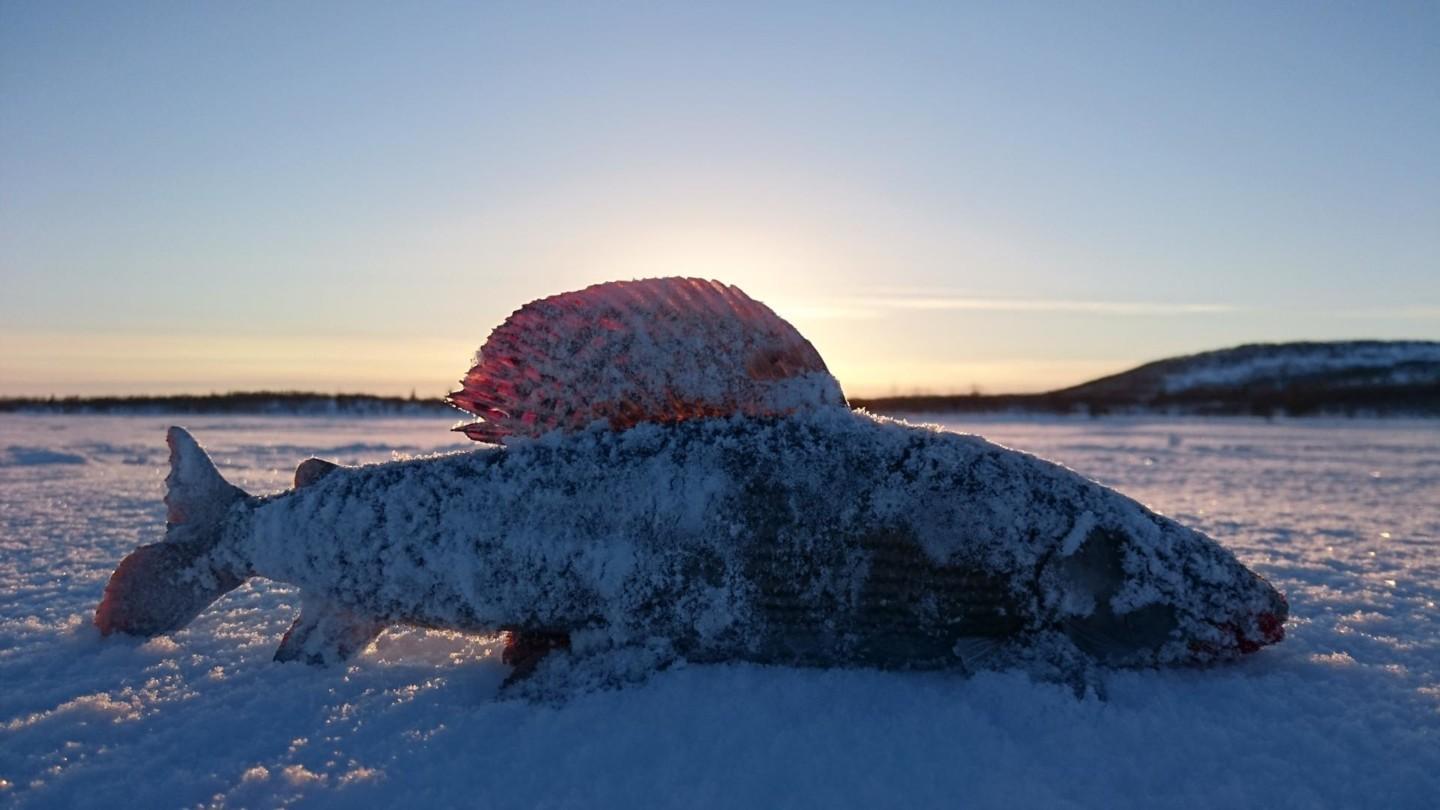 Arrival day
Your guide Atte Ikkala comes to get you from the airport, either Kirkenes, Norway or Ivalo, Finland. You get to unpack at the accommodation and we set everything ready for morning, try helmets on and check that we have everything you need. Atte gives important tips to how to fish efficiently and we go through safety measures. If you arrive in the morning, we can already go ice fishing at the arrival day. 
Day 2
We start around 10 a clock in the morning. Atte comes to pick you up from your resort and you travel comfortable on reindeer skin covered sledge into the wilderness. The drive to our fishing camp takes one hour. Once we get to the camp we fish the whole day for grayling, perch and pike. The fishing is done so, that the guide drills the fishing hole in the ice. Then you lay a reindeer skin on top and lay down on the skin. Drop the lure in and press your head on top of the hole. This way you see the lure and fishes swimming right beneath you in the shallow clear water. This is important so that you know when to make the right movements with the lure.
We eat at open fire and cook sausages and fresh fish. Atte also makes coffee and has snacks and beverages for you. In the evening he drives you back to your resort and you can have dinner and go to sauna if you wish so. Usually there is fresh fish to eat in the evening as well.
Day 3
We start again around 10 a clock and head to the same place as yesterday. There is a lot of ready holes from day 2 and we can access the fishing spots quietly without spooking the big graylings and perches. This is the day to hook the big ones. The day goes pretty much the same as day 2 and we head back in the evening.
We eat fresh fish all day during the fishing and your guide also has a lot of other food with him. Also vegetarian option possible.
Day 4, Departure
Depending to your flight take off, we spend the day fishing, sight seeing, shopping for souvenirs, visiting local museum or just getting you to the airport. Atte drives you to the airport at least 2 hours before the boarding time. 
Info
Every trip is different due to season, weather, group size and interests. We make sure that your trip goes smoothly and that you get all the support you need. We stay contacted well before your excursion and you will get personalized assistance in everything.
We can go ice fishing Barents sea for cod and coalfish if the sea ice is safe. In March it is still strong. Some say that sea fishing is too easy and prefer lake fishing for more rewarding fishing.
Before you book the trip, we stay contacted and choose the best accommodation from this area for your needs and wishes. 
Welcome ice fishing!
What do I need to bring?
Winter clothing with water proof shoes.
You can also bring all the fishing gear you want, but we have top equipment for you.
Information
Duration
4 days
Booking in advance
7 days
Difficulty
Moderate
Minimum age
15
Contact the company
Not exactly what you're looking for? Contact the company for special requests and larger groups!