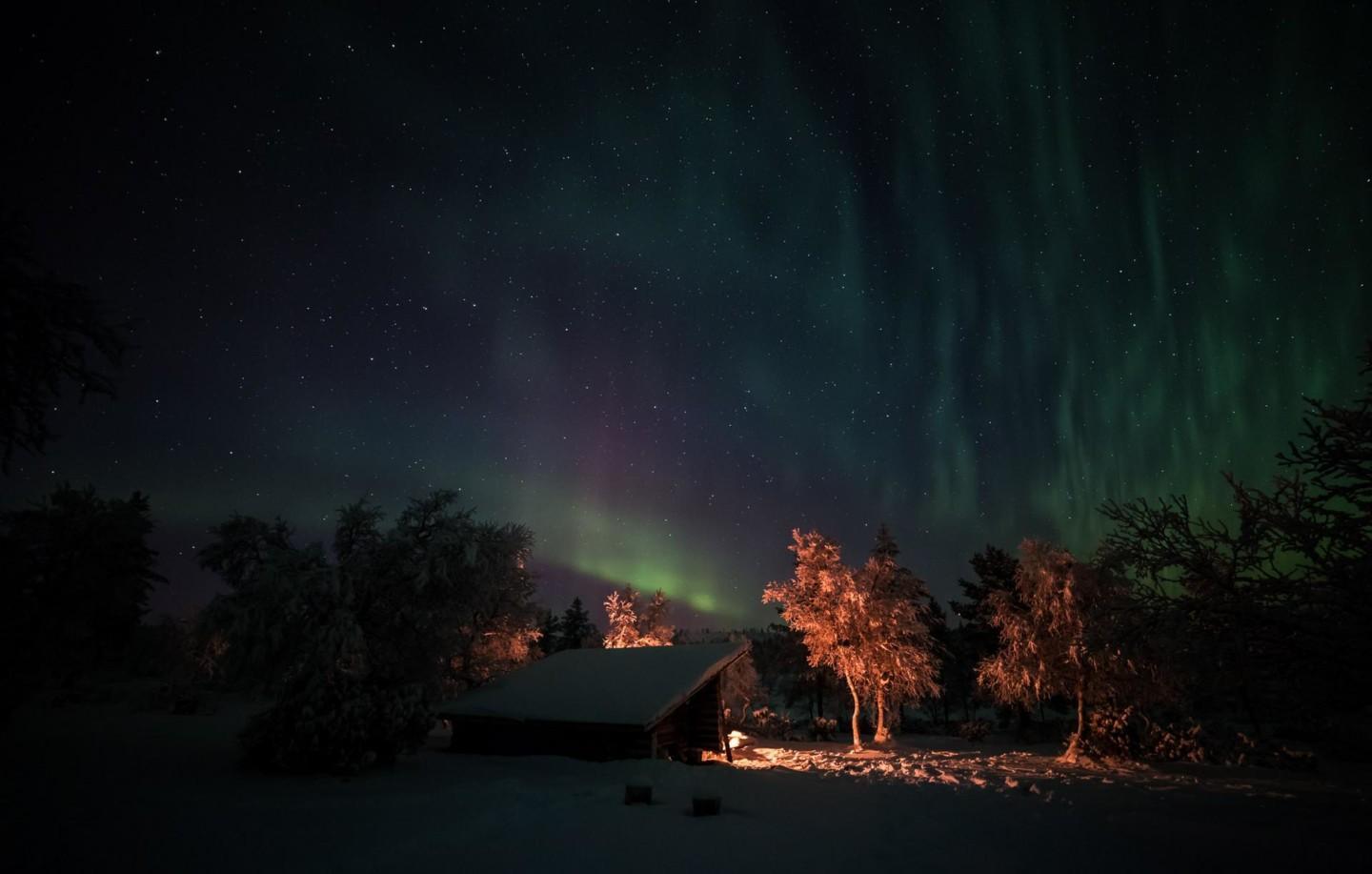 In this tour you will explore the genuine Laplandic nature, taste local food, promote your wellbeing with variety of activities, relax in Lappish tranquility
and enjoy your time without hurry. The nature around is pure, water is clear and air is fresh. Here you can touch the silence.
Our wintertime tours start at Sundays. Ask for availability!
PROGRAM
DAY 1 
Transportation from Ivalo airport 
16.00 welcome to Arctic Sky Resort 
17.00-20.00 Easy winter walking trip 3-4km to arctic nature, familiarizing with the arctic nature, dinner outside by bonfire 
DAY 2 
8.00-9.00 Breakfast 
10.00-14.00 Pleasant day with reindeers, learning about the traditions of reindeer herding, getting acquainted with local culture. Lunch included.
17.00-18.00 Relaxing yoga
19.00 Dinner 
DAY 3 
8.00-9.00 Breakfast 
Packed lunch, you have time of your own!
Day off or an optional activity according to wishes (one is included): 
Option 1. Visit to smoke sauna and cold spa at Kiilopää fell center. Getting to know the Finnish sauna traditions. Pack your swimming suit with you! (2-3 hrs). Activity starting at 15.00.
Option 2.We enjoy our time outside on this dark time trip, where we observe the wonderful winter night sky. If we are lucky, we might see million stars and maybe some auroras dancing above! Duration of the trip is 1-2 hours. Activity starting at 20.00.
19.00 Dinner 
DAY 4 
8.00-9.00 Breakfast 
10.00-14.00 Easy-going winter walking or snowshoeing trip to the top of fell Kiilopää (4-6km). This trail is suitable for children; nevertheless, there is a long uphill to go! View from the top of the fell is amazing. If weather is clear, you can see the other fells and mountains from here. 
14.00-15.00 Lunch at Kiilopää fell center 
17.00-18.00 Relaxing yoga
19.00 Dinner 
DAY 5 
8.00-9.00 Breakfast 
11.00 Checkout and farewell 
Transportation to Ivalo airport  
Know before you go
ARCTIC SKY RESORT
Arctic Sky Resort is for 10 people maximum. We are located in Saariselkä, Lapland, Finland - in the middle of Arctic wilderness. Our recently built resort has 5 bedrooms, kitchen, lounge, 2 bathrooms, infra-red sauna and a huge Arctic natural park as a backyard. Accommodation in twin rooms with shared facilities. You can also book our whole chalet for additional cost. 
TAILORING YOUR EXPERIENCE
You can always contact us to customize your experience or ask another starting days. You can add activities or extra days to your stay with us. Other available activities are for example ice fishing trips, day trip to winter nets. day trips to Ivalo or Inari, visit to art exhibition, cross-country skiing, mountain biking, Eat like local -cooking classes and midnight walking trips.
WINTER SEASON IN LAPLAND
In Lapland, we have 8 seasons and 5 of them are different seasons of winter! Winter lasts here about 7 months. 
THE FIRST SNOW 15.10 - 15.11
The weather gets colder and colder. The snow finally comes to stay. The lakes are slowly frozen and the birds are leaving for their winter destinations. The dark period begins in November as the sun goes below the horizon for months. The sky is unbelievably beautiful throughout the day, with different shades of blue, pink, orange and red. Later in the evening you can watch the Auroras dancing in the night sky. The beaming moonlight on the snow is really something extraordinary for you to see. 
THE CHRISTMAS SEASON 16.11 - 15.1
The first skiing tracks are being opened in our area in the beginning of December. The polar night, the darkness, is here. We love to get cozy by the fire and light the candles. We love to get some nature`s delicacies from our freezer and prepare ourselves a tasty Arctic meal. It is time to rest and relax. Like an Arctic bear in his nest.
THE FROSTY WINTER 16.1 - 28.2
The nature sleeps, peacefully. The darkness that lasts about a month and a half is shattered by amazing Northern Lights (Aurora Borealis). The lightest period of the day, the blue moment, lasts about 4 hours. The weather can be very, very cold, -30 degrees celsius, or even less. The amount of light slowly increases.
THE CRUSTY SNOW 1.3 - 14.4 AND THE DEPARTURE OF ICE 15.4 - 15.5
The spring! The light! We enjoy skiing, fishing and walking on the icy lake. We are able to see the sun after long, long time. The nature is still covered with snow. The days are getting longer. Sometimes the combination of sunlight and frost makes the snow hard enough to walk on. The snow usually starts to melt by May. The nature is slowly waking up. The wild animals are moving around, searching for a mating partner. You can see a lots of migratory birds in the sky, returning to their Lapland home for the summer.
What do I need to bring?
We always offer the bed linen, bath towels, yoga mats and equipment plus the final cleaning up service. Please pack your favorite comfy indoor and outdoor outfits including the warm winter shoes, plus your personal hygiene items and other important belongings with you. In the winter time we also offer warm overall outfits for outdoor activities.
 Even if your belongings are most definitely safe here, we do not recommend to take any of your expensive jewelries with you. You probably won`t need them anyway here in the wilderness. In case of traveling by plane, please always check the baggage rules and regulations from your airline.
Information
Duration
5 days
Booking in advance
14 days
Difficulty
Easy
Contact the company
Not exactly what you're looking for? Contact the company for special requests and larger groups!