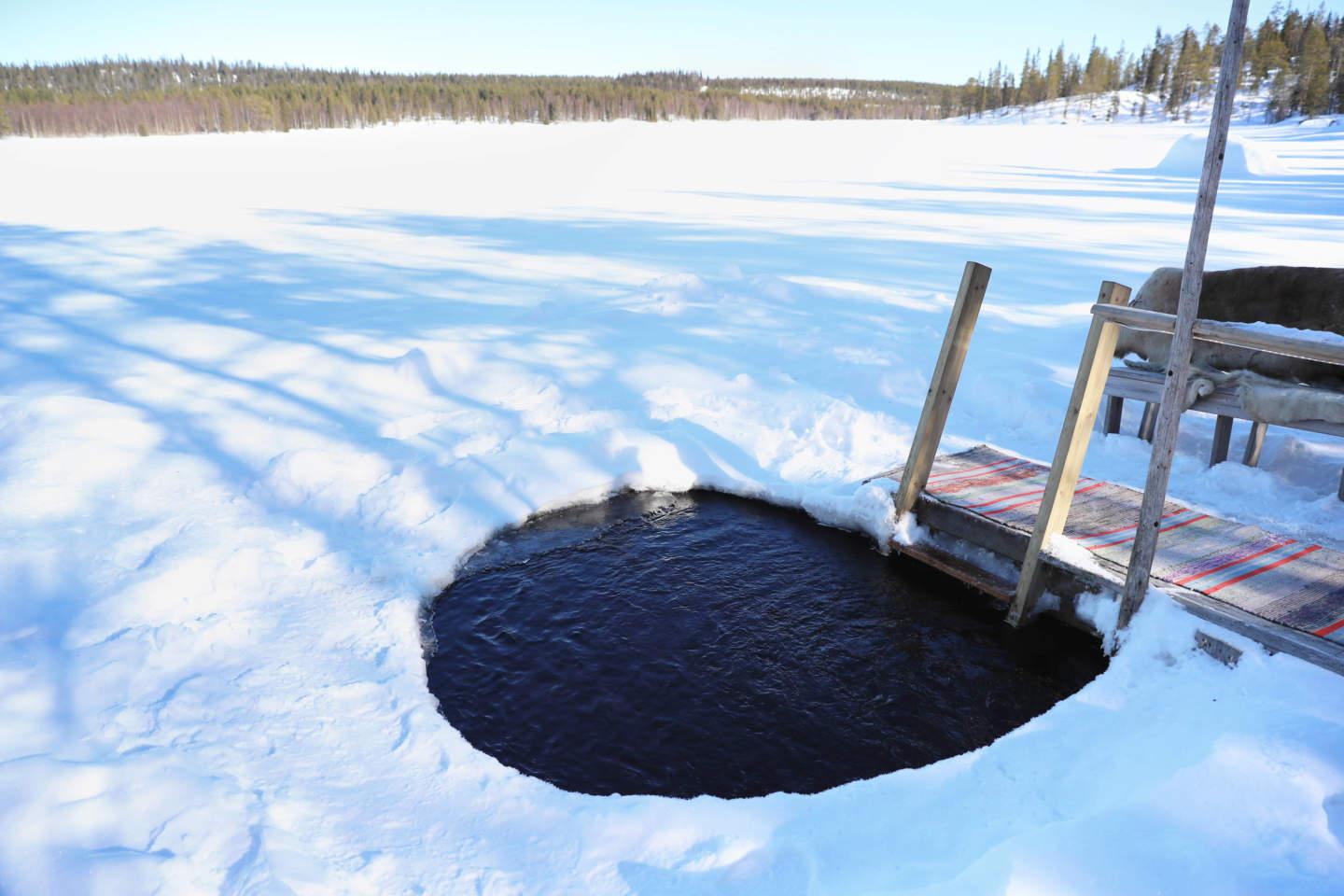 We promise that this one will leave you refreshed! A thrilling afternoon adventure in the pristine Nordic wilderness! Discover the invigorating combination of traditional tent sauna, ice swimming, and a woolly sock hike, designed to rejuvenate your body, mind, and soul.
Your journey begins with a setting up the camp, fireing up the sauna before heading for a hike in the forest & lake with our signature woolly socks for extra warmth and comfort. As you wander through the enchanting landscape, our expert guide will share fascinating stories and facts about the local flora and fauna.
While we get back to the camp the sauna is waiting for us nice and hot! While your guide teaches you the age-old techniques of authentic Finnish sauna rituals, feel your muscles relax, start to prepare for the rush of the scientifically proven Dopamine enhancer ice swimming!
Plunge into the crystal-clear, icy waters of the lake. Our guide will be on hand to ensure your safety and offer tips for embracing this refreshing tradition.
After your ice swimming experience and Sauna, we'll gather around a roaring fire to warm up and share stories of our adventures while enjoying Finnish berry juice and some Lappish Tapas.
We will start at 15:00 from Xwander Basecamp, Ivalontie 12.
Duration of the whole trip is around 4 hours.
Return to the Ivalo around 22-23:00
We have a supplementary pick up service for Inari, Nellim, Saariselkä and Kiilopää areas. Contact us ahead to book a transfer.
Know before you go
Prepare for cold temperatures!

What do I need to bring?
Bring your camera and or phone!
Head torch if you have one.
Information
Duration
4 hours
Booking in advance
3 days
Difficulty
Challenging
Minimum age
14
Contact the company
Not exactly what you're looking for? Contact the company for special requests and larger groups!