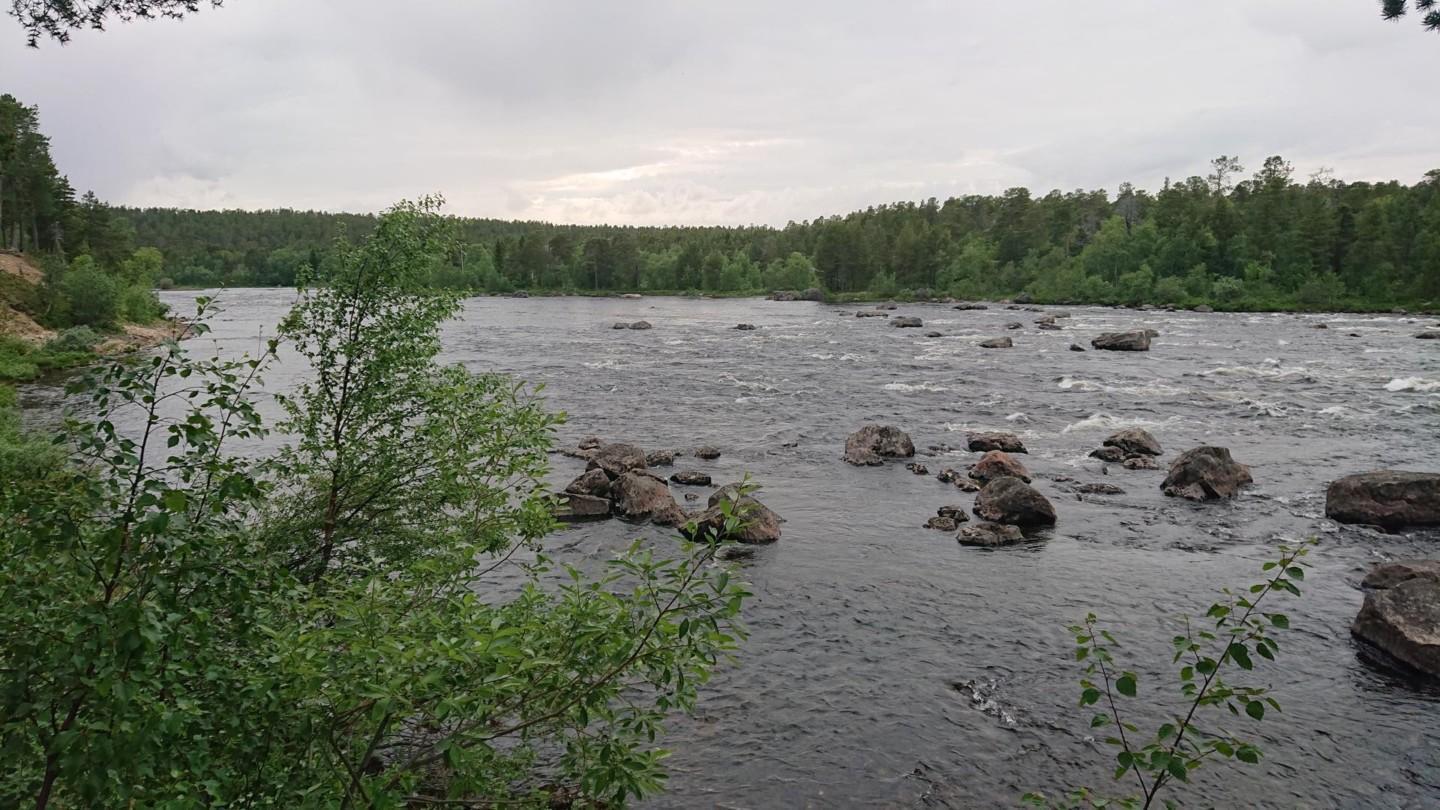 Juutua is 10km long and flows in medium clear water into the western end of the great Inari lake in Finnish Lapland.
The river has strong population of exceptionally large lake trouts and brown trouts. Several over 10kg trouts  have been reported over the years and due to strict fishing rules; the fish population has a bright future.
Fishing season starts at first of June and goes on to the end of August. Juutua offers quality fishing for all three summer months for the one who knows where to fish and with what. Basic rule is, that big trout is predatorous fish…and that's also the fun fact.
Services around the river are good and it is easy to reach.
There is none like Juutua. 
5 STAR SERVICES
Juutua is located in the side of Inari village. There are several high-class hotels in the area with the talent to ensure that you will love your vacation.
Your fishing guide Atte Ikkala is making sure that everything goes smooth and you can focus in fishing and getting into the right state of mind to meet the trout of your life.
Of course we can't promise that 80cm/7kg trout will see your tinsel fly, strike it and hold on in the hook all the way to guides rubber net; To either fill your stomach or splash the water on your face when you let go the tail after he has gained his strenght back.
But what we promise is that you get to do high class fly fishing in one of Europes best trout river, Juutua.
PROFESSIONAL GUIDE
You get a professional guide for your whole trip. Atte Ikkala will take you to the best trout pools and hand over the right fly and rod for you to hook and land the big ones.
Atte's origins are in Middle- Finland and he learned the art of fly fishing already as a kid at brown trout rivers. These days fly fishing is his life and guiding his passion.
INFO
– In the summer there is a lot of room in the hotels so you get to choose a river- or lake side hotel.
– Everyone would respect that if you release your brownie catch. Still you can take 3 trouts for a license without offending anyone.
– Grey chars were planted in Inari lake and are now threatening the original brown trouts excistence. There you do a favour to brownies when you eat a char. June is the main season for "the greys", but good for brownies too.
– You can bring your own fishing gears, but we have what you need.
– Closest Airport is just 50km away; Ivalo Airport. 
FISHING DAYS
You get to eat a lot at the river side. Food is mostly made on open fire and you can even make wishes to what to have. Still main plan is to eat a lot of self caught fish and local food.
There will most likely be other fishermen at the river too, but we can always find a good spot that haven't recently been fished. Still it can be a good option to just stay fishing one pool and wait the trout's to return from their lake run.
Every fishermen has their favorite time to fish, but there isn't any specific hour that had been better than others at Juutua. It is the amount of fishing hours that makes the difference. It is common that the trout strikes your fly right away when they meet.
It depends of the water level that where it is good to fish. Most of the pools take some wading to reach the right casting spot, but some pools are easy to fish from the shoreline as well.
Know before you go
There is a lot of high class Hotels in the area and in the summer there is always room. You get to choose either river- or lake side Hotel for your visit.
What do I need to bring?
We would appreciate that if you could bring all the clothing you need. Also wading gears.
Information
Duration
5 days
Booking in advance
7 days
Difficulty
Moderate
Minimum age
15
Contact the company
Not exactly what you're looking for? Contact the company for special requests and larger groups!