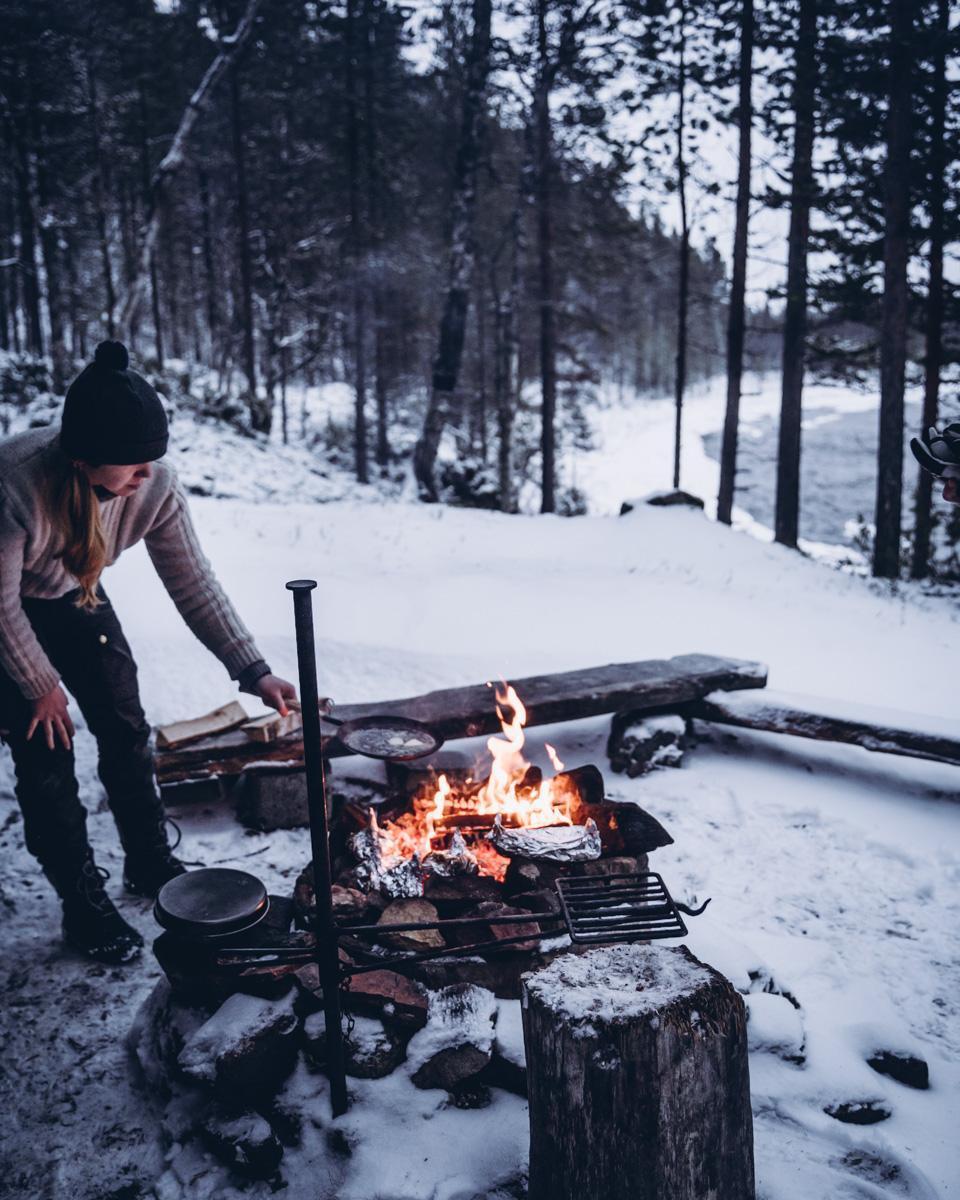 A touch of fire makes everything delicious! Join our local wilderness guide and chef Sonja Lassila, who will teach you to cook with open fire. 
In this class we will prepare and eat a fancy 3-course meal together around open fire. Every course includes components prepared by the fire, using several different techniques. The menu is innovative and delicious, made with local high-quality ingredients. You get to keep all the recipes. Our inspiration is the nature around us: we will use self-picked wild mushrooms and berries from the area. We also use local reindeer, root vegetables, home-made sourdough bread etc. The special diets of the participants are considered, if possible – let us know your restrictions!
In this class we enjoy the outdoors while eating well and learning about Finnish cuisine and ingredients as well as fire making. The aim of the class is also to encourage the participants to use more open fire in their cooking – don't fear the fire but cook with it whenever possible! As electricity prices around the world are peaking, it's good to have skills for electricity-free cooking.
Where-ever you are in the world, every restaurant experience is pretty much the same. You sit around a table with your company, waiting for the service. This experience is something different – it's more that just eating around a table, thus it's more unforgettable than any restaurant. Join us for this very tasty experience, offered by no-one else in the area.
Know before you go
We're cooking outdoors. There's a small cover for wind and rain, but we suggest you dress in order to spend 3 hours outside. The weather might be cold, so dress warm and windproof! Winter overalls can be rented if necessary.
If it's stormy or colder than -25°C, the event may be cancelled.
What do I need to bring?
Warm clothes
Great cooking spirit
Information
Duration
3 hours
Booking in advance
16 hours
Difficulty
Easy
Contact the company
Not exactly what you're looking for? Contact the company for special requests and larger groups!