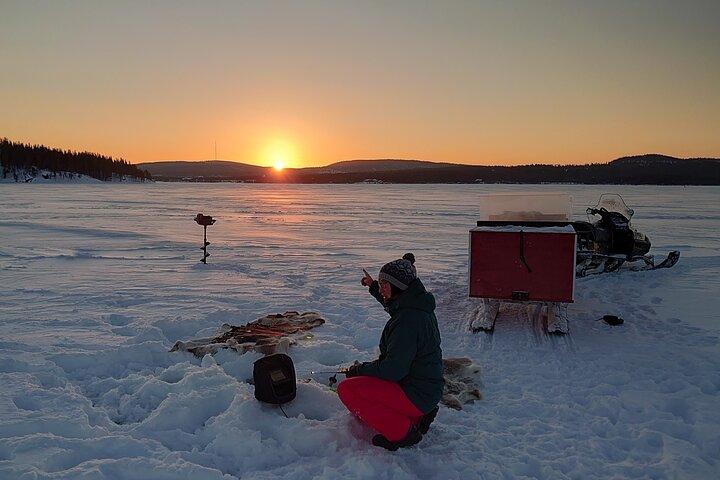 Welcome to your first ice fishing experience. I will lead you through every step and you get the best fishing gear to help you catch as much fish as possible. The whole last winter I had only one trip without catch!
We go ice fishing at the great Inari lake, which is also known as the Sami Ocean. The lake is so large, that every human on earth could stand on it's ice and still have room to rise their elbows up. Also by it's average depth Inari lake holds more water in it than all the other lakes in Finland together. The deepest hole is 95 meters deep.
Our fishing spots are right besides the Inari village and a lot of fishes are attracted to come there due to the near by river.
Atte drives the snowmobile and you sit comfortably in the sledge for up to 4km out to the lake ice.
Your fishing guide Atte Ikkala has all the latest ice fishing gear. You get to use ice fishing sonar and on a cold day you can fish comfortably from inside a fishing tent. Atte also produces some custom made ice fishing gear and ties his own fishing flies. You are in some of the best fishing hands of Lapland.
Know before you go
Not wheelchair accessible
Not stroller accessible
Infants must not sit on laps
Infant seats unavailable
I come with snowmobile + sleigh and we head straight out to the lake
Information
Duration
2 hours
Booking in advance
4 hours
Difficulty
Easy
Minimum age
5
Contact the company
Not exactly what you're looking for? Contact the company for special requests and larger groups!