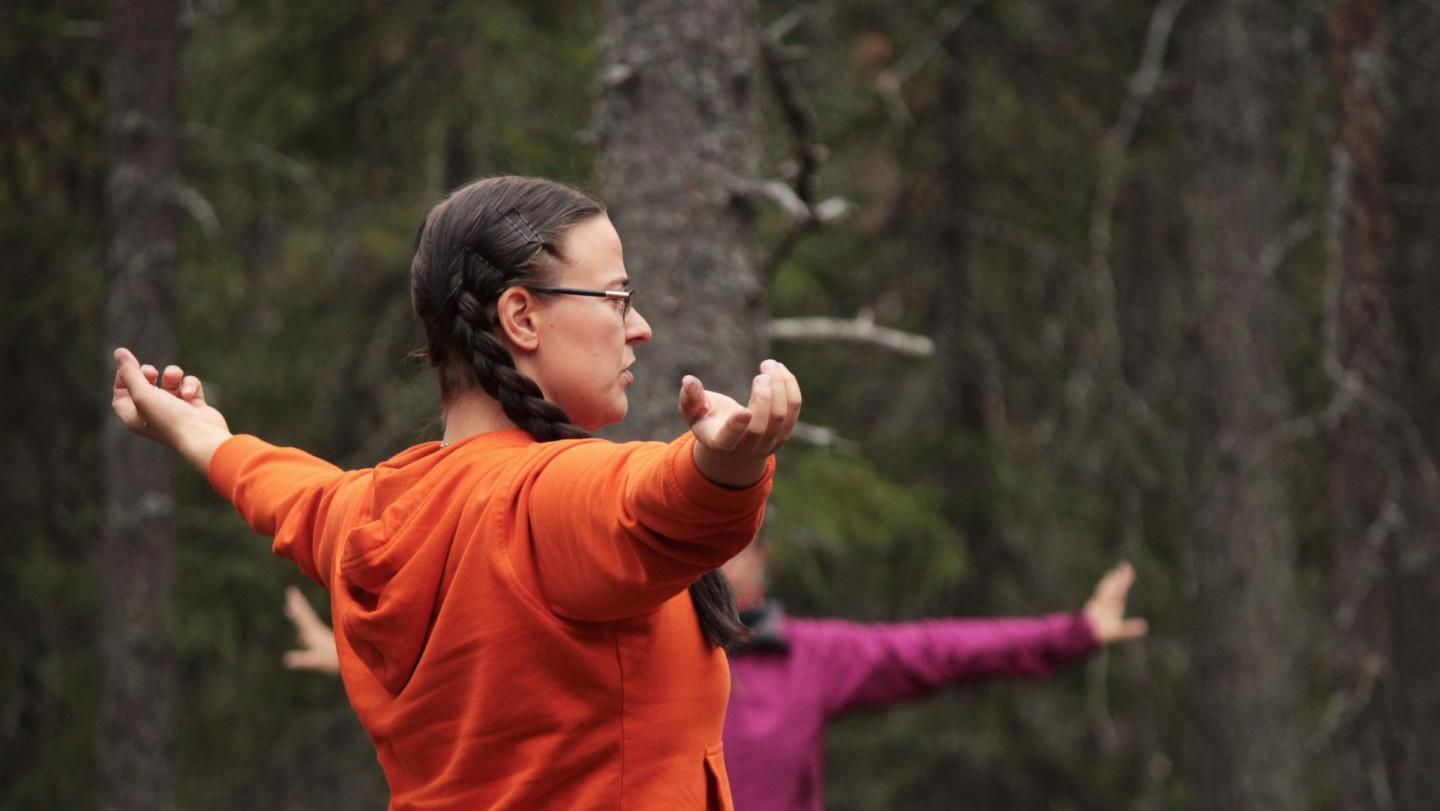 Hengitys on kehossa tapahtuvaa tiedostamatonta ja luonnollista toimintaa. Hengittäminen tapahtuu automaattisesti ilman erityistä huomiota. Harvoin ajattelemme, että nyt hengitän. Hengityksen estyminen tai etenkin sen pidättäminen taas saa huomiomme kokonaisuudessaan kiinnittymään seruaavaan sisäänhengityksen mahdollisuuteen. Hengityksen avulla on mahdollista keskittyä täysin tähän hetkeen, antautua vallitseville olosuhteille ja olla läsnä itselle. Elämämme muodostuu sisään- ja ulkoshengityksen tasaisesta virrasta. Sisäänhengitys ravitsee koko kehoa ja uloshengitys puhdistaa.
Kuusiosaisen kurssin aikana tutustumme hengityselimistöön, hengityslihaksiin ja opettelemme erilaisia hengitystekniikoita jokapäiväiseen käyttöön. Kurssin aikana vahvistat hengityslihaksia joogisten Pranayama -hengitysharjoitusten avulla ja parannat näin kokonaisterveyttäsi
Osa 1 – Hengityselimistön toiminta ja normaalihengitys
Osa 2 – Pallean merkitys hengityksessä, pallean rentouttaminen ja palleahengitys
Osa 3 – Hengityslihasten voimistaminen osaksi päivittäistä rutiinia
Osa 4 – Hengityselimistön puhdistaminen ja lämmittävät hengitysharjoitukset
Osa 5 – Lisää energiaa päivään hengitysharjoitusten avulla
Osa 6 – Erilaisten hengitystekniikoiden yhdistäminen ja oma hengitysharjoitusohjelma
Kurssin osat aukeavat opiskelijalle kahdesti viikossa, maanantaisin ja torstaisin. Kurssin voit kuitenkin suorittaa myös omaan tahtiin.
Know before you go
Hengitysharjoitukset soveltuvat perusterveille henkilöille. Tarkasta tarvittaessa lääkäriltäsi hengitysharjoittelun sopivuus sinulle.
What do I need to bring?
Varaa kurssin suorittamiseksi noin 30 minuuttia kahdesti viikossa (maanantai ja keskiviikko) ja tehtävien tekemiseen rauhallinen tila. Online-kurssin suorittamiseksi tarvitset internetyhteydellä varustetun tietokoneen tai mobiililaitteen sekä halutessasi kuulokkeet videoiden katseluun. Muita välineitä et tarvitse.
Book now
Information
Duration
3 weeks
Booking in advance
0 days
Difficulty
Easy
Contact the company
Not exactly what you're looking for? Contact the company for special requests and larger groups!