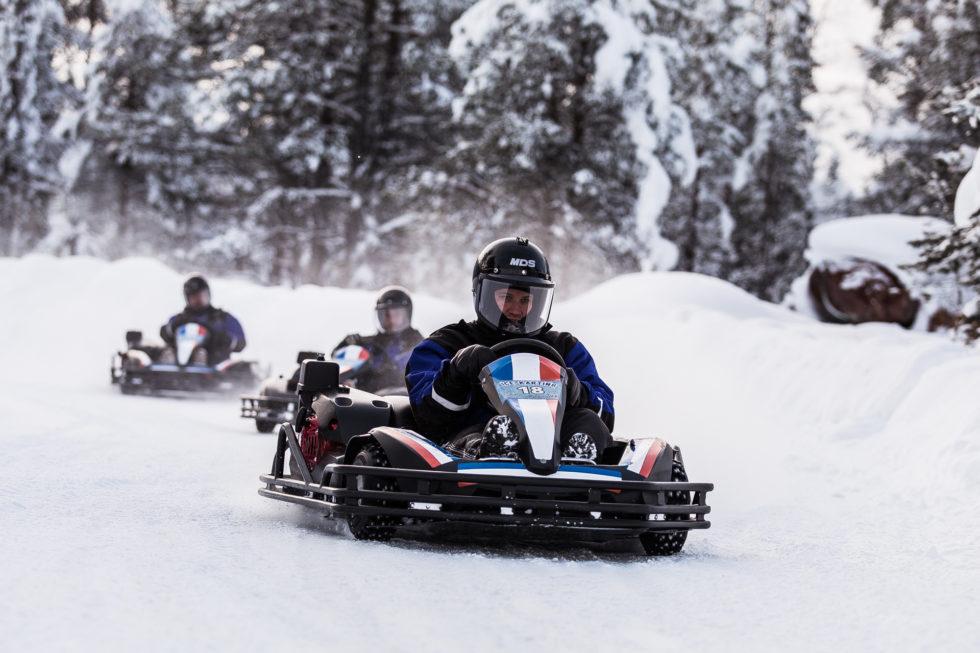 Get ready for an adrenaline-fueled adventure in Ivalo's winter wonderland as you embark on the exhilarating experiences of Electric Snowscooters and Ice Karting. Brace yourself for the thrill of high-speed rides across the snowy landscapes and the excitement of racing on icy tracks, creating unforgettable memories in the heart of the Arctic.
Hop on an Electric Snowscooter and zoom through the pristine winter scenery, feeling the rush of the wind against your face as you navigate through snowy trails and forests. These eco-friendly snowscooters offer a thrilling ride while minimizing environmental impact, allowing you to explore the beauty of the Arctic landscapes with a clear conscience.
For those craving more excitement, take the wheel of an Ice Kart and test your driving skills on icy tracks specially designed for maximum thrills. Experience the thrill of sliding and drifting across the ice, maneuvering tight turns and challenging corners as you compete against friends or family members. Feel the adrenaline surge as you strive for victory on the icy race circuit.
Both Electric Snowscooters and Ice Karting offer a unique perspective of Ivalo's winter wonderland, allowing you to immerse yourself in the natural beauty and excitement of the Arctic region. Whether you're seeking an adventure with friends, a family outing, or a memorable experience for a special occasion, these activities are sure to create lasting memories and an unparalleled sense of exhilaration.
The expert instructors and guides will ensure your safety and provide instructions on operating the equipment, allowing you to fully enjoy these thrilling experiences with peace of mind. Embrace the spirit of adventure, feel the adrenaline pumping through your veins, and discover the excitement of Electric Snowscooters and Ice Karting in the captivating winter landscapes of Ivalo.
What do I need to bring?
Warm clothes
Water and snacks
Camera
Book now
Information
Duration
7 hours
Booking in advance
3 days
Difficulty
Moderate
Minimum age
15
Contact the company
Not exactly what you're looking for? Contact the company for special requests and larger groups!