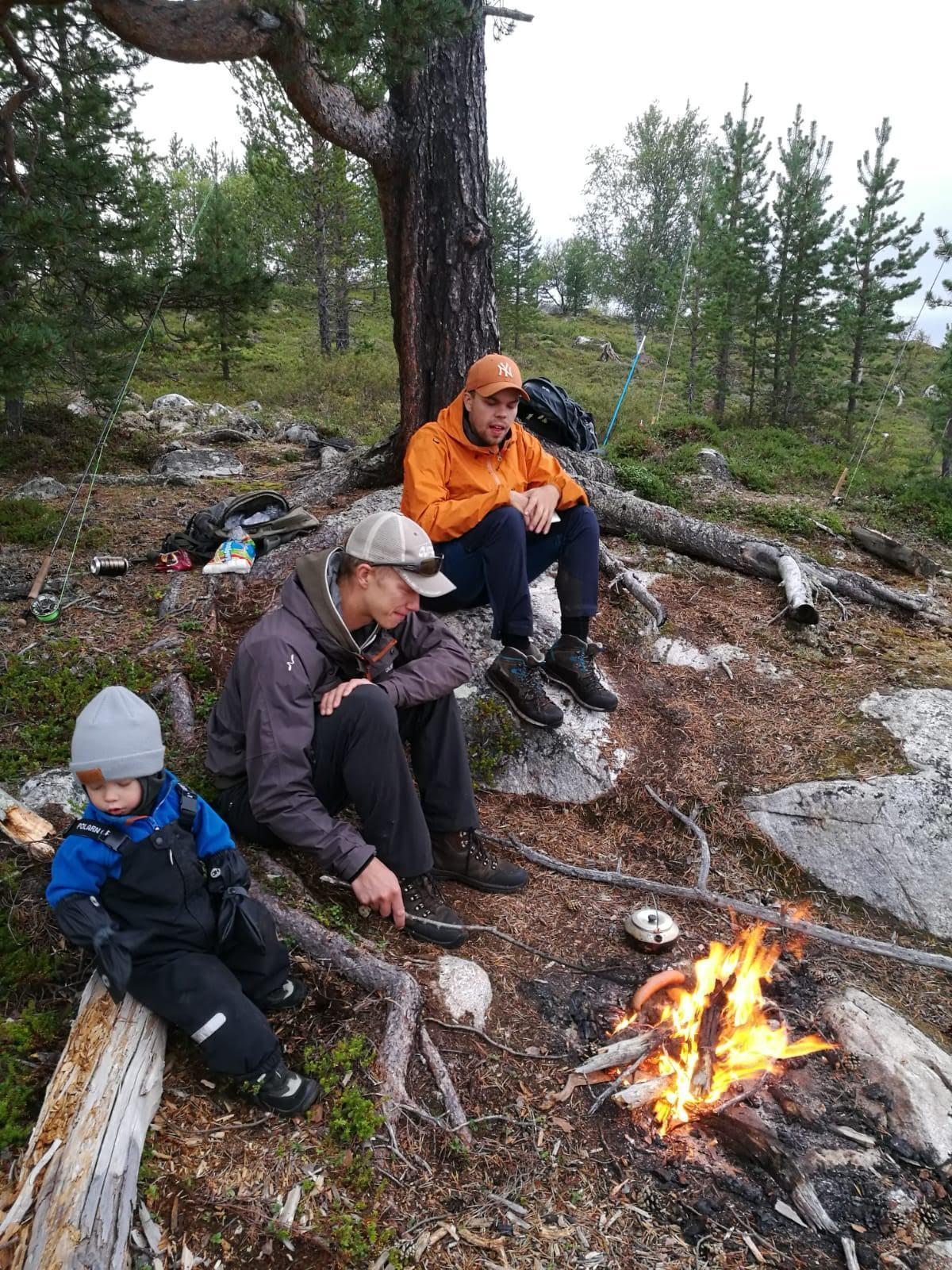 This day trip up to Christmas Mountain is suitable for people with normal physical health. The 10 km walk takes you from small Finnish border village Näätämö, through various forests and waters with rich wildlife all the way up on top of the Christmas Mountain. It is really common to see wild reindeers on the way and you have a professional guide with you to ensure your safety. You can do fishing, berry- and mushroom picking, bird watching etc. We rest at the top of the mountain and make open fire to cook local food.
We start around 10 a clock from Näätämö, Finland. The first part of the hike goes on lower grounds in pine and birch tree forests. Then we reach Anna Greta Lakes and can do some fishing. We are already half way to the mountain. There is no rush so we take it calm and enjoy every moment on the way. Possibly make fire at the lake side, have some coffee and drink the fresh lake water. In the autumn the lake sides are filled with blue berries.  
The hike continues into older pine tree forest, over a small bridge and into the tundra. Vegetation changes thinner and shorter and we see the mountain in front of us. The climb is easy and doesn't require any special skills or gears. There is a fire place made out of old reindeer fence where we get to eat while watching the views. The mountain is on the Norway-Finland border and you can also visit the Norwegian side. From on top you can see into Russia, Norway and Finland. 
After the food has settled a little, we hike back to Näätämö village. On the way back we can do more berry and mushroom picking, photographing and fishing. We try to be back in Näätämö village before 20:00 in the evening.
All the berries, mushrooms and perches you find you can have with you after the excursion. Still they need to be checked by the guide. Some berries and mushrooms are not good for you.
Ready, set, welcome!
What do I need to bring?
Outdoor clothing, mosquito repellent, sun lotion
Information
Duration
1 days
Booking in advance
7 days
Difficulty
Moderate
Contact the company
Not exactly what you're looking for? Contact the company for special requests and larger groups!