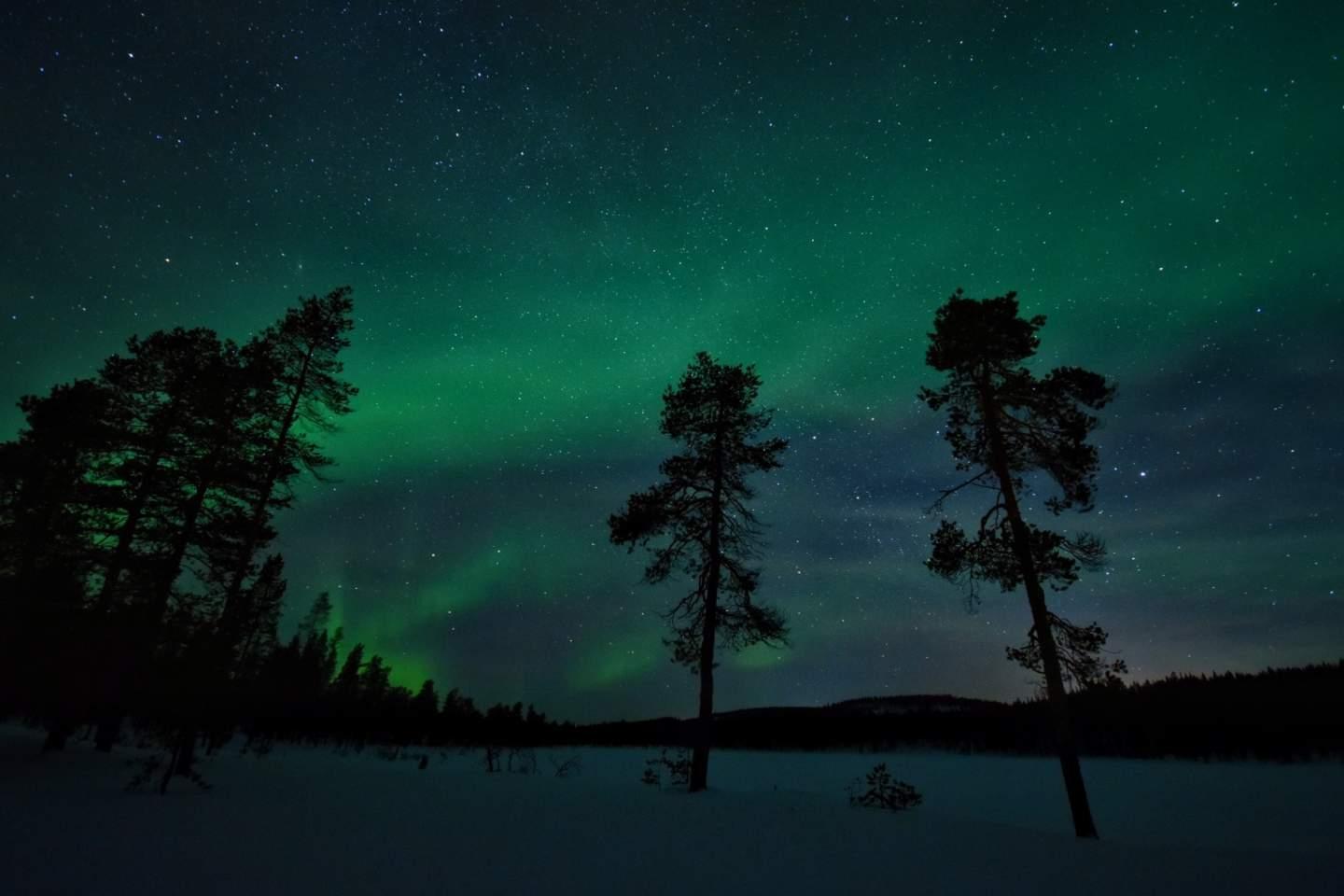 There are several good places for northern lights hunting in Inari area and we choose the best ones for each trip according to the weather conditions. We normally visit a couple of places, but quite often the first stop is already a success. During the trip, we share information about the northern lights and how to photograph them. We help customers to tune their camera settings for optimal aurora shooting. We also offer photographing service for customers being photographed together with auroras, so you can book a trip even if you don't own a camera. If we are lucky, we see auroras dancing in the sky, however, if auroras refuse to appear, we will focus on capturing the nature and the starry sky under the guidance of our experienced guides. In any case, you will experience a lovely night with great photos as memory. 
Because northern lights are difficult to predict we cannot give full guarantee of their occurrence during the trip. However, excursions are only arranged when our experienced guides are confident about the presence of northern lights and visibility weather-wise. This arrangement guarantees the best opportunity to experience and immortalize the northern lights.
For the safari you need a camera, a tripod, warm clothes – especially shoes and gloves (the temperature can drop below -30C at night)
Information about the Aurora hunting and photographing safari
– Will be arranged approximately 2 times a week from November to March
– Only arranged when the Aurora and weather forecasts are good
– Duration about 3-4 hours (20:00-01:00)
– Group size 3-15 people (minimum 3 adults)
– Departure from Lapin Luontolomat, Lutontie 3
Know before you go
The driving distance may vary each evening. We can't guarantee Northern Lights, those are depending on the weather conditions and space activity.
We have two safety seats available for children of 9-36 kg. All passengers must wear a safety belt.
What do I need to bring?
Warm clothing
A camera and tripod if owned
Book now
Information
Duration
1 hour
Booking in advance
2 days
Difficulty
Easy
Contact the company
Not exactly what you're looking for? Contact the company for special requests and larger groups!